Mae Muller is back with Me, Myself & I: Exclusive First Listen
Following her first-ever UK Top 10 hit, Mae returns with a summer-ready self-love anthem
New single Me, Myself & I boasts Swedish collective NEIKED on production duties, with whom Mae scored a Top 40 hit in 2021 with Better Days, and is a defiant statement of self-love primed and ready for your summer playlist.
Oh, and she's kindly given us a sneaky First Listen to the track ahead of its release tonight (June 29). Cheers, hun.
Now, if you're a long-time fan of Mae's, you'll know she doesn't take any sh*t in the love department (we implore you listen to Therapist and Gone). She's not down for any messing about. No, sir.
Me, Myself & I follows a similar theme of independence; this time without angst or anxiety. On this track, Mae's content riding solo as she admits she's 'found a keeper'...in herself.
From the off, NEIKED's piano-laden production screams 'summer.'
"It's getting boring, this stupid boy thing, can't seem to find the one. 'Cause it's the same line, right guy the wrong time, I think I've had enough," Mae reasons atop a luscious, disco-tinged instrumental.
Serving some Ariana Grande thank u, next-esque name checks into the chorus, Mae confidently continues: "I called up Johnny, I told him I was sorry. Then there was Michael, he just my type. There was Ethan, he wanted something deeper. I had to leave them, I think I've found a keeper, it's me, myself and I."
Sorry, lads - your loss! Also, let this be your warning never to wrong our Mae, eh?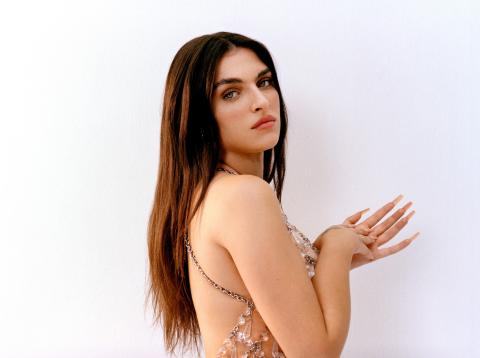 Chatting about how a period of celibacy influenced the track, Mae says: "Me, Myself & I came so naturally because it was exactly how I was feeling.
"I became self-aware enough to realise that I'd always had a problem with needing male validation and thinking about how I was being perceived by men. I had to ask myself, who am I even doing this for? I got so sick of caring about other people's opinions: I went celebate for ten months, I focused on more important things. Going through that process showed me how happy I can be on my own."
We stan a self-aware queen. The growth.
Me, Myself & I is taken from Mae's upcoming debut album Sorry I'm Late, released September 15 2023.
Speaking about the record, Mae says: "I'm so excited about the album coming out! 
"I can't wait for the fans that have stuck by me from the beginning to hear the record, and for those that have been so supportive on my Eurovision journey to hear more music. I'm really showing a different side of myself on this album: a vulnerable one, one that I haven't spoken about before.
"I can be strong, sassy, confident, and I can also be sad and have my low moments, but I'm still me….it's just as empowering to show both sides."
Mae Muller's Me, Myself & I is released Thursday 29 June via Capitol Records. Her album, Sorry I'm Late, will be released on September 15 2023.
Related Singles and Albums