So no-one told you life was gonna be this way... The opening line of the Friends' theme I'll Be There For You has never felt more fitting.
As the cast of the show regroup for a long-awaited reunion special, the spotlight also shines once again on its enduring theme song, recorded by US pop-rock duo The Rembrandts.
Soundtracking show's opening credits as the cast dance in the now-iconic fountain, I'll Be There For You is one of the most recognisable songs in the world - but it was never intended to be a hit. The Rembrandts reluctantly recorded it because, despite it not being their usual sound, they were the only available band signed to Warner Brothers - the same company who made the series.
Before I'll Be There For You, the Friends' producers initially wanted to use R.E.M's Shiny Happy People as the theme, but the band refused, leading the show's exec Kevin Bright to instead commission a song that had a similar kooky-but-mainstream feel.
When Friends premiered in 1994, its theme was an instant hit with fans and was immediately picked up by radio, despite being less than a minute long. Even the cast were surprised by its popularity; in 2016 Jennifer Anniston told The One Show: "I felt it was a little, I don't know, dancing in a pond. A fountain felt sort of odd, but we did it."
A full 3m8s version was quickly recorded, with Rembrandts' singer Phil Solem admitting: "There was no way to get out of it". While the original theme was written by Allee Willis (whose credits include Earth, Wind & Fire's September and Boogie Wonderland, as well as the Pet Shop Boys' What Have I Done to Deserve This) and Michael Skloff, The Rembrandts wrote the bridge and second verse for the single version.
The famous four hand-claps after the song's opening line was also a happy accident; a last-minute addition that The Rembrandts didn't hear it until they were sent the final mix. In 2014 Phil Solem admitted to Buzzfeed: "I was like, Who thought of that? That's like the best part!"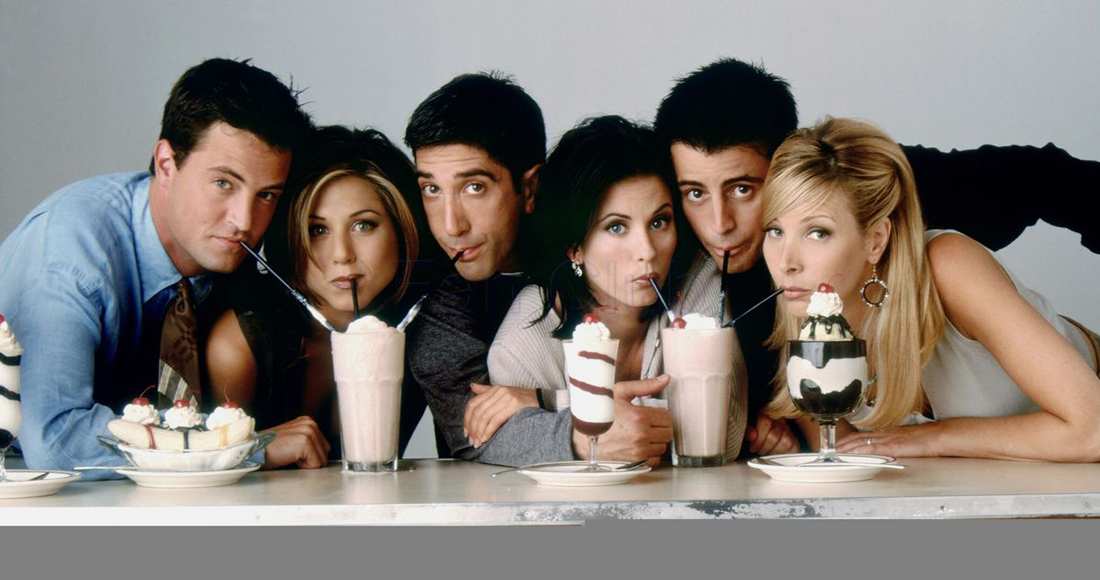 On the Official UK Singles Chart, I'll Be There For You debuted at Number 6 in September 1995 and peaked at Number 3 the following week, finishing the year as the UK's 23rd best-selling single, with 322,000 sales. As Friends' popularity continued to soar, the track was re-released in 1997, landing at Number 5. View the song's week-by-week chart history here.
I'll Be There For You reached the Top 10 in a further seven countries, including Canada, where it spent five weeks at Number 1 and became the country's best-selling single that year.
26 years on, I'll Be There For You's total UK chart sales stand at 925,000, including 20.7 million streams since they were introduced in 2014. The song saw a significant sales uplift around the series' final episode in 2004 thanks to a boost in radio airplay, and again in 2018, when Ant & Dec did a live singalong with The Rembrandts on their Saturday Night Takeaway show.
The song is also regularly parodied around major events, helping keep its profile raised. Recent examples include a reworking for the Avengers team, as well as Brexit and the coronavirus pandemic. And proving the theme really has stood the test of time, so far in 2021, I'll Be There For You has been streamed an average of 96,000 times every week in the UK. Iin anticipation of the reunion special, last week its plays topped 100,000.
I'll Be There For You is one of only a handful of TV theme songs that have hit the Official Singles Chart - take a look at more here.
Friends: The Reunion l will be available on demand on Sky and streaming service Now from 08:00 BST on May 27, ahead of its broadcast on Sky One at 20:00. All six of its original stars will appear as well as special guests including Lady Gaga, Justin Bieber and David Beckham.
Article image: NBC