OK, so football may not have come home but England making their first World Cup semifinal in the contest in over a quarter of a century is a big deal.
You might think football and music don't usually have much crossover, but the Official Chart and football have a pretty long history – with no fewer than five Number 1 songs supporting the beautiful game (and the English national team). We look at some of football's highest scoring hits.
2010 – Shout
Under the name Shout For England, rapper Dizzee Rascal and TV personality James Corden fronted this campaign single, the most recent chart-topping football song. Spending two weeks at Number 1 during the 2010 South Africa World Cup – the one with all the vuvuzelas – Shout sampled Tears For Fears and was Dizzee's fifth chart-topper. It's sold over 300,000 copies.
1996 & 1998 – 3 Lions
Thank to its super-catchy chants – it's coming home, it's coming home, it's coming… you get the idea – 3 Lions has never really left the public consciousness since it first hit Number 1 in 1996 in support of the England team's Euro 96 bid on home turf – that's the one where Gareth Southgate missed the penalty. Credited to the Lightning Seeds plus comedians Frank Skinner and David Baddiel, who presented a cult footie TV show, 3 Lions spent three weeks at Number 1. The the tune was then rejigged in 1998 for the France World Cup – the one where David Beckham had a strop and kicked an opponent – and was at the top for three weeks. 3 Lions has made a chart comeback during every World Cup tournament and is one of the UK's bestselling singles of all time, with 1.6 million copies sold. Buoyed by the current success of the English team in Russia, 3 Lions looks set to achieve its highest chart position for 20 years.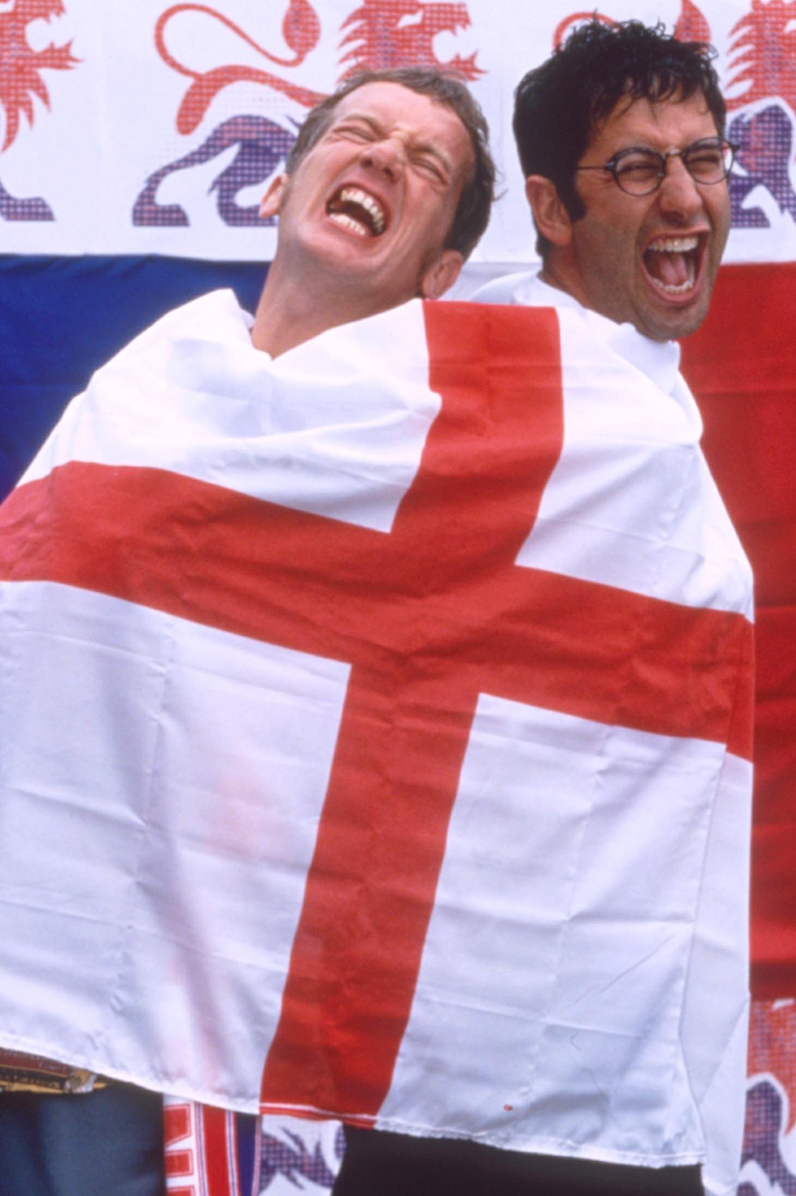 Image: Nils Jorgensen/REX
MORE: Sporting anthems that found chart success
1990 – World in Motion
In 1990, football songs had a reputation for being cheesy novelty tracks, but New Order would change all that. Released in support of the England team going to Italia '90 – the one with Nessun Dorma, and where England would lose in the semis on penalties – World in Motion sensibly kept the squad's vocal contribution to background chanting, apart from the now iconic rap by John Barnes. World in Motion was Number 1 for two weeks. See New Order's complete UK chart history
MORE: Flashback to 1990 – New Order's World in Motion at Number 1
1970 – Back Home
Very much a product of its time, Back Home featured the 1970 England World Cup Squad – then the reigning champions after a 1966 win – on vocals and managed three weeks at Number 1, which may go some way to make up for their crashing out in the quarter finals. If you never heard the song but the tune sounds familiar, Back Home provided the inspiration for the TV show Fantasy Football League, which was presented by… Frank Skinner and David Baddiel of 3 Lions fame. Meta.
1998 – (How Does it Feel to Be) On Top of the World
1998 was a big year for football songs and this one may not have turned into a chant on the terraces, but it had plenty of star power. A heady mix of late '90s celebrity credited as England United, the track featured all five of the Spice Girls, Space, Ocean Colour Scene and… Echo & the Bunnymen, and sold 94,000 copies. See Spice Girls' UK hit singles and albums in their Official Chart archive
1998 – Vindaloo
With the World Cup happening not too far away in France, and a strong England team on their way there, emotions were running high and Fat Les captured the mood perfectly. Made up of comic Keith Allen, Blur bassist Alex James, and controversial artist Damien Hirst, Fat Les reached Number 2 with this ready-to-go football chant, complete with parody video that made sure it got plenty of attention. The eagle-eyed among you may spot a young Lily Allen in the procession. Fat Les had another Top 10 hit with a version of Blake's poem Jerusalem for the 2000 Euro championships. Vindaloo has sold over 525,000 copies in the UK.
1982 – This Time We'll Get it Right
It's the England World Cup Squad again, back from the wilderness after not qualifying for any further '70s World Cups. They scored a Number 2 hit with this one, but didn't quite "get it right" as promised – England were eliminated in the second round.
2002 – We're On The Ball
We all know Ant & Dec had a lucrative pop career before they took over Saturday night TV, including an eventual Number 1 with Let's Get Ready to Rhumble, but did you know they also provided the official England song for the 2002 World Cup? They did! We're On The Ball reached Number 3, but the squad themselves had to settle for going out in the quarter finals.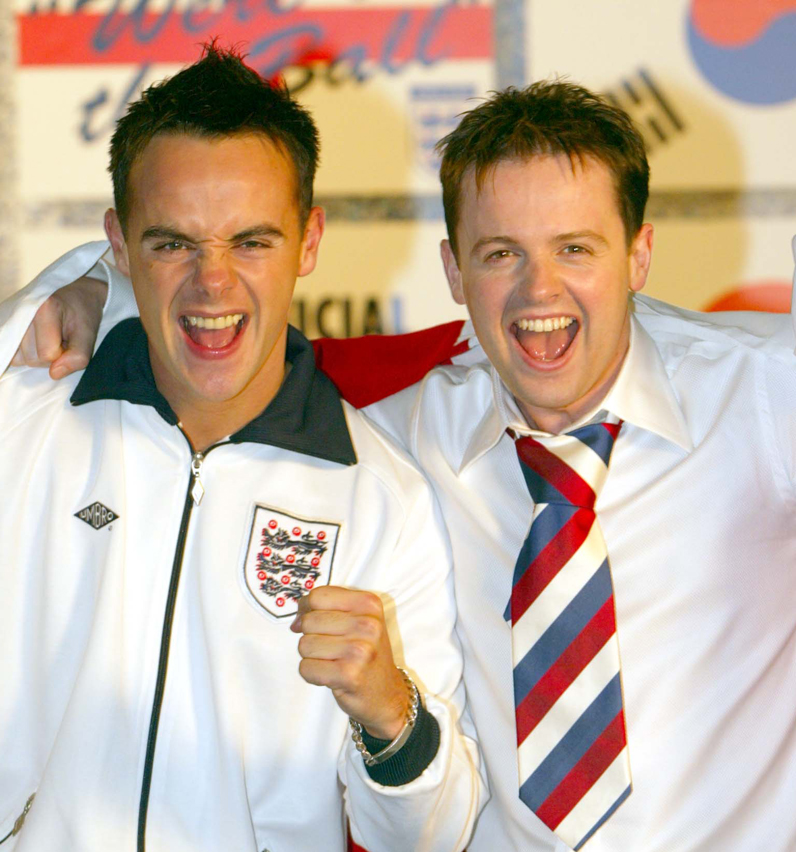 Image: Jeremy Selwyn/REX
2001 – Sven Sven Sven
This comedy song by duo Bell & Spurling, and tribute to then-England boss Sven Goran Eriksson, features an uncomfortably long verse about the state of the England goalie's hair and peaked at 7 in 2001.
2004 – Come on England
 4-4-2 were a specially put together band of unknown musicians and some TalkSport presenters, and took million-selling 1982 Number 1 Come on Eileen, by Dexy's Midnight Runners, and updated the lyrics with football references. It's probably not the kind of song you'd listen to twice in a row but it proved popular with the public, reaching Number 2 and selling 82,000 copies.
2006 – World at Your Feet
Unusually for an official England squad song, this track by Embrace isn't a rousing singalong chant but an uplifting, emotive song. You may never hear it bellowed tunelessly in a pub, but one plus is you can play any time of the year. It peaked at 3 and was, coincidentally, Embrace's last Top 40 hit.