Eminem has taken on many different guises in his 22 year-plus career. But between the comedy rap as Slim Shady, the emo Marshall Mathers and controversial political commentator of the present day, Eminem has undeniably always been himself.
Since his global breakthrough in 1999 with My Name Is, the rapper from 8 Mile has scored nine Number 1 singles and nine chart-topping albums on the Official Chart. His recent surprise release, Kamikaze helped him break the record for the most consecutive Number 1 albums ever in the UK, having previously shared the feat with ABBA and Led Zeppelin. 
Behind those chart-topping albums are some seriously impressive numbers. Six have racked up over one million combined sales, two of which have pushed past the mighty two million mark. Here's how they stack up...
9. Revival (2017)
Finishing ahead of Kamikaze at 10 is last year's Revival. Aided by a star-studded lineup of collaborators including Beyoncé, Ed Sheeran and P!nk, the response was generally positive, praising his rap and lyrical skills that marked a return to form. It's sales to date stand at 321,000 across physical, download and streaming equivalent sales.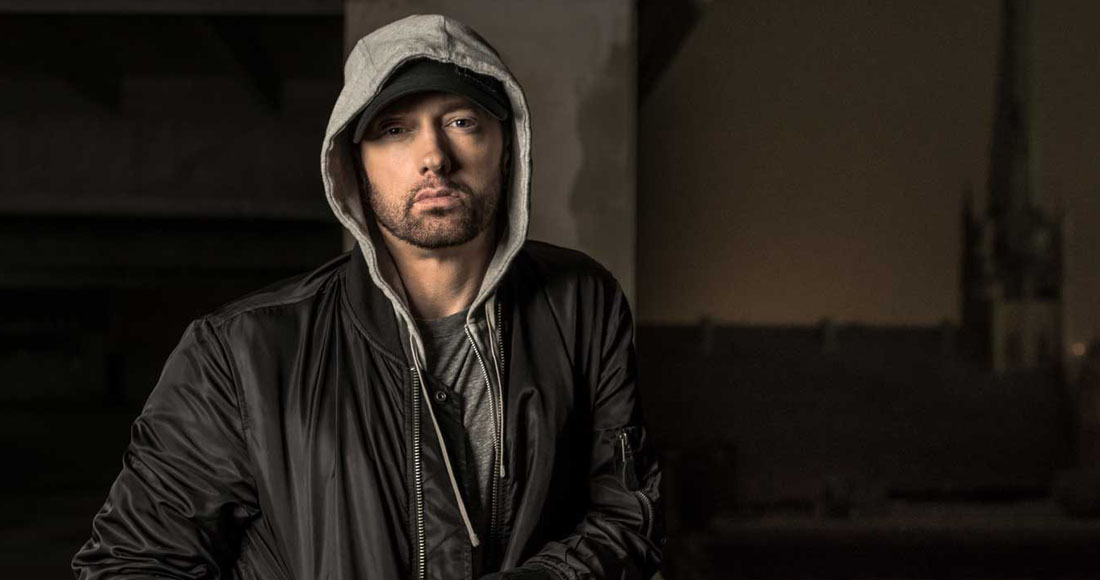 See where all of Eminem's singles and albums have performed on the Official UK Charts.
8. Relapse (2009)
Arriving after a four-year hiatus after suffering from writer's block and being treated for addiction to prescription sleeping pills, critics were divided at the time when it came to Eminem's lyrics and performance on Relapse. Highlights include the 50 Cent assisted Crack A Bottle, and the surprisingly touching (and slightly screwed up) Beautiful. The sales are still impressive, however: 591,000 across all formats.
7. The Marshall Mathers LP II (2013)
With the original album often lauded as his best work, anticipation on its follow-up - 13 years in the making - was high. Dr Dre, who produced part one, was once again at the helm, alongside longtime collaborator Rick Rubin. The collection finished at the top end of many influential end-of-year lists, while on the Official Singles Chart it delivered his strongest run of hits in years: Top 5 hits Berzerk and Rap God, plus chart-topper The Monster featuring Rihanna. The album's combined sales to date stand at 704,000.
6. Recovery (2010)
Originally planned to be Relapse 2 and released in the same year as its predecessor, the album's title was changed after Eminem felt the music has progressed beyond its original concept. The album received positive reviews, praising its lyrical wit and unnerving honesty. Recovery spent seven non-consecutive weeks at Number 1 on the Official Albums Chart - his longest reign at the summit - and spawned two Top 5 hits, Not Afraid and Love The Way You Lie featuring Rihanna - the latter of which was the best-selling single of that year. Recovery's combined sales to date stand at 1.03 million.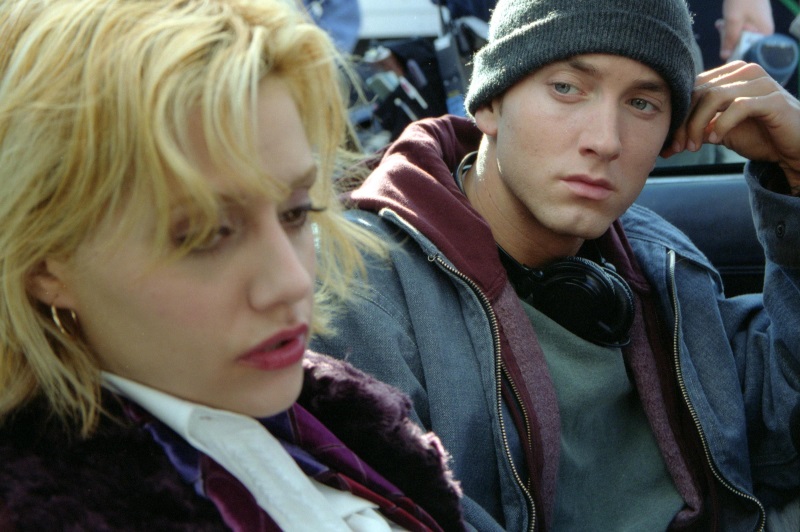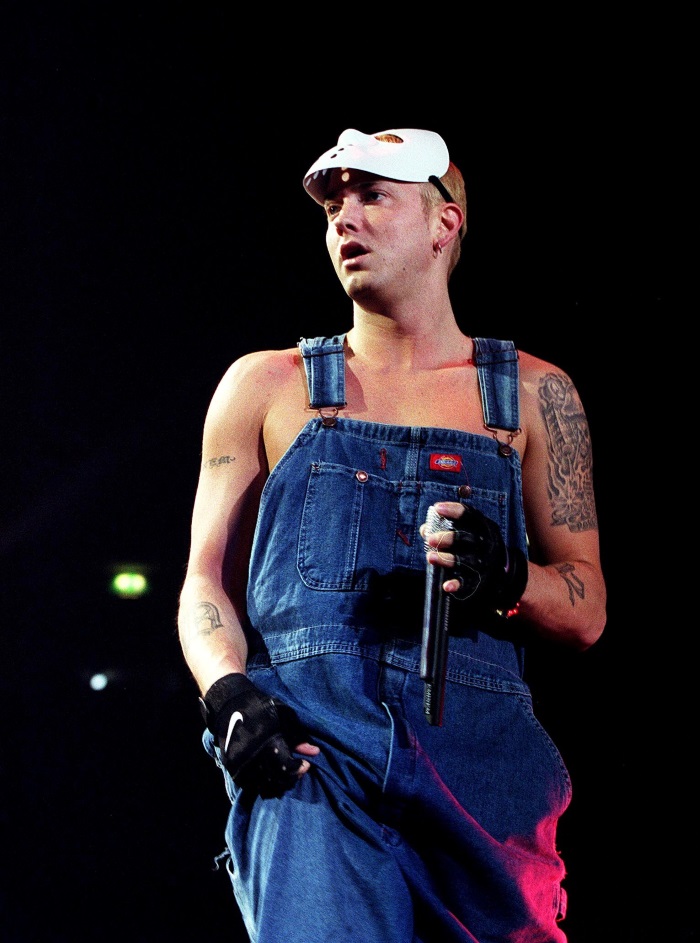 Eminem in 2001 (Rex)
5. The Slim Shady LP (1999)
Eminem's major label debut was a slow burner in the UK and Eminem's only UK release not to reach Number 1, peaking at 10 over a year after its initial release. Regardless, its impact on US rap can't be denied. Produced by his idol Dr Dre, Eminem brought a unique and often controversial lyrical style that led many to label it one of the great debuts in hip-hop. It's combined sales are 1.1 million.
4. Encore (2004)
Eminem's fifth album is one of his most divisive records yet. Released after five years of non-stop album releases and touring, many critics felt he was suffering from burnout on Encore, lacking the innovation of his previous albums. Others view it as Eminem's transitional record from comedy rapper to serious commentator. Featuring chart-topping singles Just Lose It and Like Toy Soldiers, Encore has shifted 1.3 million in the UK, 1.2 of which are physical CD sales.
3. The Eminem Show (2002) 
Eminem's fourth album fully established his global superstar status, topping the charts in 19 countries, including the Official UK Albums Chart. Anticipation was so high for the record that bootleg copies surfaced 25 days before its original release date. Even when it was brought forward by the label, stores sold it earlier than permitted. Regardless, its sales were huge, shifting 228,000 in its opening week in the UK and spawning five Top 10 singles, including Number 1s Without Me and Lose Yourself. Its sales to date are 1.8 million across all formats.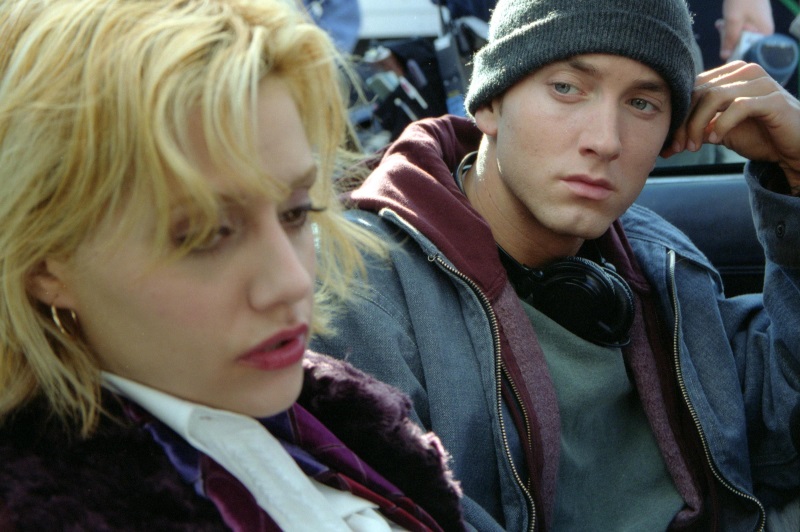 Eminem starred alongside Brittany Murphy in 2002 film 8 Mile (Rex)
2. Curtain Call - The Hits (2005) 
The fact that this collection of hits from Eminem's career between 1999 - 2005 still regularly appears in the Official Charts is proof alone of his impact on music. In fact, the retrospective hasn't left the Top 40 all year, pushing its combined sales to 2.1 million to date. 
1. The Marshall Mathers LP (2000)
Upon its release in May 2000, Eminem's third album was surrounded in controversy. Recorded with Dr Dre in just two months, The Marshall Mathers LP saw more introspective lyricism and often veers into the more disturbing hardcore hip-hop and horrorcore area. It drew criticism for its violent, homophobic and misogynistic lyrics but praise for its emotional depth was louder. 
Lead single The Real Slim Shady - a Number 1 hit - was a nod to his comedy rap past, but arguably it's third single Stan that best represents the record. A disturbing tale about a stalker/fan (geddit?), the song entered the Official Singles Chart Number 1 and helped pushed its combined sales to 2.53 million, including 2.4 million physical CD sales. The collection won a Grammy for Best Rap Album and, retrospectively, is often considered among the greatest albums of all time. 
Article image: MediaPunch/REX/Shutterstock