The UK's wealthiest musicians have been revealed as part of The Sunday Times' Rich List for 2018.
The newspaper's annual rundown of the richest names in British music has been unveiled, split into two groups: UK's richest musicians, and UK's richest musicians under 30.
Ed Sheeran's riches have risen more than any other British musician in the last year, lifting £28 million to £80 million. 2017 was Ed's most successful year yet; his third album ÷ features more Top 10 singles on it than any other studio album in UK chart history, had all 16 of its tracks chart concurrently in the Official Singles Chart Top 20, and is yet to exit the Top 10 since its release in March 2017.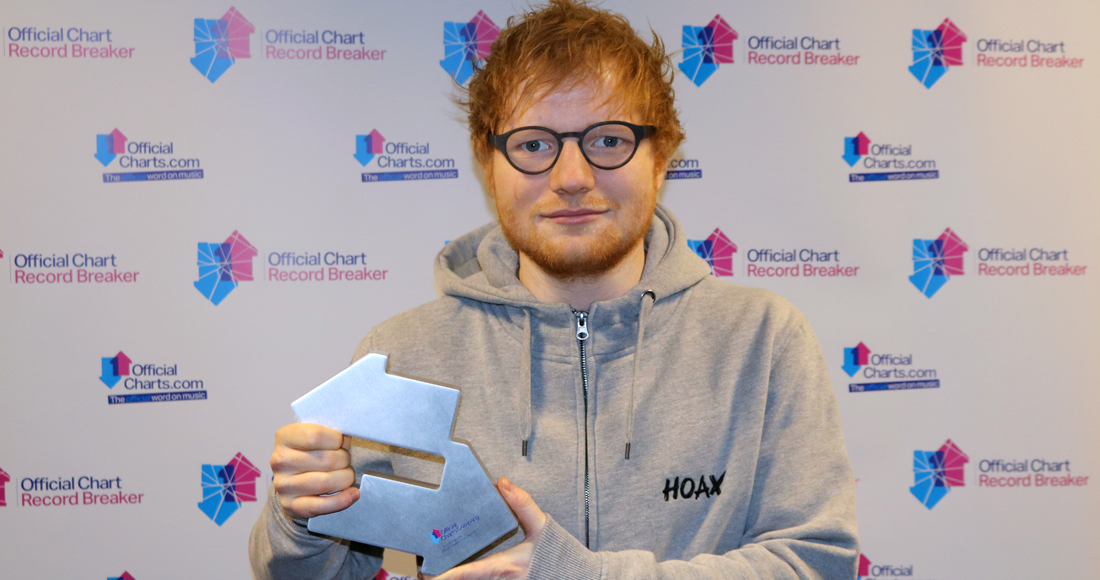 Ed Sheeran with his Official Number 1 Award for Shape of You.
While Ed's annual rise in revenue was the biggest of the past 365 days, Adele is still the UK's richest young musician - she is worth a lofty £140 million and is the richest female artist in British music.
Harry Styles is now the third richest musician under 30, with a wealth of £50 million. His debut single Sign of the Times and self-titled album both hit Number 1 in the UK in 2017, and he has enjoyed a worldwide stadium tour. His One Direction bandmate Niall Horan has also seen his worth spike, up £6 million to £46 million.
Little Mix and Rita Ora are also among the high climbers among the under 30s; scaling the annual list to the 7th and 11th positions.
The Sunday Times' UK's richest musicians under 30 2018:
1. Adele £140m ⬆️ £15m
2. Ed Sheeran - £80m ⬆️ £20m
3. Harry Styles - £50m ⬆️ £10m
4. Niall Horan -£46m ⬆️ £6m
5= Liam Payne - £42m ⬆️ £2m
5= Louis Tomlinson - £42m ⬆️ £2m
7. Little Mix - £40m ⬆️ £16m
8. Zayn Malik - £35m No Change
9. Sam Smith - £24m ⬆️ £4m
10. Jessie J - £18m ⬆️ £1m
11= Winston Marshall - £16m ⬆️ £1m
11= Rita Ora - £16m (NE)
Sir Paul McCartney tops the overall rich list for another year, his wealth combined with that of his wife, American trucking heiress Nancy Shevell. The Beatles were prominent in music in 2017 following the 50th anniversary reissue of their classic Sgt. Pepper's album, which returned to Number 1 on the Official Albums Chart.
Increasing his worth by £40 million to a staggering £820 million, Paul is now the most affluent musician ever in the history of the Rich List, which was first published in 1989. Sir Paul and Sir Elton John are the only names present that were featured on the first edition 29 years ago.
The full Sunday Times Rich List 2018 will be published on May 13.
The Sunday Times' UK's richest musicians 2018:
1. Sir Paul McCartney and Nancy Shevell - £820m ⬆️ £40m
2. Lord Lloyd-Webber - £740m No change
3. U2 - £569m ⬆️ £21m
4. Sir Elton John - £300m ⬆️ £10m
5. Sir Mick Jagger - £260m ⬆️ £10m
6. Keith Richards - £245m ⬆️ £10m
7. Olivia and Dhani Harrison - £230m ⬆️ £2m
8. Sir Ringo Starr - £220m ⬆️ £20m
9. Michael Flatley - £202m ⬆️ £2m
10. Sting - £190m ⬆️ £5m