Royal Blood track for fourth consecutive Number 1 album with Back to the Water Below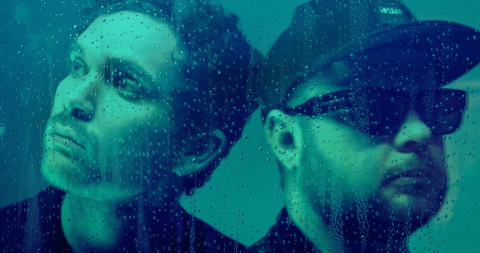 Royal Blood are aiming to lock in their fourth consecutive UK Number 1 album this week with Back to the Water Below.  
The fourth record from the Worthing-formed rock duo, comprising Mike Kerr and Ben Thatcher, is outselling its closest competition, The 1975's The 1975, more than 2:1 at the midweek mark. 
Back to the Water Below could join Royal Blood's previous chart-toppers Royal Blood (2014), How Did We Get So Dark? (2017) and Typhoons (2021), meaning the band would then have reached Number 1 with all their album releases so far. 
Celebrating its 10th anniversary, The 1975's influential self-titled debut album eyes a Number 2 re-entry thanks to a multi-format reissue. The record originally debuted at Number 1 upon its release in 2013. You can read more about the legacy of The 1975 and its impact on the on pop music landscape here. 
Meanwhile, Reading rockers Slowdive's indie-pop revival could lead them to their first-ever UK Top 10 placement with Everything is Alive (3); their fifth record and second since reuniting in 2017. They previously hit the Top 40 with 1991's acclaimed Just for a Day (32) and eponymous 2017 comeback vehicle Slowdive (17). 
Rounding out a prospective all-new Top 4, Icelandic trio Sigur Rós's latest work Atta could become their fourth LP to reach the Top 10 (4). 
At Number 6, Jethro Tull's 14th studio album The Broadsword and the Beast could outpeak its original chart placement as it celebrates its 40th anniversary. The album charted at Number 27 upon its original release in 1982. 
Biffy Clyro vocalist Simon Neal teams up with former Oceansize frontman Mike Vennart to form the duo Empire State Bastard, whose first album together Rivers of Heresy could make its debut at Number 7. 
Scottish pop band Deacon Blue issue a brand-new greatest hits, All The 45s: The Very Best of Deacon Blue, to coincide with a new UK tour. The collection could end the week at Number 8, netting the band a seventh Top 10 album in the process. 
Finally, Phil Campbell and the Bastard Sons (formed by Welsh Motörhead guitarist Phil Campbell) are on the way to securing their highest UK chart peak yet, with Kings of the Asylum expected to debut at Number 29 this week. Previously they reached Number 40 with their 2020 album We're the Bastards.