Since catapulting to global fame in 2003, The Killers have proven themselves the kings of indie-pop-rock, topping the Official UK Albums Chart with five of their records.
With their latest album Imploding The Mirage out this week, we count down The Killers' best-selling and most played albums in the UK, based on Official Charts Company sales and streaming data. 
7. Wonderful Wonderful 
Released: 2017
Official Chart peak: 1
UK chart sales: 182,000
Billed by frontman Brandon Flowers as an album about what it means to be a man ("It's really more about empathy and compassion," he explained), summed up best in its lead single called, err, The Man. It was met with rave reviews; a super-slick collection of indie-pop considered one of the band's best and tightest records. 
6. Battle Born
Released: 2012
Official Chart peak: 1
UK chart sales: 371,000
Recorded following an extended hiatus, during which Brandon and bassist Mark Stoermer released solo albums, Battle Born was praised for its classic, Eagles-esque trad American rock sound - particularly on the record's second single Miss Atomic Bomb. 
5. Sawdust
Released: 2007
Official Chart peak: 7
UK chart sales: 493,000
A compilation of B-sides, rarities, covers, remixes and two new songs (including Top 20 hit Shadowplay) between 2002 - 2007, Sawdust performed remarkably well for what could be considered a fan-orientated release. The collection landed in the Top 10 and has shifted almost half a million in the UK, proving (in case you were in doubt) their fanbase extends far beyond a small core.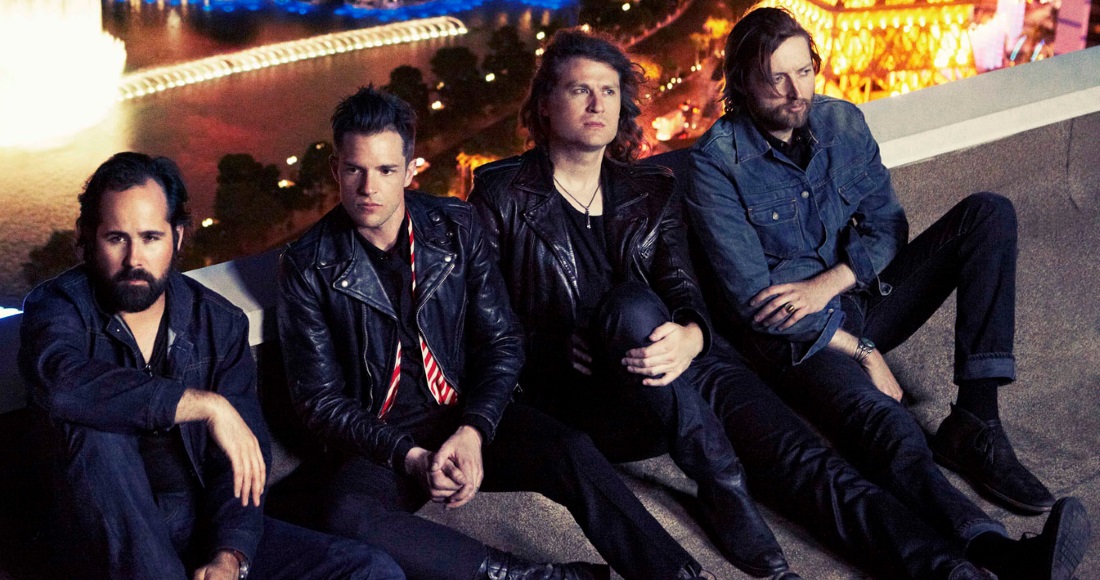 4. Direct Hits
Released: 2013
Official Chart peak: 5
UK chart sales: 752,500
Having moderate success on its initial release, debuting at Number 6, this best of is now a regular in the Official UK Albums Chart - it's yet to exit the Top 100 this year. The collection was originally going to be called Cream, with the artwork an image of the Hoover Dam and a reservoir of cream. We're not sure put an end to that idea.
3. Day & Age
Released: 2008
Official Chart peak: 1
UK chart sales: 1.31 million
Described by Brandon as their "most playful record" at the time, Day & Age took the band's sound into dance-rock territory, taking cues from David Bowie, Duran Duran and Bono. It features their most recent Top 10 hit, Human, which was helmed by electronic producer Stuart Price, who would become a regular collaborator.
2. Sam's Town
Released: 2006
Official Chart peak: 1
UK chart sales: 1.57 million
After the huge success of their debut (more on that in a moment), follow-up Sam's Town was reflective, looking back on their journey to global fame. Named after a hotel casino in their hometown Las Vegas, many compared the album to Bruce Springsteen's work, which was intially seen as a negative, but over the years has earned its place as a misunderstood classic.
1. Hot Fuss
Release: 2004
Official Chart peak: 1
UK chart sales: 2.33 million
Armed with four commerically successful singles, including their enduring hit Mr. Brightside, plus Somebody Told Me, All These Things I've Done and Smile Like You Mean It, it's no surprise that Hot Fuss ranks highly in notable 'Greatest Debuts of All Time' lists. Many of its tracks were recorded as demos but were kept on the finished product; their spontaneity adding a sense of urgency to the record. With 2.33 million chart sales, including 43,000 on vinyl, it ranks as one of the UK's biggest albums of all time. 
Article image: Olivia Bee