One of the small joys to be found in lockdown back in April was watching a sequin-clad Sophie Ellis-Bextor, glittered-covered family in tow, performing her dance-pop hits under a giant disco ball at the back of their kitchen.   
It was heart-warming chaos (if multi-tasking was an Olympic sport, Sophie would be a gold medallist) that quickly became a weekly event that people looked forward to. Now, six months later and the UK back in a national lockdown, she's pulled together a best-of collection of her Kitchen Disco, comprising mostly of her dance hits plus a sprinkling of covers, including Alcazar's Crying At The Discotheque.
The album arrives just a year-and-a-half after her orchestral greatest hits The Song Diaries, meaning she's ended up putting out back-to-back retrospectives. "It definitely wasn't planned!" she tells us over the phone. "But then there's quite a lot about this year I wasn't anticipating. It just shows you how life can have other ideas for you. In the past I've thought, a greatest hits – what's the point? I wanted to do something that acknowledges this year because the kitchen disco was such a massive deal for us around here. It meant so much to us."
As the UK first went into lockdown, Sophie was working on a new album with longtime collaborator Ed Harcourt. Far from disco, she describes the record as prog-pop. "I'm really pleased with the way it's taking shape," she says. "I also want to take my time with it because it's cruicial I get it right. I want it to be really positive and I'm enjoying the process, so I'm not in any hurry."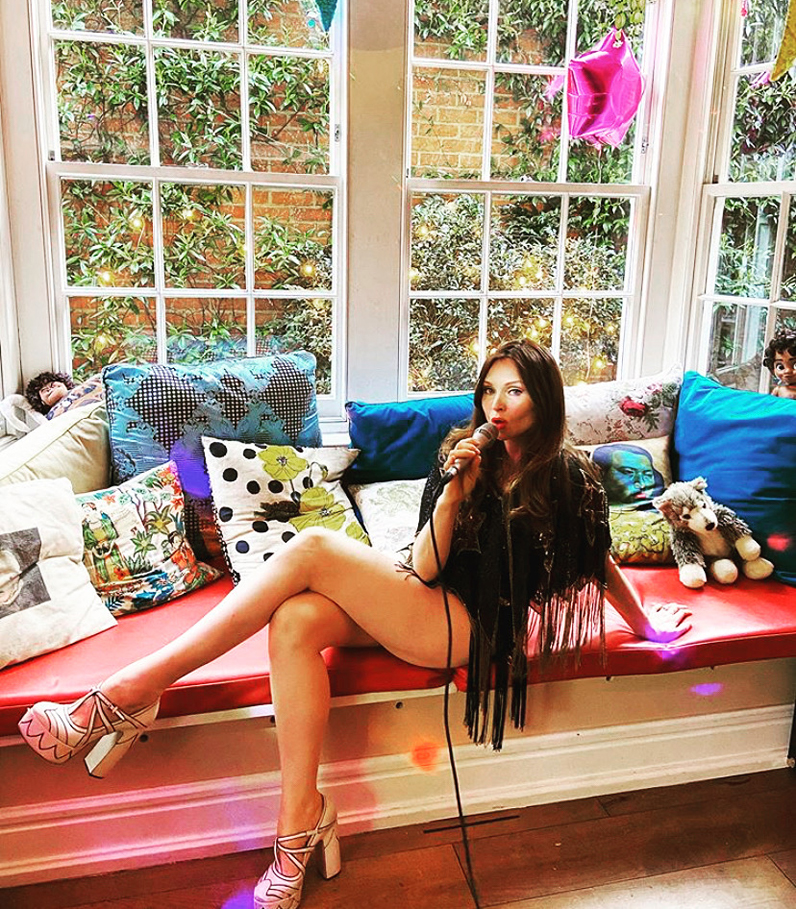 In some ways, the timing of Kitchen Disco's release, with the country back in lockdown, couldn't be better. Beyond disco hour, how has the pandemic affected her family? "It's been scary, stressful and fraught," she admits, "but there's also the mundane aspect of what it's really meant. For most people this pandemic has remained relatively abstract and it's meant we can't do the things we normally do.
"The disco for us was what our family do when we're feeling quite stressed and we need to feel better - we put on music, disco lights, and get dressed up. That's something we might do of a normal weekend if it was raining. It was an instinctive response to feeling quite discombobulated."
Handily, the album also arrives in the thick of a disco revival – Dua Lipa, Jessie Ware, Roisin Murphy and Kylie Minogue have all kept the spirit of the dancefloor alive this year, even if the clubs are closed for now. While many of Sophie's big hits venture into disco territory (see: Take Me Home, Murder on the Dancefloor, Groovejet), she's keen to stress the collection isn't a true representation of the genre.
"I suppose I feel slightly disingenuous to embrace disco too fully," Sophie admits. "The thing itself was a kitchen disco but in terms of genre it bobs around all over the shop."
In fact, some of her heavier disco-leaning songs - albeit fan favourites rather than crowd pleasers - that she performed on the Kitchen Disco are missing from the collection, notably If You Go from 2007's Trip The Light Fantastic and her 2010 single Off & On, helmed by Calvin Harris, Cathy Dennis and Roisin Murphy. "I wanted to put some more album tracks in there if I'm honest, but there wasn't room without making it a double CD. When I do the tour I'll be able to get through more of the songs."
How the Kitchen Disco resonates with disco, Sophie explains, is how it was a slightly counter culture proposition. "It was about euphoria and melancholy and heartache all put in one space. It's also quite hedonistic and other-worldly and knowingly indulgent of those emotions. When everything is so heavy, people just wanted a place that was as much about a catharsis as it was about escapism. We thought, this is horrendous and hard and I don't know what I'm supposed to be doing, so let's run headlong into it and make it a bit camp and fun and subvert it a little."
"You don't really want to feel earnest in these times do you?," Sophie quips. "You don't want to be sat there listening to sad music when everything is awful. That doesn't feel right at all." 
Sophie Ellis-Bextor's Songs From The Kitchen Disco is out now.
Article image: Laura Lewis