RHODES took some time away, but now he's back. And he's ready to share everything with you. 
Good To You, the latest single from his forthcoming album Friends Like These (due January 27) is an emotionally vulnerable, orchestral-tinged pop ballad all about the fear of losing someone you don't think you could live without.
"I'm good for nothing if I'm not good to you," RHODES sings on the chorus, which marks his return on his first album in nearly eight years, since 2015's debut record Wishes, which peaked at Number 24 in the UK.
The release of the new record has seen the Hertfordshire-born artist embrace sweeping changes in the music industry. He's independent now, for one, after previously being signed under Sony. He's also found new represenation in TaP music - who have guided the careers of Dua Lipa, Lana Del Rey, Ellie Goulding and others. 
We sat down with RHODES to chat about his new musical freedom, how RAYE's recent chart success with Number 1 single Escapism. has helped to embolden independent artists and what fans can expect from his most open and honest work yet. 
Good To You comes from a very personal, emotional space – was it hard to share that with the world?
Yeah, it was. It was hard to share it with the world because you always just feel so vulnerable and exposed when you're sharing all that, but it was written in a really safe environment with friends and we were kind of just having fun when we wrote it.
We were trying to write something up-tempo, and we had like an electronic producer with us at the time and we were just kind of having fun with trying to find a balance between something emotionally deep but quite up-tempo. It evolved slightly over time and as we started evolving the song, it became a bit easier to sort of disconnect from it emotionally. In that process, somewhere along the line, it was just easier to let go of it.
The new album was recorded during lockdown – obviously not the most ideal scenario, but it really seems that a lot of artists used the time to sit back, reflect in cases like this, make the music they always wanted to make. Did the state of the world at that time spur you on creatively?
I think it did because everybody just had time and you realise when you stop how busy you actually are, or how consumed you are with the world around you and just everything you have to do day to day. So when all of that's taken away, you literally just have time to sit alone and think and you start to really dive into your soul and start figuring stuff out.
From that perspective it was very creatively inspiring, just to have all that ammo coming up from just sitting thinking, having nothing else to do but do that.
You've been open about struggling to find your space as an artist in the major label system – becoming independent, how has this freedom felt?
The freedoms felt great. I think as well, with the major label thing, was I had a great time working with majors and it was more a case of just, you know, I ended up doing quite a bit of dance stuff and I still do that and I still love it, but I just didn't want that to be my main focus. So I really wanted to step back into, or rediscover actually, just what it is, what is the essence of what I do and I tried to reconnect the reasons that I first started doing it.
The freedoms felt great, but then again, it's also quite scary because I'm kind of the person who has to decide everything now. That was actually one of the first things I kind of realised. I wanted some creative freedom but then as soon as I had it and I was looking for feedback, it wasn't really there because they're just like 'Yeah, this is your art, this is what you want to do, so let's put it out.' It takes a bit of getting used to, I guess it's one of those things, if it's all you've ever know then that's how you think it is.
The freedom now feels really great and actually I think it's about, for me, more creatively surrounding myself with writers and producers and even just friends and people in the industry who I trust musically, rather than just relying on that commercial, major label thinking behind releasing music.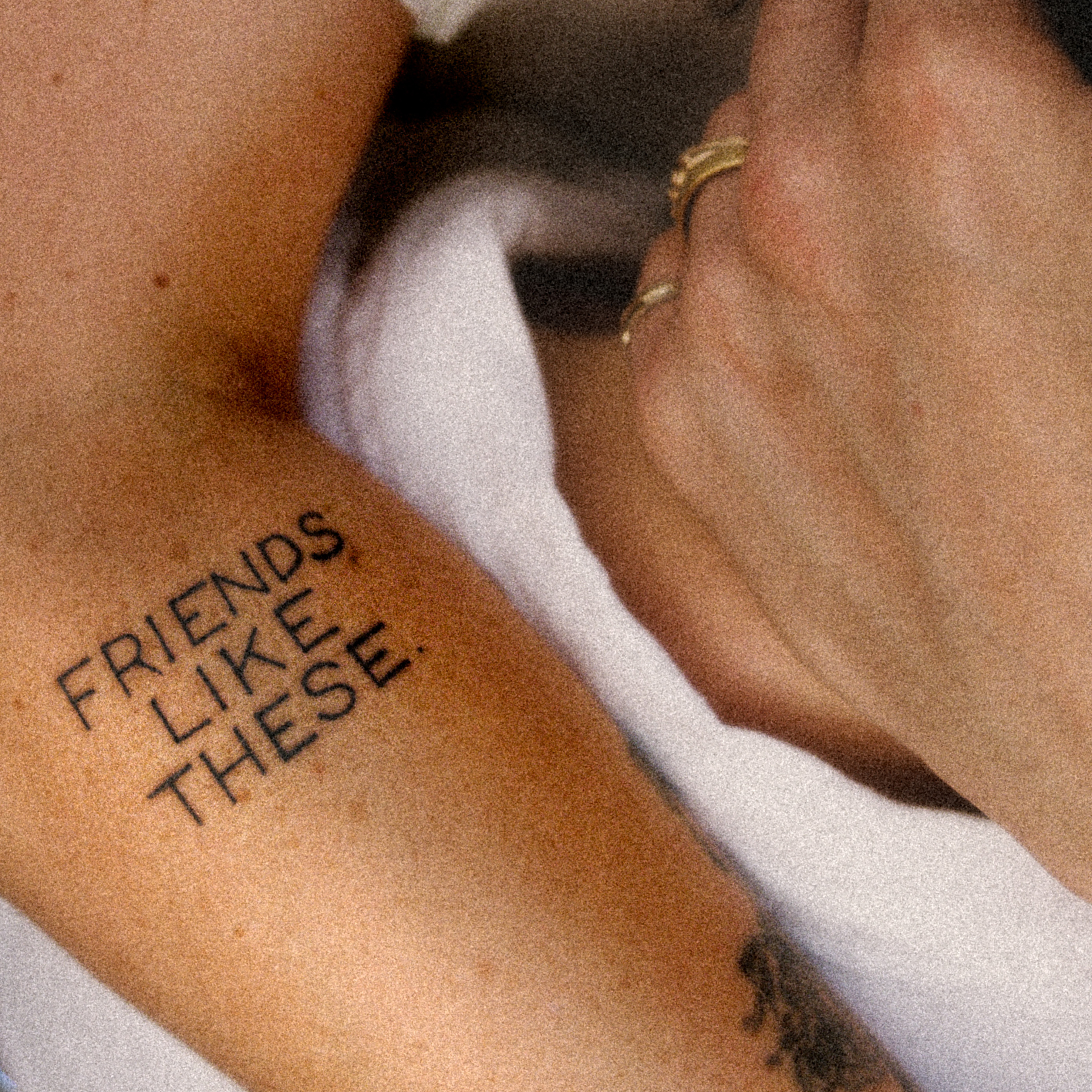 The cover art for RHODES' new album, Friends Like These
RAYE recently got to Number 1 in the UK with Escapism as an independent artist for the first time…is this the time for people to realise artists don't necessarily need a major backing them for success?
I think everyone's really excited now by the fact that we have access to all of this stuff, you know, with social media and the way that's moving and with streaming, anything is discoverable, if you have beautiful work and something incredible to share and a good story behind it, it's kind of there for people to discover. I do still believe in those moments for people, like what's happened to RAYE, because everyone's always known how incredible she is and I don't think anyone was really prepared for what she ended up releasing, because it's just so brilliant, but we always knew she was brilliant because of the work she was putting out with her collaborations but actually she just had something a lot deeper and more meaningful to say.
It's just amazing that she was able to turn around and do that and I think it's inspired a lot of people, it's certainly inspired me, you know, just having left a major and it is scary, it's daunting, but we should just be able to put out what we want to put out. None of us are going to want to something like super crazy and left field, it's not about that, it's just about being able to say what you want to say and I think some people are a bit afraid of too much freedom in what you're saying.
You recently signed with TaP, who have helped the careers of Dua, Lana and Ellie Goulding to name just a few. How did your vision align with theirs for the album?
That was quite funny because I'd had quite a few toxic relationships in the past with various different people in the industry and managers and I got to a point where I was like I need to change something, something had to change within the structure of my world and I had to try and find someone who I liked working with. I just started speaking to people and finding out who knew anyone who was just a good person and a good company and I just met a bunch of people. Then with Tony Beard, who's my manager at TaP, it's weird, someone just sent him my album. It was pretty much finished and he wanted to speak to me about it and I spoke to him and he was going through something at the time and it really touched him and he was moved by some of the music and we just met up and spoke about our values and what I want and what my kind of ambitions are and he seemed to be somebody who could help me get there and achieve it.
I think being part of a company that's a bigger management company, who I've never been a part of before, you get that infrastructure that you perhaps rely on a label for or somebody else, because, you know, I do still believe in that old saying it's not what you know, it's who you know. I think, just in that networking sense it's been amazing and just being able to be a part of that culture that they've created at their place. It's amazing, they've got some amazing people on their roaster, it was super nice when I met them and I'm now part of their thing.
You've got a series of UK shows coming up next month to celebrate the album launch…are you looking forward to getting back out there?
Massively. I did a bit of touring over the summer last year in 2022 and I just had forgotten how much I need that connection with fans and people who listen to the music, it's such an incredible feeling to be in a room with people sharing those moments. This tour is going to be really special, I hope, because it's my first headline tour since 2018, but that just feels like a lifetime ago now, especially with everything that's happened in between. So yeah, I can't wait, it's going to be great.
The album isn't out until the end of the month, but is there a song people haven't heard yet you're excited for them to discover?
There's a few. There's a few on the album. There's a song called Satellite on the record, which was one of the first songs I wrote for the album, bearing in mind this record was written over a few years, travelling all-around, all-around America and Europe trying to write songs basically. That was one of the first ones I wrote, I just wrote it in my bedroom, back in my old flat that I used to live in and I just remember really believing in it and thinking, this is great, I'm onto something. And then, you know, things change and the demo goes to the bottom of the pile and you kind of forget about it and then I rediscovered it and recorded it for the record and I just love the way it's turned out.
Some of it was recorded in London and then bits of it were recorded out in New York. It kind of shows within the song, well, what it means to me, is the evolution from where I was at the end of the last album to where I've come to now and I think it's going to resonate with people.
Good To You is out now. Friends Like These drops January 27/