2003. Peak pop. Breaking the mould slightly were guitar-pop outfit Busted, a trio of part-wholesome, part-gross-out lads called Matt, Charlie, and James. They'd already scored four Top 3 hits, including chart-topper You Said No – a very relatable bop about rejection at the school disco – and were now back with yet another mildly anarchic radio-friendly hit, Crashed The Wedding. However…
Hoping to cause a scene and ruin their big day, however, was a big pop star on the comeback trail. Britney Spears had decided to kick off the campaign for her fourth album in a big way, by enlisting her pop idol Madonna as a guest star on Me Against The Music. The pair already had history – just over two months earlier, they'd locked lips on stage at the MTV VMAs, midway through a medley of Madonna hits. Remember Justin Timberlake's face? Sure you do – in fact let's just see that again: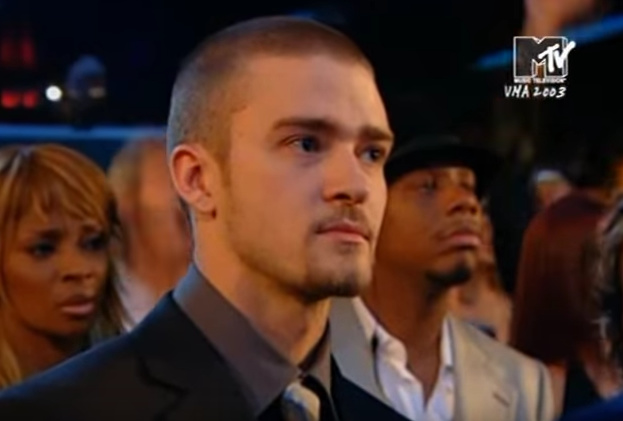 Amazing.
Anyway, it was the plucky British lads against the slick American pop princesses, and it was a good day to be this side of the pond, as Busted managed to race ahead of Britney and Madonna and claim the Number 1 slot that week, beating them by a fairly conclusive 6,332 copies - 55,083 sales to Britney and Madge's 48,751.
MORE: Relive Britney's bangers in her Official Chart archive of all her hits
Busted would go on to have two more Number 1s – Who's David and Thunderbirds – before they split up when Charlie wanted to leave. The group reformed for a tour and new album Night Driver, scoring a fourth Official Albums Chart Top 40 in 2016. Crashed The Wedding has, to date, sold 210,000 copies and has been streamed 5.75 million times.
MORE: See where all of Busted's singles and albums reached on the Official Chart
Busted headed up a brilliant, very Noughties chart that week – descending, deposed Number 1 was Kylie's sultry single Slow, Outkast's Hey Ya was shake-shake-shaking it for the very first time, new at 6, and Missy Elliott scored her seventh Top 10 with Pass That Dutch.
Further down, nearly-Girl Aloud Javine was new at 15 with second single, the Diana Ross-sampling Surrender, and Basement Jaxx had teamed up with the then-not-quite-as-famous Dizzee Rascal on Lucky Star.
Listen to the UK Top 40 from this week in 2002 on our streaming channels! Subscribe to our weekly Flashback playlist on Spotify, Deezer, Apple Music or click the image below: