Nothing But Thieves claim first-ever Number 1 album with Dead Club City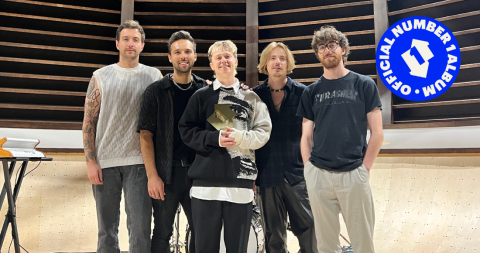 Nothing But Thieves claim their first-ever Number 1 album with Dead Club City. 
The Essex-formed indie-rock outfit, comprising Conor Mason, Joe Langridge-Brown, Dominic Craik, Philip Blake and James Price, reach the summit with their fourth studio LP. Prior to this, the band enjoyed Top 10 success with their eponymous 2015 debut (7), 2017 release Broken Machine (2) and 2020 album Moral Panic (3). 
Speaking exclusively to Official Charts, Nothing But Thieves say: "This is very, very cool. Thank you world, thank you UK, for supporting our record. Thank you for this award, it's been unreal. 
"It's one of those things that you don't expect as a band as kids, growing up together. Thank you for buying our record and supporting us for all these years."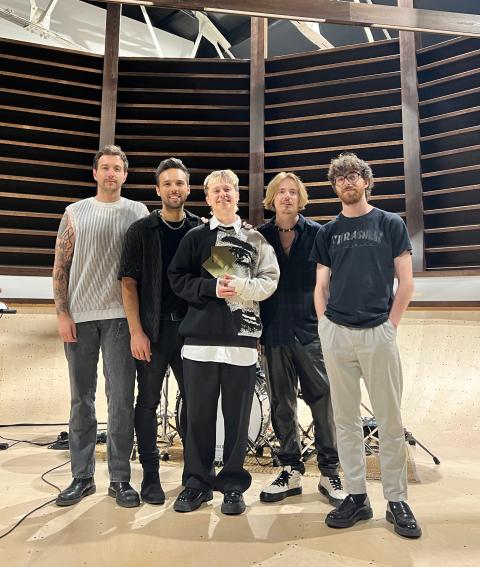 Elsewhere, it's a Top 5 debut for London-born singer-songwriter Olivia Dean. The breakout star's first full-length release, Messy, enters at Number 4 this week. Messy is also the week's most-purchased album in independent UK record shops, topping the Official Record Store Chart. 
At Number 7, Lil Uzi Vert secures their second UK Top 10 album with Pink Tape. Previously, the Philadelphia-born rapper, singer and songwriter enjoyed success with 2017's Luv Is Rage 2 (14), 2020's Eternal Atake (3) and collaborative Future project Pluto x Baby Pluto (39). 
Rounding out the Top 10 is Fontaines D.C. frontman Grian Chatten; the Irish singer-songwriter's debut solo release Chaos For The Fly lands straight in at Number 10. Chaos For The Fly also tops the Official Vinyl Albums Chart. 
Following the release of vampire, the first single from her upcoming album GUTS, Olivia Rodrigo sees her debut SOUR vault 16 places back into the Top 20 (16). SOUR also lands on Official Charts' newly-unveiled list of 2023's biggest albums to date – see the Top 40 LPs of the year so far in full here. 
WATCH Nothing But Thieves accept their Number 1 Album Award for Dead Club City:
Further down, Madonna's 2022 hits compilation Finally Enough Love sees a huge surge following the release of a 'Rainbow Edition' 6LP vinyl boxset (27). Meanwhile, The Japanese House – aka English singer-songwriter Amber Bain – claims a career-best, and her first Top 40, with In The End It Always Does (29). The record also debuts inside the Official Vinyl Albums Chart at Number 5.
Scottish punk rock group Skids claim their fifth Top 40 album with Destination Düsseldorf (36). The band previously enjoyed success with 1979's Scared to Dance (19) and Days in Europa (32), 1980 release The Absolute Game (9) and 2018 record Burning Cities (28). 
Finally, as she releases her re-recorded Speak Now (Taylor's Version), Taylor Swift's original Speak Now album lifts nine back into the Top 40 (40). The star's third studio LP, Speak Now peaked in the Top 10 upon its release in 2010 (6) – could Taylor's Version take it to new highs next week?