As we sit down for a chat with Niall Horan, he fits as much of a biscuit in his mouth as he can and eats it. We're in a suite at a London hotel, and there are plates of them strategically placed everywhere. It's shortbread. He peers at the remaining half and says it before we do. "Shortbread is a very Niall Horan biscuit to like, isn't it? Plain. Buttery." We proffer "sweet" and "understated" as more flattering alternatives.
In short(bread), it's a pretty on-the-nose comparison. Even in One Direction he was the safe, dependable member. That quality extended into his first solo album Flicker, a collection of solid if slightly predictable folk-pop that topped the charts in America and peaked at Number 3 on the Official UK Albums Chart.
Then, last year, he returned with Nice To Meet Ya; a track that caught fans off guard for its trippy, '90s rock-inspired edge. A show-er as well as a grower, it hung around the UK Top 100 for 15 weeks. It sets the tone perfectly for his second record, Heartbreak Weather, which finds Niall exploring his pop-rock-folk sound with a new, infectious confidence. Loosely a concept album, it tells the story, he explains, of "the end of a relationship and the feelings you have around a breakup and attaching them to weather". It's more Viennese biscuit than shortbread. 
"I definitely feel like my voice has got better," he says of the album. "That's just repetition from singing every night on tour. I wanted to write what I thought were good pop songs and not overthink it. What the first album did has blown my mind, but I felt like I was pigeonholing myself into writing a certain type of song. This time I wanted to focus on writing good songs and dress them up however we felt necessary afterwards. I feel like I know my way around a studio and my way around a pop song, so f**k it, let's have a good time."
What makes Niall stand out compared to his former bandmates and pop peers in general is how easy he makes the whole popstar thing look. "Everybody says that to me," he says, rolling back with laughter. "It's not easy, I promise. I must just look like the smiliest person on the planet. I just love it. When I was a kid, this is what I wanted it to be. I think about that on a regular basis - remember who you're doing it for, that five-year-old running around the house."
When is your favourite time to listen to music?
"I love going out for a drive at night and listening to music. That's how I listened back to this album. I'm going to sound like the biggest fan of myself here, but the songs on this album are brilliant and I'm not bored of them in the slightest."
Forget Heartbreak Weather - what is your ideal weather?
"25 degrees with a slight breeze. That's a good English summer. With a pint and sitting by a river. I don't need much, I'm a simple man."  
There's a song on the album called Small Talk, which you probably have to do a lot of in your line of work.  Any tips?
"I'm really s**t at it, and it happens all the time. Like with most people it's happened when meeting my idols, but even when I'm chatting to girls, I get sheepish and socially awkward - even though I'm not socially awkward generally."   
What's the first song you'd point people towards on the album?
"I've track-listed the album on purpose to tell a story, so if you want to know the whole story, listen to the album from start to finish. As a vibe-setter Heartbreak Weather is track one – it's feel-good and a song to bop to. Otherwise, Black And White and a song called Still at the end of the album, which sort-of sums up the whole story."
What would your superpower be?
"To get rid of jetlag. I spend my whole life jetlagged or feeling like I am."
What personality trait about yourself annoys you most?
"Probably talking too much. And I'm a s**t communicator, which is probably why I'm a songwriter. It's probably a man thing – we're all s**t at talking, but I'm determined to get better at it."
What's your phone wallpaper?
"It's a photo of my tour manager Paul. We went to Julia Michaels' birthday party in January and it was '90s prom themed. I had no idea what to wear so ended up going in a Miami Vice look. Paul decided he was too old for that, so he dressed as a teacher and we took a picture of him looking like this – so sweet yet so sad at same time."
What would be your last meal?
"How long have you got? The one I think of most often is Wagamamas: I'd get Chilli Squid, Ebi Katsu and a Chicken Katsu Curry. Then I'd go around the corner to a pub and have about eight pints of Guinness. Did you know there's a Wagamamas at Heathrow airport? I once had a Katsu curry at 10am."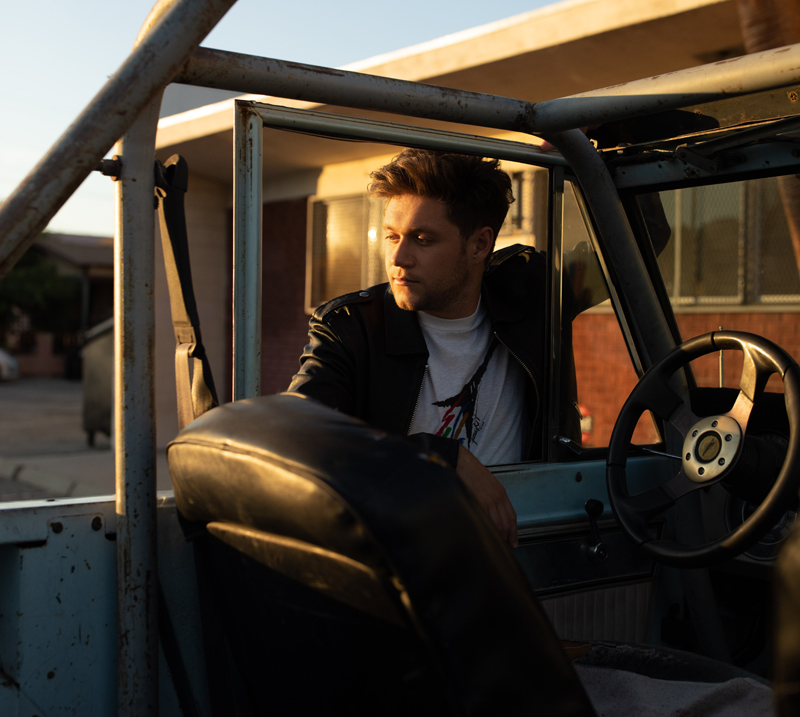 What is top of your bucket list?
"I'd love to win a Grammy. This year I'd like a Number 1 album and a sold-out tour. Now that I've got to a certain point in my career, I'd like to stay at this level or get bigger. It's what drives me – I always want to out-do myself. Last album I played Brixton Academy in London, this album I want to play Wembley Arena."  
Who would play you in a film about your life?
"Allen Leech from Downton Abbey. People tell me all the time we look the same, and let's be honest, they're not wrong."
What is your most treasured possession?
"I wouldn't like it if my house fell down. There are certain things I think about a lot like old footage, awards, stuff like that, but - and this is going to sound very random - but I've become close with Paul Smith and he sends me these little notes all the time. If I lost those I'd be really upset."
Who would you invite to your dream dinner party?
"Frank Sinatra because he's my number one and I'm starting to dress like him. Bruce Springsteen, who would have great stories. Also Ellen DeGeneres for the craic and Michelle and Barack Obama. I'll bring the beer and everyone else can cook."
On reflection, what's the best One Direction song?
"I was listening to a few recently because I want to put one or two in my live show. I love a song called Stockholm Syndrome. A track called Girl Almighty as well. Basically, the last two albums are f**king brilliant. Drag Me Down is also a great tune. Also Walking In The Wind and What A Feeling.
And the worst?
Na Na Na from the first album. There's a few from that first album that are howlers. It still got to Number 1 though!
Niall Horan's new album Heartbreak Weather is out now.