Meet rising star Tyla and her infectious brand of Afrobeats
The Johannesburg-born singer-songwriter is One to Watch this year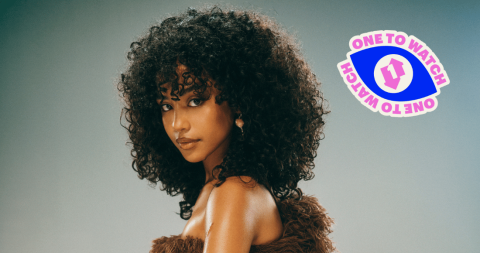 Rising star Tyla is already having an incredible 2023. At the start of the year, the South African artist dropped the brilliant rhythmic R&B bop Been Thinking, then supported Chris Brown on the European leg of his Under the Influence tour. A vibey, Afrobeats-flavoured collaboration with Ayra Starr, Girl Next Door, followed in May – and frankly, it's the ideal soundtrack to balmy summer nights.
With her debut EP also coming soon, we gave Tyla a call to find out what she has in store – and which musical icons have shaped her journey so far.
Who were your main musical influences growing up?
Definitely then and still now, Rihanna and Aaliyah. And I really loved Michael Jackson. Like, his influence was crazy. Those were the three main artists I really looked up to when I was growing up. They're literally icons.
How did your amazing collaboration with Ayra Starr - Girl Next Door - come about?
So, Ayra and I were friends a while ago. The first time I went to Nigeria, I went to visit her, and then she came back to where I was recording music. And we literally stayed up the whole night making that song with [producer] P. Priime and just laughing and having fun. And yeah, we instantly fell in love with the song and knew that it was going to be one we released.
You're working on an EP at the moment – does it feel finished? 
I'm literally so close. We have the songs and everything is planned out. So it's just [about] the final touches. I wanted to explore my sound a bit more, so the EP is going to touch on a lot of genres – Afrobeats, R&B – but with that African sauce to tie it all together. I feel like it's definitely a very diverse EP, so people will be able to get to know me and my sound a bit more."
Will we be seeing you in the UK in the near future?
Definitely. I'm actually coming soon, which is exciting. I've heard that it's summer there, so I'm looking forward to the warmth. Because the last time I was there, in February, oh my gosh, it was literally freezing!
It must be so exciting to find you have fans in all corners of the world...
Yeah, it's crazy. Like, sometimes I still sit back and think, like, 'What the heck is happening to my life?' Because I've literally dreamed about this since I was small. Obviously I wanted it to happen, but there was always a small sliver of uncertainty because you never know. So now that I'm actually living the dream – travelling, performing everywhere – it's like I'm living in a movie.