The word "epic" feels like it's been diluted in recent years - from school playgrounds to money-saving TV ads, a word that once meant so much more than it seemingly does in 2016. But, if there were a true musical dictionary definition of "epic", there's a good chance it'd have 'see Bat Out Of Hell' scribbled right by it. 
Jim Steinman's rock masterpiece album Bat Out Of Hell, as brought to life in 1977 by Meat Loaf, celebrates its 40th anniversary in 2017 with a stage version of the show heading for London's West End following a run of preview shows in Manchester.
Bat Out Of Hell is now one of the UK's Top 20 biggest selling albums of all time with sales of nearly 3.3 million, and one of a rare breed of albums to have spent over 500 weeks on the Official Albums Chart.  Written by Jim Steinman - an immensely talented songwriter with a near never-ending CV of hits, including Total Eclipse Of The Heart and It's All Coming Back To Me Now - the songs were originally written with a musical in mind, before turning into the seven-track album which became Bat Out Of Hell.
Steinman and Meat Loaf famously struggled to get a record deal for Bat Out Of Hell at first; label execs considered it a difficult record; the songs - including the title track, and other huge classics such as Paradise By The Dashboard Light - were long, sexual, a little violent, unconventionally structured and would never work on radio. But that's all history now, and as the Official Charts Company celebrates 60 Years of the Official Albums Chart this year, Bat Out Of Hell firmly stands as one of Britain's most-loved albums of our lifetime.
Official Charts caught up with Meat Loaf, and Bat Out Of Hell The Musical's lead actor, Andrew Polec, at the show's press launch at London's Coliseum to find out what it takes to bring Bat Out Of Hell to the stage.
Meat Loaf:
Hi Meat - how would you describe Bat Out Of Hell to somebody whose never heard the album before?
"It is an emotion. It's something that is written to reach deep inside that emotion. It took a long time for people to finally understand that.  Jim writes long songs, he tells a story, and I'm a storyteller. Jim has the ability with his words to reach out and touch you, I have the ability to take those words and get inside of you."
Bat Out Of Hell is the ultimate slow burner - it first charted in the UK in March 1978 but didn't actually hit its peak until 3 years later in August 1981, then it hung around for more than 500 weeks! What is it about Bat Out Of Hell that took a while for the public to catch on to? 
"Some people don't like it. They're afraid of themselves, and that's the honest truth. If someone listens to Bat Out Of Hell the album and they say 'I don't like this', it's because they're afraid of discovering who they really are. When it came out, it was in its own universe. There was nothing else like it. It didn't fit, but now it kinda fits everywhere, because people allow it to.
"Bat moved one person at a time. One person found it and they told you, you would listen to it, then you'd say, 'oh wow! I'm gonna tell Bill', and you told Bill, and it slowly built.  Then all of a sudden after a slow build, I showed up at the Old Grey Whistle Test and people are like, shocked, by what they're seeing. This guy, he doesn't look anything like a rocker, singing this music, making out with this really pretty girl."
MORE: Look back at Meat Loaf's complete UK chart history
Karla DeVito (live female performer on Paradise By The Dashboard Light) is hot in that Old Grey Whistle Test archive clip!
"That became every man's dream! It's Beauty and The Beast, though I'm not such a beast anymore, I've lost a lot of weight.
"I sing everything in character. Every night I do it it's a different character…they're all different so I couldn't even tell you what the character was in the last show I did. I go so far into the zone that I don't even know there's an audience there. I don't hear them applaud, if they applaud, I couldn't tell you!
"The show never stops. I don't ever listen to myself sing. The only way I know what I did was I taped every show since 1986. I go in five hours early before every show, I have something to eat and listen to the show from the last time, and that way I know what I did."
We'd love to see some of that footage! What's it been like finally turning Bat Out Of Hell into a musical?
"Well this has been going on since 1968, four years before I even met Steinman, just under different names and different songs. This has been Jim Steinman's dream for 50 years, and my friend of 42 years, someone who I love dearly, so to see his dream finally come true is truly, truly remarkable."
Do you have any advice for the cast of the show?
"Make every character belong to you. Make it your own. When you make it your own, it will go out to the audience and the audience will make it theirs."
MORE: The UK's 60 biggest selling albums ever - including Bat Out Of Hell
Andrew Polec (lead actor in Bat Out Of Hell The Musical):
Hi Andrew, congratulations on getting the lead in the show. What can you tell us about the plot?
"It's very Romeo and Juliet meets Peter Pan meets future apocalyptic world. I play Strat who's the leader of the Lost Boys, and what's unique about these Lost Boys is that they never age. They're always 18 and in that rebellious youth phase. They come into conflict with the despotic ruler of the city called Obsidian who wants them gone and hates them. Strat falls in love with his daughter, and then a romantic adventure ensues."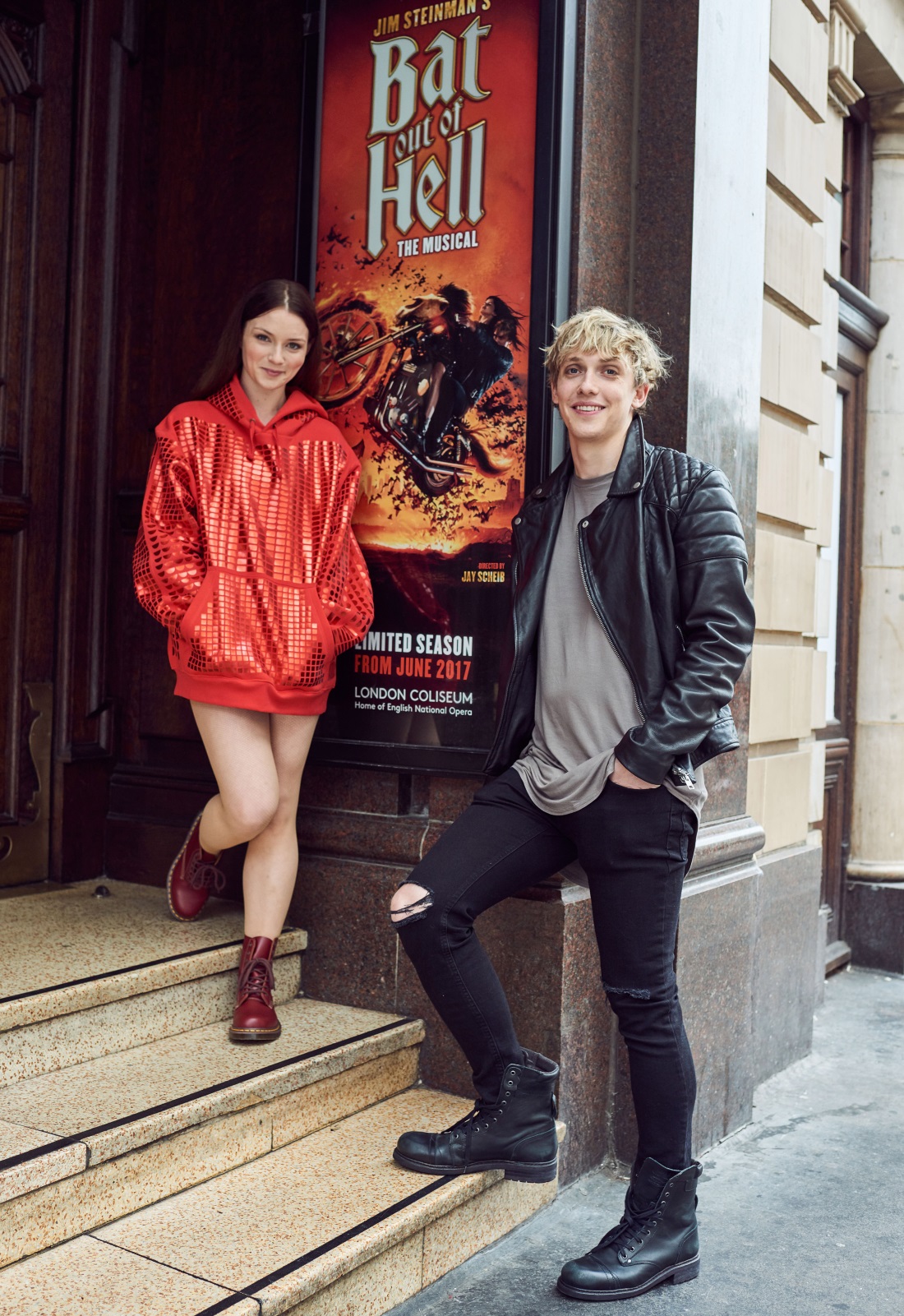 Andrew Polec with his co-star Christina Bennington (Specular)
You've got this massive iconic act in Meat Loaf, these huge well-loved songs, and now you're the vehicle to deliver it in this new setting, what's that kind of pressure like?
"It's absolutely wild! The music is poetry. Jim Steinman's music is going to affect you and you're gonna have thoughts about it, probably different to any other person, it always relates to the person, and your time of crisis at that moment.
"What's wonderful is that there's so much beautiful text in there, like 'dying at the bottom of a pit in the blazing sun'. Meat will tell you he loves that line because it's just hilariously ridiculous, there's such an essence of larger than life classical music, like Wagner.
"There's these huge epic stories that you have to fill with as much imagination as possible, and the bigger and further your imagination can go about the big intricate stories you're creating with these characters and the relation to the song, and where it lands in the play, I think the better and more convincingly you can get the piece across.
"I think that's what's so beautiful about Meat Loaf's performances. He always comes up with such an intricate character, yet only plays the role for one song."
What advice have you had from Meat Loaf himself? How does one channel their 'inner Meat Loaf'?
"I've certainly gotten a lot from him, even in the interviews we had this morning. People would ask, 'are you gonna give Andrew any advice?', and he would say, 'no, no, but if I see something, I'll whisper in his ear', so I'm waiting for the whispers! But as long as you come with a message and want to give a gift to the audience and make it about them then I think you'll always be in the essence and genre of Meat Loaf."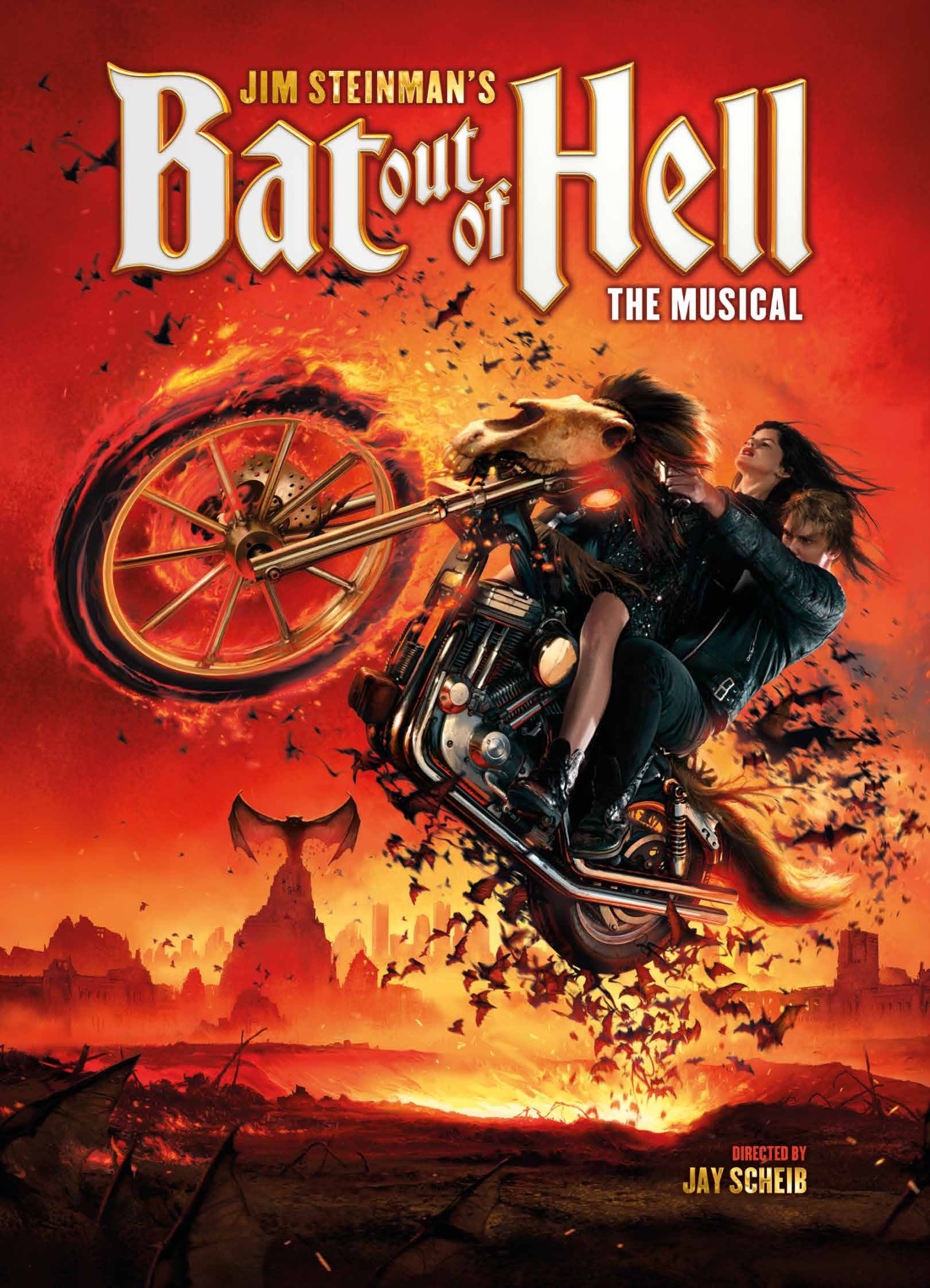 How did you find picking up these songs as a singer? There's some really complex structures, huge ranges, and not to mention the sheer length of the songs…
"You have to be careful about how you perform these songs, for a metaphor analogy you can't just get up one morning and say, 'I'm gonna run a marathon, I'm gonna do it today and it'll be fine', you have to keep practising. 
"These songs are full of range, they're full of a lot of physical energy to put in there. You can't just blow it all at once, then you don't have anything for tomorrow. So it's really developing an Olympian-like stamina to be able to run to hell and back, or to heaven, or to the stars.  So I think the most challenging thing is making sure that you're giving it all you've got, but you're also making sure that the notes aren't gonna fry you out, because Bat Out Of Hell ends with a high 'c', and that's what Wagner would do, that's what operas would do.

"It's rock opera."
Bat Out Of Hell The Musical opens at London's Coliseum 5 June 2017, with a limited run of preview shows at Manchester Opera House from 17 February.