Electra Heart was never meant to be taken seriously. Not by anyone, certainly not Marina Diamandis herself. 
10 years ago today (April 27), Marina released her second album under Marina and the Diamonds; it was sarcastic and opulent, bold and brash. It sounded nothing like anything she'd made before, or anything she's made since. It was a big project, with even bigger ambitions; to make Marina the biggest pop star in the world. 
The album itself was viewed very much as an experiment. Marina had made her name with her quirky debut album The Family Jewels, a kitschy collection of alt-pop tracks heavily inspired by the likes of Kate Bush. But Electra Heart's MO was different. Like others before her (Beyonce, Lady Gaga, Lana Del Rey), Marina donned an elusive alter-ego to help peddle the project; the bratty, self-obsessed Electra Heart, with tight blonde curls and a heart upon her cheek.
And Marina did prove to have the courage of her convictions. Electra debuted atop the Official Albums Chart - giving Marina her first (and so far only) UK Number 1 album. To date, Electra Heart has shifted over 164,000 chart sales and is BRIT-certified Gold.
Critics at the time certainly seemed to enjoy ribbing Marina for 'selling out' and abandoning her indie convictions with glee. Of course, that that was the entire point. Electra Heart is a concept record; one that sought to deconstruct the meaning behind pop stardom in the 2010s by subsuming the very thing it parodied in the first place. The only reason people may have struggled is because, well, Marina sold it very straight. It was hard to separate the character from reality. 
Take Primadonna  - Electra Heart's gloriously melodramatic lead single that lavishes in its excesses. "Going up, going down, down down," Marina coos. "Anything for the crown, crown crown." She meant it. Primadonna is by far the most successful track from Electra Heart - shifting 224,000 chart sales and a massive 25 million streams. Sometimes, selling out works.
Front to back, the album fizzes with unbridled energy - from macabre gloom of Teen Idle, the EDM gloom-wobble ballad Lies to lighter, more introspective moments like Hypocrates. It was like a Britney Spears album had been made by Shakespeare - a whole host of dramatic and tragic archetypes transplanted into a world governed by the idolatry of Old Hollywood.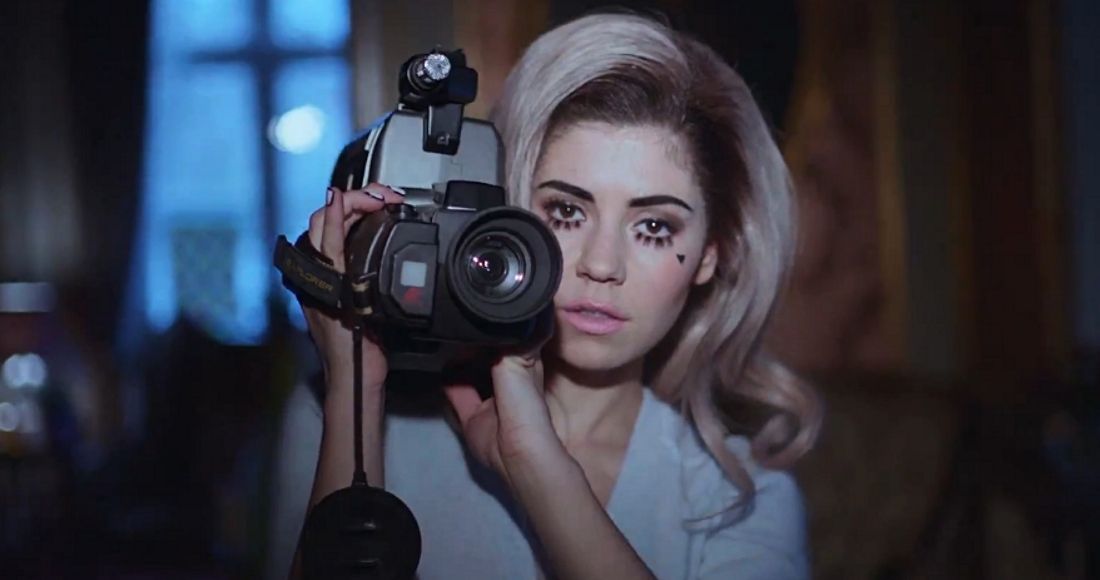 Marina became one of the savants of the Tumblr era, alongside fellow pop auteurs Grimes, Charli XCX, Sky Ferreira and, yes, Lana; all women who wanted to use the intricacies of pop music to reveal something deeper about both it and themselves. Now a decade on, it's easy to see where Marina was ahead of her time, both in concept an execution.
Charli XCX most recently gained her first-ever UK Number 1 album with Crash, hinged around a similar concept of 'selling your soul' to become the ultimate, final form of pop star. And Electra's opening song, the ska-infused Bubblegum Bitch took off on TikTok (so much so apparently Marina's label even wanted her to film a new video), it's now Electra Heart's second most-streamed song, with over 22 million streams.
10 years on from its release, an Electra's spectre seems eerily prescient in the modern pop world, even if its not regularly pointed. You can feel her in the manic music of Ava Max, sense her ambition in records like Taylor Swift's 1989 and Reputation and see her visual influence...well...basically everywhere on TikTok.
Marina Diamandis had one goal with Electra Heart. She cracked pop music's shiny, lacquered veneer and pulled out the bloody, beating heart underneath. Marina's career may have taken her far away from Electra, but if anything, this shows she always had the intuition of the biggest stars: knowing when to get out.