Hello Jesy! How are you in these very strange times?
"It's so weird isn't it? I've been spending my life indoors, eating my life away."
We can relate.
"I feel like everyone is saying they've been exercising and doing puzzles. I swear to god, I've sat in front of the TV eating chocolate. I promise you, I haven't done anything else. Now when I'm going on Instagram and seeing everyone doing workouts it's making me feel really s**t about myself [laughs]. My mum's gone and got all the weights and mats out so we can do some exercise, but we've done literally nothing yet."
Snap! Music is important right now, which is why it's great Little Mix have released a new song. What have you been listening to?
"I want to say I have but honestly I've been listening to the telly [laughs]. I got a bit obsessed with Doctor Foster over the past couple of days – me and my mum finished it at six in the morning. I'd been sweating watching the whole thing! I've just found out there's not a series three and I'm devastated to be honest."
Your new single Break Up Song is very good isn't it?
"Thank you so much. It's exciting but it feels weird because we're used to going out and doing promo for and now we're just… indoors. We're trying to think of different ways to get it out there."
It's the kind of song that reminds us of something, but we can't put our finger on it.
"It's very '80s, isn't it? It's one of those songs that just makes you feel really good. Obviously, I didn't live through the '80s but when I listen to it I feel like it takes me back somewhere. It's hard to explain. It feels like it needs to be in a movie."
It's a positive and uplifting song, which we all need right now.
"It's basically, 'This is another break up song, don't worry hun, you'll get over it. Listen to this song and you'll feel good.' That's what I get from it anyway!"
"There was – we've just been taking it day by day really. We've been recording the album and this whole situation has got worse, so we've had to stop for now. The album will have to be pushed back now because nothing is finished, which is a shame, but you've got to stay safe. We've been in the studio a lot and then recently we were talking about it over Whatsapp and realised we needed to start taking this situation more seriously. We can't be selfish."
How far off were you from finishing the album?
"We've got the whole album now, we just need to finish it off. We've recorded about eight songs, so we're about halfway through recording. Break Up Song isn't really an indication of what the album sounds like though – the album isn't '80s. We've just got loads of really sick songs on there."
Around your last single, Bounce Back, there was a feeling that Little Mix may have been done with putting out albums…
"It's funny because we've been recording, but we weren't sure if it was going to be for an album or just singles. Normally we have a brief and specifics of what we want to do when we put an album together, but this time we didn't. We just kept writing lots of songs and it's just happened to make an album."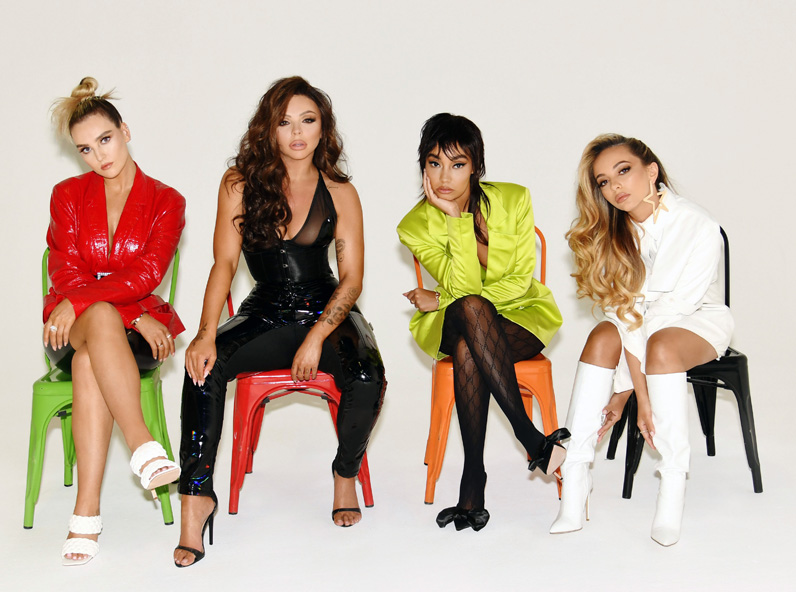 What changed your minds?
"We've got so many good songs now that we thought it should go out as an album. There's no theme to this album, there's just loads of really good bangers on there, which is exciting!"
You've been co-writing songs for the record; what subjects have been inspiring the writing sessions this time?
"Do you know what? I find writing sessions so hard because we've already written about so much stuff. It's so hard to think of new concepts because everything has been done before.
"Normally when we're in with [songwriter] Kamille, she'll start singing melodies and then… the whole process is weird. We'll start singing melodies together and then put lyrics to it later. It can literally be about anything. It's very easy to do break up songs because they help you and other people feel good and better about life. There are a few of those on there, and there are definitely a few girl power songs on there. I can't even think of everything on the album, but honestly it's such a mix, it's great."