John Lewis Christmas Advert 2023: Andrea Bocelli performs a rock opera with Snapper the Venus Flytrap
We love you Snapper.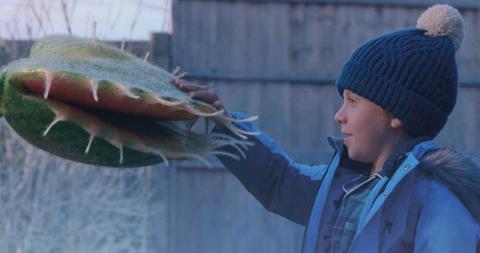 The 2023 John Lewis Christmas advert has been unveiled, with an upbeat new twist to celebrate Christmas traditions old and new.
The advert features a brand new mascot for the festive season, Snapper the Venus Flytrap. The narrative of the piece revolves around our eight-year-old protagonist, Alfie, who purchases some "grow-your-own-Christmas-tree" seeds, but sadly what grows out is not a Christmas tree, but a prickly plant. 
Alfie dresses up Snapper as a tree, but his family don't want to include him in the festivities (poor love), and instead cast him out into the frosty night, including one particularly heartbreaking shot where Snapper puts a plant-like hand up to the window from outside.
All's well that ends well, though, as the family accepts Snapper and finds himself particularly useful as cleaning up all the unwanted wrapping paper...and then regurgitating some brand-new John Lewis presents for Alfie and his family. 
WATCH the 2023 John Lewis Christmas advert below:
A step away from previous years' musical offerings which usually provide an acoustic cover of a much-loved song, 2023 sees Andrea Bocelli offer up an emotional, upbeat Rock Opera-style piece of brand new music, Festa.
Several songs from the department store's festive ads have gone on to peak in the Official Singles Chart Top 40, Bastille's version of Can't Fight This Feeling (2019), Aurora's Half the World Away (2015), plus even a couple of Number 1s, from Lily Allen's cover of Keane's Somewhere Only We Know (2013) and Gabrielle Aplin's stunning version of The Power Of Love (2012).
Decca Records will also be spreading the Christmas love, with 10p for every track download in the UK split between the charities Action for Children, Home-Start UK and Who Cares?. 
But will Festa be in the running for 2023's Christmas Number 1? That remains to be seen, but we will be looking forward to buying a Snapper cuddly toy ASAP.