Despite making her music breakthrough in 2013, Astrid S has been in no rush to release her debut album.
The Norwegian singer-songwriter launched her music career aged 17, when she competed on the Norwegian Pop Idol, finishing fifth place. Rather than hide away in recording studios afterwards, her development from acoustic pop warbler to electropop singer, songwriter, producer and creative director has played out in public via a series of EPs since 2016 that have spawned an impressive 15 Top 10 hits in her homeland. She's also collaborated with Shawn Mendes and recorded backing vocals for Katy Perry (on 2017's Hey Hey Hey). 
Speaking to us over the phone from Oslo, she said she began work on her debut album, titled Leave It Beautiful, almost exactly one year ago. It was the moment, she says, that she felt her songwriting and production skills were good enough to do justice to her first proper record.
"Previously I didn't think I was mature enough as writer, artist - or even as a person," she said. "Now with streaming, it's not as important as it used to be to have an album. I feel like I've been able to have a career and success without an album, and that felt right because I was so young, so I worked on smaller projects.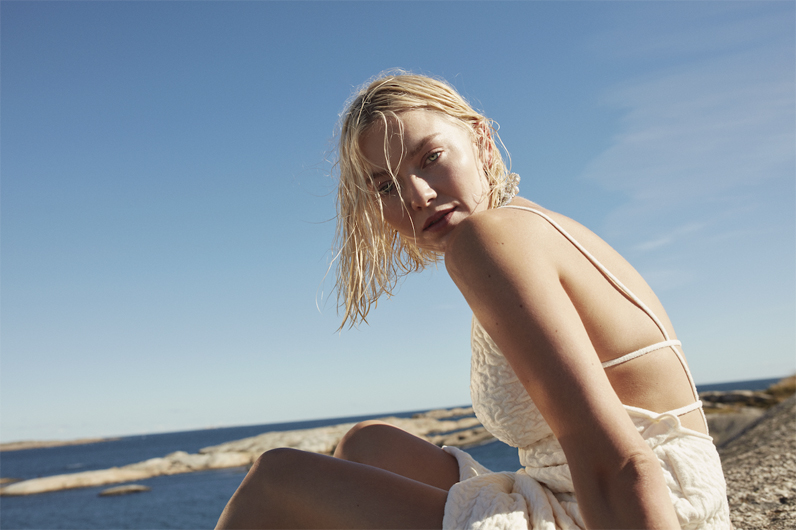 Astrid S (Janne Rugland)
"Also I used to bounce around a lot with producers and writers every day. I just wanted to feel confident to make the album that I wanted to, that I was mature enough, and that I also had found someone I wanted to make it with. That moment, she says, arrived in October last year. "Everything just clicked. I'm really happy I waited because I'm really excited and proud of what we've made."
The album is – at ten tracks and clocking in at just 28 minutes – a confident, watertight, all-killer affair. As well as Astrid, there are contributions from pure pop pros; co-writes include Fred Ball (Rihanna, Beyonce), Amy Wadge (Ed Sheeran, Kylie Minogue) and Emily Warren (Dua Lipa, Charli XCX), alongside Swedish production team Jack & Coke (Carly Rae Jepsen, Tove Lo).
"I think people will experience me at my best with this album," she insists. "Even though the songs are all very different, it feels very tied together. I tried to experiment in the pop genre and wanted to get out of my comfort zone."
One thing immediately apparent on Leave It Beautiful is how free and open Astrid sounds; the songs are broadly about dancing away the pain, falling for the wrong person (again), and learning to let go. Lyrically, she says the songs came from "conversations with my friends, or anything I'd written down."
"Every single song is something that I've truly felt, and I've had the need to put into words and make a song about it. That's probably why I'm more nervous about this than anything I've released before." The soaring, cinematic title track and album closer is her personal favourite; a rare moment when lyrics and melody collided to capture "exactly how I felt in that moment".
Musical references to the early 2000s are littered throughout the album, particularly on Obsessed and recent single It's Okay If You Forget Me. Another immediate standout, Hits Different, has a melody inspired by Spice Girls' Spice Up Your Life.
Growing up, Astrid S was raised on pure pop: her mother played ABBA, Spice Girls and Britney Spears, while the first albums she remembers buying were Maroon 5's Songs About Jane and Keane's Hopes & Fears. "It's a weird combination of those references and modern pop," she says of her own album.
"When I made the album, I actually made a rule that I wasn't going to listen to any music," she explains. "My theory was if I don't listen to music, I will have other ideas and maybe feel more inspired to make music. I feel like it worked pretty well, for me at least. It forced me to come up with new ideas."
Reflecting on the release of her debut, seven years after her breakthrough as a teen on Pop Idol, she says: "I have another perspective on being an artist now. I really take the responsibility – that it all has to come from me. And that's what I want.
"That takes a lot of hard work and being involved in all the details – from co-producing the album, to the colour palate for the album, the font, directing my own music videos… I don't think I could have done that even a year ago, let alone six or seven years ago. Everything has led up to this and it's been so much fun – and a lot of hard work!"
Leave It Beautiful by Astrid S is out now.
Article image: Janne Rugland