This Friday (June 15) will see Greg James pass the Official Chart show host baton over to Scott Mills after almost three years at the helm.
Scott has covered the Official Chart on Radio 1 intermittently since 1999, when he stepped in for Mark Goodier, and hosted the Official Chart Update for two and a half years.
Ahead of his proper debut as an Official Chart presenter, we caught up with him to find out what he plans to bring to the show as well as test his chart smarts...
So, Scott, you've got a new gig...
I've got a new gig! I'm quite excited actually. Can you tell? I feel like it's a show people know I've wanted to do for quite a while, and now it's actually mine.
You've stepped in to cover the Official Chart numerous times over the years, so you'll be a dab hand at this, right? 
I have, but this is different. I've covered the show for ages – I think I'm the longest cover presenter on the charts. It's like I've gone from being a supply teacher to a full time one – and it feels good.
Now the Official Chart is yours, what's your vision for the show?
I think the key to this is that it's literally non-stop hits. You'll be hearing from a few more artists now during the show – that's something new I want to bring – but overall it'll be feel-good Friday fun. I want the charts to be Friday's main event. 
I want to bring how excited I feel about [the charts] to the show. I think it'll come across that I'm generally in my perfect world doing this! I think it's very easy for people to write off the charts but ultimately, people still care - it's still a massive thing in this country. I was talking to 5 Seconds Of Summer the other day and they say they always check up their UK chart positions. You'll hear more about that on air. I also want to tap into the fan stuff a bit more as well - it's about the chart position but also what the fans have been saying and what the artist is doing.
View the latest Official Singles Chart Top 100
What's your earliest memory of the charts?
Listening to it at my grandparents house on a Sunday afternoon. All my family would watch the TV and I would put headphones on and listen to Radio 1 so I couldn't be interrupted. I found the whole thing so exciting.
Do you remember the first single you ever bought?
I actually don't. That's bad, isn't it? I do remember going to Asda every week and spending ages looking through all the singles. I also recently bought every Now That's What I Call Music! album. Some of the early ones are really hard to get hold of, you know?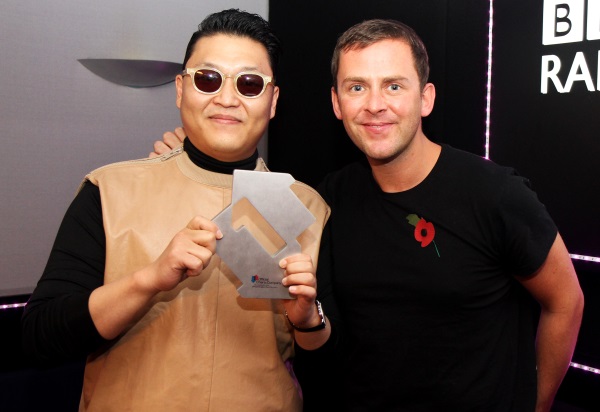 Scott Mills and Psy celebrating Gangnam Style hitting Number 1 in 2012
Your favourite chart moment?
There's been some really weird moments in the charts over the years and I'd love to see some similar things happen again now. Remember when you'd randomly get a Cheeky Girls song in the chart at Christmas? I used to love the X Factor battles for Number 1 as well.
Which chart battle do you remember most fondly?
I was actually doing the chart on the day it was between Rage Against The Machine and Joe McElderry. I really didn't expect Rage to get it, and I remember being in my house and my producer called me and told me the news and we were both absolutely stunned. Poor Joe! It was the biggest chart thing in years. I've just realised that I'll now – hopefully – get to present a Christmas chart this year which is very exciting.
I also remember a few years ago, I was really pushing for that Mad World song to be Number 1 at Christmas, mostly because I assumed it didn't stand a chance – but then it actually happened! I feel like I might have played quite a big role in getting that to Number 1, so I apologise now to The Darkness who ended up not being Christmas Number 1 because of it.
The Number 1 single when you were  born was Paper Lace's Billy Don't Be A Hero which, let's be honest, isn't the most memorable of chart-toppers...
What an awful song! When I was 16 I used to work on an oldies station, so I actually know that one.
Apparently what was Number 1 on your 14th birthday defines your life. Yours was Aswad's Don't Turn Around.
Oh wow ok! I mean it could be worse, couldn't it? To be honest with you I think that is complete nonsense. I was talking about it with Grimmy (Nick Grimshaw) the other day and his was Boyzone's No Matter What. What does that say about him?
Finally, what single, do you think, should have been a Number 1?
I mean I can't believe Oasis' Wonderwall wasn't a Number 1 single. They lost out to Robson & Jerome, didn't they? I mean, I think we know which song should have gone to Number 1. For some reason Eminem's My Name Is also sticks in my head as a song that should have been Number 1. It was his debut single and it was absolutely huge and it still sounds amazing today.
Look back through every Official Chart host on Radio 1 below: