Unholy by Sam Smith & Kim Petras has been the UK's Number 1 single for four consecutive weeks, an actual full month. 
Both a return to commercial form for Sam (Unholy is their first UK Number 1 single in four years) and a major breakthrough moment for Kim herself, who has been on the rise for several years in the alt-pop scene. 
There's a lot to be learnt from Unholy's Number 1 debut, and how the track has kept a tight-grip on the top of the charts since its release. Here, we're diving into why Unholy has been such a chart success here in the UK in three very simple steps. 
Learn more about Unholy's journey to Number 1 thanks to this handy video from BBC Sounds.
1. It became a hit on TikTok, even before its official release
Unholy was first teased by Sam on their TikTok on August 18 2022, more than a full month from its official release on September 22. 
No-one has heard of the track before, and news that Sam was collaborating with Kim (a big name in the alt-pop community for sure, but definitely not the presumed go-to featured artist for a big comeback track of this nature) came as a massive surprise. 
One thing that helped Unholy in its quest for success, however, was just how well it was received on TikTok. The original video teasing the track has been viewed more than 35 million times on the platform, giving it the widest audience possible to build anticipation for its arrival.
The news that TikTok is perhaps the number one determining factor in a song's mainstream chart success right now will not be shocking - but Unholy is perhaps the perfect example of how announcing a song with a surprising new direction can pay off in dividends once it goes viral on the video-sharing app.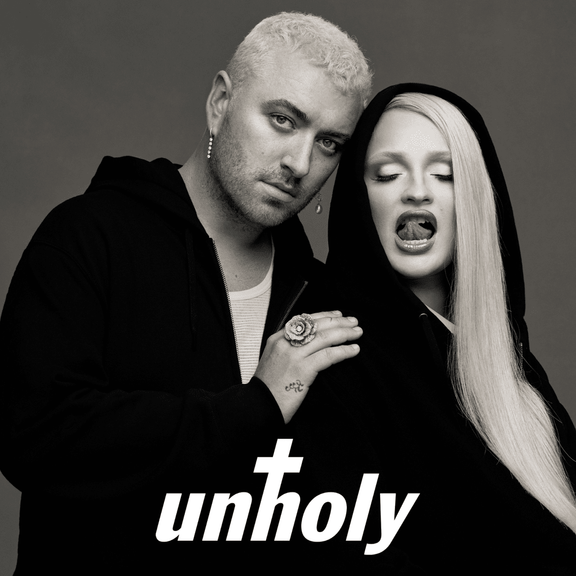 2. Unholy brings together some of the most talented and successful producers and writers in all of pop
It's also worth mentioning that despite the very underground feel of the track, Unholy has the creme-dela-creme of pop music producers behind it.
Sam and Kim co-wrote the song alongside its producers James Napier, Ilya Salmanzadeh, Blake Slatkin, Henry Walter and Omar Fedi. You may not immediately recognise those names, but they have been involved in some of the defining pop tracks of the last decade. A massive indication that when this track was first being created, nothing was left to chance. 
James Napier (or Jimmy Napes) is one of Sam's longest collaborators, and they've linked up on several of Sam's biggest-ever hits; including Disclosure smash Latch and the Number 1 singles Stay With Me, Lay Me Down, Too Good At Goodbyes and James Bond tune Writings On The Wall, for which both Napier and Smith won an Oscar for. 
Ilya is one of prestigious Swedish pop maestro's Max Martin's ever-growing legion of mentees, having worked on everything from Ariana Grande's Into You to Ellie Goulding's Love Me Like You Do and even Taylor Swift's Ed Sheeran and Future collaboration End Game. 
Henry Walter (aka Cirkut) is also a pop pedigree all on his own, having worked on Miley Cyrus' Wrecking Ball, The Weeknd's Star Boy and Ava Max's UK Number 1 smash Sweet But Psycho.
And Omar Fedi is perhaps the newest addition to the pop hitmaking forte. Despite being just 22 years old (!) he's worked on modern-day viral smashes like 24k Goldn & Iann Dior's Mood, Stay by The Kid Laroi and Justin Bieber and Lil Nas X's superstar-making single Montero (Call Me By Your Name), another UK Number 1.
3. Unholy is a bold and exciting new direction for Sam Smith, with much more to come 
It would be fair to say that before Unholy, Sam Smith was known for releasing a certain kind of song. And by that, we mean heart-torn and tender ballads about their romantic entanglements. 
Unholy is a shift in both tone and direction and is all the better for it. An eclectic and juddering synth tune with elements of both EDM and hyper-pop, it's by far the most up-tempo release of their career, as well as teaming its enigmatic sonics with dark and murky lyrics, all about a man cheating on his wife. 
And with Unholy's massive success on the Official Singles Chart, Sam has announced the release of their forthcoming fourth album Gloria, which is scheduled to drop January 22, 2023. Following this lead, its been described as a "coming of age" record for Sam, re-teaming them with Ilya and Napes, as well as Stargate (Rihanna, Pink) for the new tracks.
Overall, Unholy represents Sam taking a big swing that pays off. Both perfectly tailored for viral success on sites like TikTok and also seeing Sam embrace their queer identity in bolder and more confident ways than ever before, it's proved to be a divine deliverance and the start of an exciting new chapter in their career.
Unholy is out now via EMI.