HMV Vinyl Week is returning for 2018.
High street retailer HMV are bringing back their special vinyl season for a third consecutive year, and will run for 10 days from Friday June 8 to Sunday June 17.
Akin to Record Store Day, HMV Vinyl Week 2018 will bring attention to the music industry's phoenix format, which has risen from the ashes in recent years. In 2017, industry revenues from the vinyl sector rose 24% year-on-year; 4.1 million LPs were purchased last year, the highest volume since 1991.
Liam Gallagher lead the first wave of special releases announced, which will be made available for the first time as part of the event. Liam's Number 1 album As You Were, the second fastest-selling vinyl product of the past 25 years, will be released on picture disc exclusively as part of the initiative.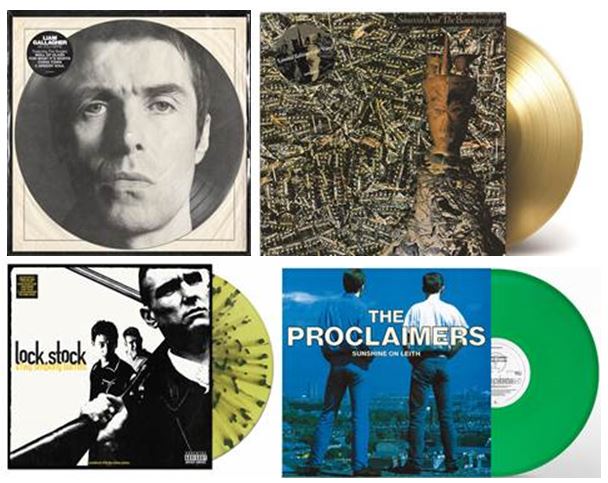 Also announced are reissues of The Proclaimers' Sunshine On Leith on yellow vinyl and Siouxsie & The Banshees' 1981 release, Juju on gold vinyl, while the soundtrack to Lock, Stock & Two Smoking Barrels is being released on black and gold splatter wax.
In the second wave of reveals, it was announced that the Mamma Mia! will be released for the first time on picture, plus reissues from T-Rex, OMD, Def Leppard and Stereophonics.
The third collection of exclusives revealed include The Pogues' The Very Best of the Pogues and Doctor Who audio drama Infamy of the Zaross.
A final, special reveal is coming on June 16 to commemorate the 70th anniversary of the 12" 33 ⅓​ vinyl LP format, so we still have one more exciting announcement to look forward to.
As well as exclusive pressings out June 16, from June 8, over 100 titles will be on promotion across their 120 UK stores. 
The full list of HMV Vinyl Week 2018 exclusives is as follows:
Liam Gallagher: As You Were (Picture Disc - 3000 copies)
Siouxsie and The Banshees: Juju (Gold Vinyl - 1000 copies)
The Proclaimers: Sunshine on Leith (Green Vinyl - 500 copies)
Various Artists: Lock, Stock & Two Smoking Barrels OST (Yellow & Black Splatter Vinyl - 1000 copies)
T-Rex: Tanx (Pink Etched Vinyl - 1000 copies)
Mamma Mia! OST (Picture Disc - 1000 copies)
OMD - History of Modern (Yellow Vinyl - 500 copies)
Stereophonics - Decade in the Sun (Gold Vinyl - 1000 copies)
Def Leppard - Vault (Clear Vinyl - 1000 copies)
Doctor Who: Infamy of the Zaross (Yellow Vinyl - 750 copies)
Suede - Dog Man Star (Olive Vinyl - 1000 copies)
The Pogues - The Very Best of The Pogues (Orange Vinyl - 500 copies)
Fairport Convention - Liege & Lief (Island Pink Vinyl - 500 copies)
Chris Rea - Road to Hell (Purple Vinyl - 500 copies)
MORE: The percentage of vinyl 'superfans' revealed by the Entertainment Retailers Association in new report