UK fans of Guns N' Roses are in for a treat this weekend, as the band's reunion tour reaches the UK for two shows.
It's the first time the classic lineup of the band have played the UK in 24 years. Called the Not In This Lifetime tour, the show has has already travelled extensively across North and South America, and this summer sees them tackle Europe.
The heavy metal heads will headline London's Olympic Park Stadium on Friday, June 16 and Saturday, June 17. Expect all the classics, plus a sprinkling of solo spots, and lots of headbanging. 
The Los Angeles band made a big splash with their debut album Appetite For Destruction. Released in 1987, the record peaked at Number 5 on the Official UK Albums Chart, though this was some two years after its initial release, in July 1989. 
Having built up a huge and loyal following in that time, the band cemented their success with the release of two albums: Use Your Illusion I and II. Released in the same week, the group achieved the incredibly rare feat of debuting at Number 1 and 2 on the Official Albums Chart. 
Click on the image below to look through Guns N' Roses complete album career stats in the UK, including another big Number 1 (remember to click on the 'Albums' tab):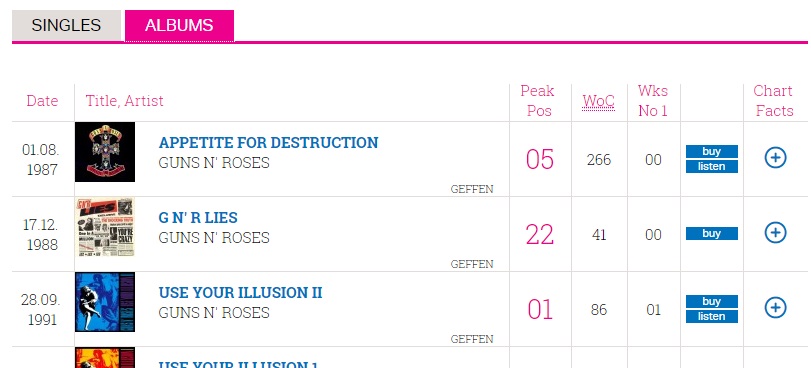 When it comes to singles, Guns N' Roses have never managed to nab the top spot, but they've no shortage of massive hits in their repertoire.
Their big breakthrough in the UK was with 1989's Paradise City - the first of 12 Top 10 singles from the band, including Sweet Child O' Mine, which also peaked at Number 6 following a swift reissue a year after its original release in 1989. 
Their cover of Bob Dylan's Knockin' On Heaven's Door in 1992 was the closest to reach Number 1, held off by a certain Nottingham dance act that week.
Click on the image to look through Guns N' Roses complete singles history on the Official UK Chart (hit the + button next to each track to click into its week-by-week chart run):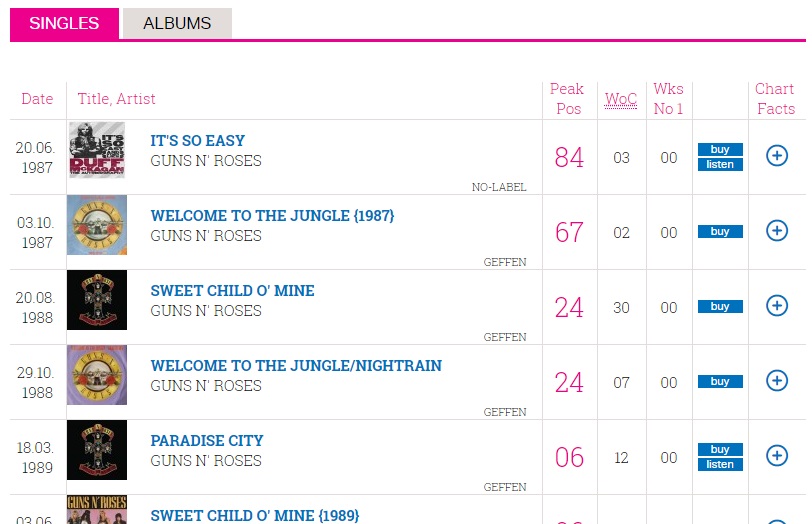 The complete list makes for a pretty incredible show setlist, right?
Guns N' Roses have a well documented rocky history, with their last studio album to feature the likes of Slash and Duff McKagan released in 1993, the Number 2 peaking The Spaghetti Incident?. Axl Rose used the collective's name for the 2008 album Chinese Democracy, which also peaked at Number 2.
Article image: Ilpo Musto/REX/Shutterstock