Show a rock fan this week's Official Singles Chart – or any Top 40 from the last few years, for that matter – and you'll likely be met with the response that rock music is dead. Reports on the death of rock and its signature instrument the electric guitar have been floating around for decades - and reared its head again in 2017 when Eric Clapton pondered its demise. Then, last summer, longstanding guitar makers Gibson filed for bankruptcy. So is it rock and the electric guitar really over this time?
Well, not quite. While the traditional image of long-haired guitar gods blasting out a 10-minute solo are generally reserved for still-touring heritage rock bands founded in the '60s, guitar music is everywhere – it's just no longer hogging the spotlight. So why does the narrative that rock music and guitars are over refuse to die?
"The guitar god has been gone for 30 or 40 years," suggests Andy Mooney, CEO of Fender. "People get nostalgic for the days of guitar gods standing there with one foot on the monitor with long hair. That disappeared in the '70s with the rise of punk. The advent of punk changed everything: if you had a pulse and an enthusiasm and could play three chords then you could get up stage. People starting using the guitar in different ways, it's just expanded from that."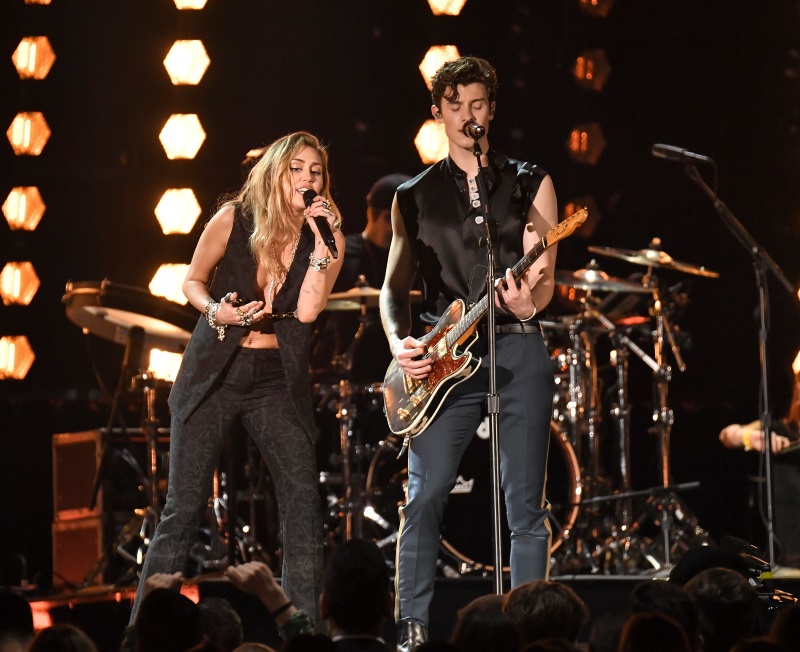 Shawn Mendes and Miley Cyrus performing at this year's Grammys (Shutterstock/Rob Latour) 
MORE: View the latest Official Vinyl Albums Chart Top 40
The demand for live music is at an all-time high and growing, and a live band is essential regardless of genre. Last summer Live Nation posted a sales figure of $4.351bn for the first six months of 2018, up 11% year-on-year, while revenues have grown by more than 100% since 2010. The effect has pushed guitar sales up. "Guitar unit sales since the [2008] recession have been going nowhere but up," Andy says. "We're now in new territory where it's higher than it's ever been." A report by Fender released in late 2018 said the majority were learning the instrument to gain a new life skill or as a means of self-betterment, while 50% of beginners are women.
While rock music isn't necessarily taking centre stage in many of today's biggest hits, it has done in the past, and streaming of 'catalogue' music is growing thanks to streaming services offering easy access to it. As of last summer, catalogue music made up 55% of streaming, with hits from Rolling Stones, AC/DC, Stone Roses and Nirvana all still proving popular.
With current globally successful artists like Ed Sheeran and Shawn Mendes still championing guitar music, does the definition need changing of what constitutes a guitar hero? "Shawn Mendes is a great case in point," Andy says. "The bulk of true virtuosos that hang out in the heavy metal space - those fans are absolute devotees of protecting their players. Tom Morello, he's a guitar god of mine who is unbelievably talented and plays the guitar in a whole different way to guitar gods from when I was a kid. There's very few bands out there of any genre that have the type of appeal that, say, Led Zeppelin have. Maybe Metallica. Music itself has broadened, and that's totally okay."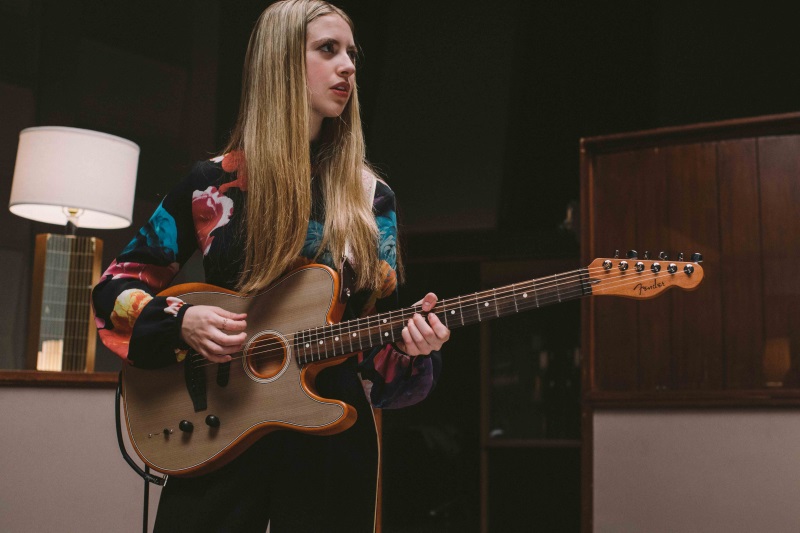 Ayla Tesler-Mabe
Muse leader Matt Bellamy recently said he believes the guitar has become a "textural" instrument, rather than a lead one. The comment was made in response to their latest album, Simulation Theory, which topped the Official Albums Chart in November but divided fans for its synth-heavy sound. "I think there's a lot of truth in that statement." Andy says. "It goes back to the impetus for punk. [U2 guitarist] Edge has been on Fender's board and I don't think he'd describe himself as a virtuoso guitarist, but he takes effects peddles and makes layers upon layers for U2's songs.
"I see a lot of the younger generation doing that today. What the contemporary guitarist does in my mind is, they have a simple guitar, they want a simple, high quality amp, then he or she has an effects peddle board with 16 effects on. In some ways it's less about the guitar and the amp, it's how they set it up, play it and how they use the effects peddles. It's more about lushness. Look at what Radiohead do." In response to the guitar's broadening sonic palette, this year Fender launched their Acoustasonic Telecaster, the company's biggest innovation since the Stratocaster which acts as ten guitars in one and allows players to create both acoustic and electric sounds from the same instrument.

Fender's Acoustasonic Telecaster
As to the future of rock music and the guitar, Andy believes the "breadth of the way the guitar is used is getting wider and wider". He explains: "Look at an artist like Grimes. She doesn't play guitar but she uses a Stratocaster on stage as an input device. There's a lot of people saying that the prolific-ness of rap is going to kill electric guitar. Anyone who says that clearly hasn't been to a rap concert, because there's usually always a live band on stage! I think it's going to be used increasingly in broad and diverse ways. Royal Blood is another good example. They on stage with a bass guitar and a drummer and create sounds like it's a four-piece band."
Does he think the myth of the death of the guitar will ever go away for good? "When I first saw reports of the death of guitar music it was when disco was in and John Travolta was dancing in Saturday Night Fever. Then more recently it was EDM. Guitar is just used more broadly by gender, by geography and by genre than ever in history – and for different reasons, many of which aren't even related to the pop charts."
MORE: The Top 40 biggest selling cassettes of 2018 
Article image: Richard Isaac/Shutterstock