Pop is all about reinventions – change is how artists stay relevant and keep audiences interested. You may think of Bowie, Madonna or Gaga as the ultimate pop chameleons, but back in 2002, there was a new kid on the revamp block, and as new looks go, it was a big one.
After her kind-of saccharine debut album, Christina Aguilera decided she'd had enough of being a goody-goody and wanted to let her hair down – and add a gew grungy extensions while she was at it. While the press focused on Christina's newfound adoration for leather chaps, bikini tops (in November!!) and generally looking like she was halfway through an amazing six-day bender, the real reinvention here went farther than clothes – this was very much a musical makeover.
Dirrty, the first single from Christina's edgy, confident sophomore album Stripped, had critics reeling thanks to its raunchy video and vaguely suggestive lyrics, but pop punters across the country loved it. Dirrty cleaned up when it came to chart success, going straight in at Number 1, selling almost 74,000 copies in its first week and staying at the top for two.
The song's success was particularly sweet, as many of the aforementioned critics – mainly the older, more prudish ones from certain pearl-clutching news outlets – had dismissed Christina's change of direction as a desperate attempt for publicity that would alienate her younger fans. Christina was unmoved, saying in an interview at the time, "I think all my fans will have grown with me and appreciate my need to express myself".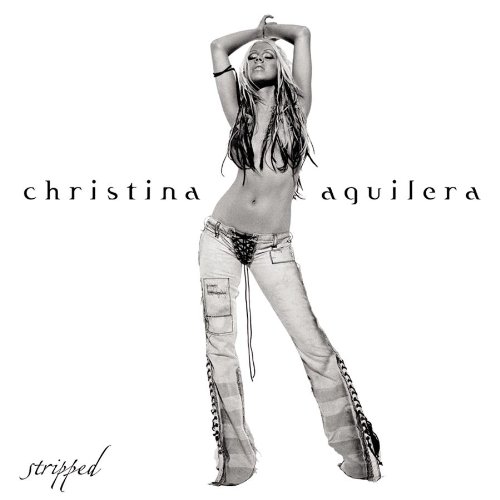 And she was right, they did. Dirrty has sold 390,000 copies and Stripped went on to shift 1.98 million. Take that, old farts!
MORE: Christina Aguilera's UK hit singles and albums in her archive
Let's take a look at the rest of the Top 10 that week in 2002. Click on the image for the full Top 100. (If you're wondering why Christina's last week position shows "Re", Dirrty had charted low in the Top 100 on import sales only.)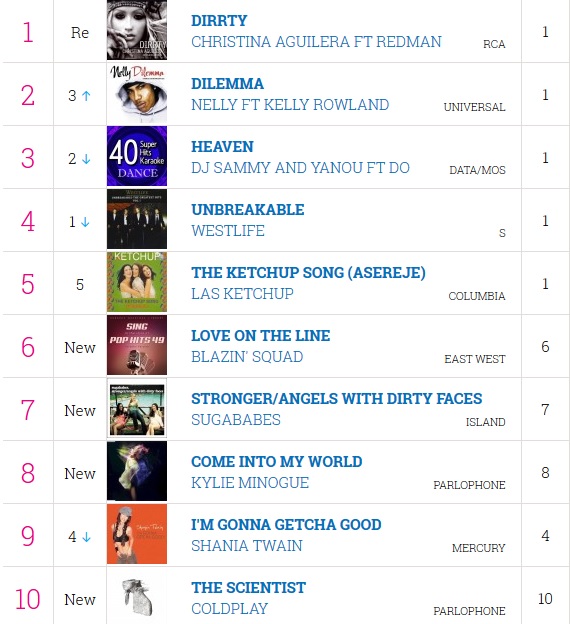 Love on the Line (6) was Blazin' Squad's second ever Top 10, following debut hit Crossroads, their only Number 1. Sugababes scored a third Top 10 with new member Heidi Range with double-A side Stronger and Angels With Dirty Faces (7) – the band had just scored two straight chart-toppers with Freak Like Me and Round Round. Angels With Dirty Faces featured in the Powerpuff Girls Movie.
Come Into My World (8) was the final single from Kylie Minogue's mega-selling Fever album and, like million-selling Can't Get You Out of my Head, was co-written by Cathy Dennis. The Scientist is the second of fourth Coldplay singles to peak at Number 10 – the others were Trouble (2000), Talk (2005) and Magic (2014). Now, if you're not pub quiz ready after that lot, you never will be.
But today it's all about Dirrty. Grab your chaps and we'll see you in the ring:
Do you remember all these titans of Noughties pop? This gallery takes you back to the decade of hair straighteners, dance routines and fake tan:
Main image: REX