EXCLUSIVE: Molly Rainford & Alex Kirsch talk teaming up on My Heart Is A Broken Record
Turns out, making a banger is easy when you live down the road from each other.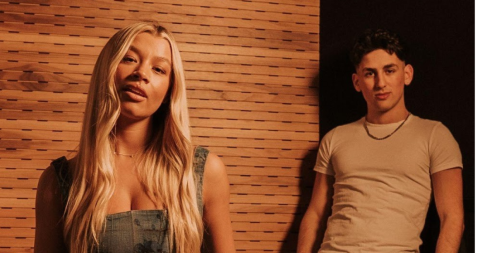 How easy to make a pop banger? It's actually harder than you might think, although Molly Rainford & Alex Kirsch may have stumbled on the secret to success...live down the road from each other!
Today, pop singer on-the-rise Molly teams up with DJ, producer and childhood friend Alex to release My Heart Is A Broken Record, the first of many bops and bangers coming your way from the children's TV actress turned Strictly contestant turned EastEnders regular (honestly, how does she fit it all in?) who also has her eye set on solo pop stardom. And if My Heart Is A Broken Record is anything to go by, she's halfway there already. 
As their song releases today via Positiva/EMI, we caught up with Molly and Alex to get the lowdown on the making of the track, and what's next!
Guys, the question would normally be 'how did you first link up' but...I understand you grew up super close to each other, so that's that out of the way!
Alex: Yeah, Molly and I live a few roads away from each other in Essex, so [for us] a collaboration was literally walking around the corner. As we get on so well it is always a bonus to work on a single with someone you know as it makes the process even more fun than it already is!
What first attracted you to working with Molly as a vocalist on this track, Alex?
Alex: I was looking for a singer who I would personally want to listen to on repeat and for me Molly's voice really stood out. It helps that my studio is literally a one minute drive from Molly's house...
Molly, you've released a series of solo singles and an EP, but this is your first big dance collaboration. How did it feel coming into this space?
Molly: It's really exciting to come into this style of music. This style is the type of music I love to listen to, especially in this weather. It's perfect for the sunshine, perfect for the summer and just makes everyone happy and that's what I'm most excited about. 
It's a leap musically for you - could we be entering the Molly Rainford big pop girl era?
Molly: I love all things pop music! I'm really excited for people hear me in that light and show them a slightly different side of me, but still with the thread that runs through all my music, Pop with a hint of R&B in the vocal! The track is full of energy. It's such a fun, vibrant tune and I'm loving that people are super excited for it to be released. Everyone wants to add it to their summer playlists! 
What are your plans for the rest of the year? More bangers, we hope?
Molly: Yes, for sure! I love how busy life is at the moment but I always wanna show people just how much I love music and my passion is music.  I'm also loving the art of collaboration and joining forces with amazing producers and songwriters and just seeing what we can create! 
My Heart Is A Broken Record is out now via Positiva/EMI