Ella Henderson's second album has finally arrived. 
Everything I Didn't Say finds the 26 year old singer-songwriter re-born, on songs that read like pages torn from her diary as much as they do a pleasingly modern and coherent sonic overhaul to place Ella in the right here, right now. 
It's been nearly eight years since Ella dropped her debut album Chapter One - which hit Number 1 on the Official Albums Chart and contained her debut smash Ghost, a four-week Number 1 single in the UK and an international hit worldwide; even managing the task of cracking America's Top 40. 
Since then, Ella left her original label Syco and has worked hard in the ensuing years to build a strong, steady stream of hits in the UK - from the Top 10 dance cut This Is Real with Jax Jones, or the banterous Let's Go Home Together with Tom Grennan. 
Jumping on the phone with Ella, we talk about her journey to releasing Everything I Didn't Say, which is less about a pop star making a comeback and more about a young woman learning to find her place in the world.
Hello Ella! Welcome back! Big times for you! How are you feeling?
I'm nervous and excited at the same time. It's eight years since I last put an album out, finally getting [to this point in my life makes me feel] ready to open up and ready to share everything. 
So much happened to me when I was 16. I put an album out when I was 18. I had the levels of success I had [with Ghost], and I was touring and promoting for so long, when I hit my 20s I realised I didn't know where home was. I didn't have a couch, I couldn't drive. I needed to live, which is one of the reasons why I took a step back. 
What did that step back involve?
I feel more ready as a human. Aside from the music, I feel ready to open up. I feel like I'm there now. I'm ready to talk about some of the challenges I've faced over the last few years. On this album, there are songs I wrote six years ago, right up until 2021. I'm bringing my fans up to speed on my whole journey; dating the wrong guy, falling in love or thinking I'm falling in love - all the way to feeling very sorry for myself and then feeling all the self-love. I've grown a lot as a person. There's quite a lot to cover!
Did you ever consider naming it Chapter Two?
There were definite conversations about it. But I wrote Chapter One in 18 months when I was a teenager. This isn't just Chapter Two. This is a whole book! I didn't want to trap myself [in the naming of albums]. I'd be releasing Chapter 85 in my 80s, and no-one wants to see that. 
Quite a few songs on this album - including Let's Go Home Together - were originally written for your second album with Syco, which ended up getting scrapped. What made you stick with that material switching labels?
Ugly in particular was a huge moment for me. That came from a situation where I'd gone on a holiday abroad and someone had taken horrible pictures of me. I came home and just stayed in my flat. That song was like a form of therapy for me, it really helped me grow so that had to be on the album. 
I've performed Ugly a few times over the years - my fans know its coming. And production wise, I think it's different from everything else on the album. 
Let's Go Home Together, originally a duet with James Arthur, was re-recorded with Tom Grennan and hit the Top 10 last year. That must have been very gratifying, having had the song for so long. 
James and I wrote that song so long ago and we've always wanted to release it. Having Tom on there was an absolute pleasure. When we released it, it was a time when everyone just missed going to the pub, you know? It helped remind people that we would be together again and you can actually meet someone in a bar and take them home. Seeing that song resonate felt good, I'm going to lie. I had it with me for such a long time!
We also have to talk about Ghost. That was Number 1 in the UK for four weeks - your first Number 1, it was a huge hit. Nothing has really sounded like it since. I wondered what that success meant for you. That must have been a very high bar to clear, or even meet. 
I think that's probably, again, why I've taken my time. I was putting too much pressure on myself, people were expecting Ghost part two. One thing I've learnt is that you can't re-create that energy. Ryan [Tedder] and I wrote it so quickly and I had no idea it was going to resonate the way it did. You really can't control it, either. 
Since then, I've learnt a lot - just relaxing into everything and being yourself is the best way for those songs to be born again. That doesn't mean everything is going to sound the same. Maybe this time for me it might be a balance, it might be more stripped. That's when I felt the pressure get taken off a bit - the worst kind of pressure is the one you put on yourself.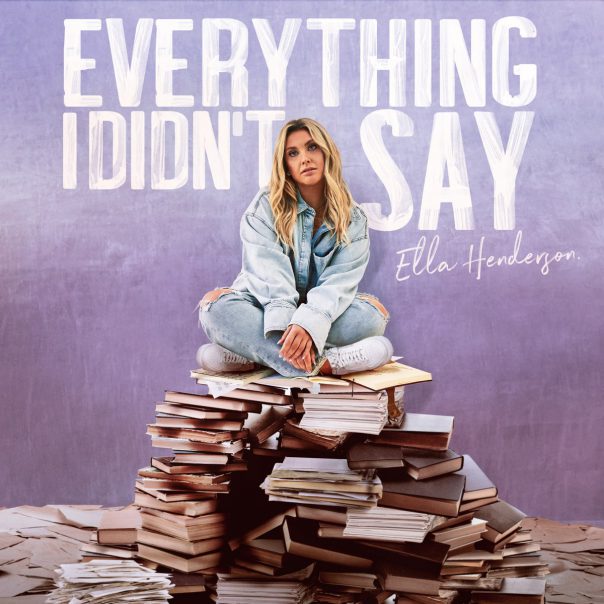 It kind of funny that it's called Ghost and...
It's going to haunt me? I've said that before. I'll be singing it until I'm in my grave. But you know what? There's no greater feeling than playing Ghost live - people just want to sing it back to me. We have about four goes on the chorus. 
Although not to say you haven't got up-tempo tracks on the album. You've got Emotions, Out Of My Head...
Out Of My Head is one of my favourite songs. I needed to write it about the biggest narcissist I've ever met. I actually managed to get narcissist into the song, which I was very proud of!
It's take nearly eight years to get to album two, Ella. No pressure but hopefully we'll get to album three a bit quicker?
Absolutely! I don't want to push it. I want the next record out before I'm 30, at least [Ella is 26, by the way]. I don't want to keep people waiting too long!
Everything I Didn't Say is out now via Warner/Major Toms
Article Image: Matt Pearson