Anticipating big brands' Christmas ad campaigns has become a festive tradition, with speculation over who'll be soundtracking them kicking off way before the last summer barbecue has stopped sizzling.
We look back at tracks that enjoyed the boost of a big TV campaign.
Lily Allen – Somewhere Only We Know
Perhaps the most eagerly anticipated Christmas ad song of them all, Lily Allen scored her third Number 1 in 2013 with this stripped-back piano cover of Keane's 2004 hit. Lily very nearly bagged herself the Christmas Number 1, spending three weeks at the top through December. She was no match for the power of The X Factor, however – 2013 winner Sam Bailey knocked her off with her cover of Demi Lovato's Skyscraper.
MORE: See Lily Allen's full Official Chart archive of hit singles and albums
Grace feat G-Eazy – You Don't Own Me
A star was born thank to this slick and stylish cover of Lesley Gore's 1963 original, which was never a hit in the UK, but kept off Number 1 in the US by the Beatles. Grace's rework was made famous thanks to the very glitzy House Of Fraser campaign for 2015 and peaked at Number 4.
Gabrielle Aplin – The Power Of Love
John Lewis's 2012 campaign, which featured a snowman falling in love, gave Gabrielle Aplin her first hit and a Number 1. The track was a cover of a Frankie Goes To Hollywood original which, spookily enough, had been Number 1 almost exactly 28 years earlier.
Aurora – Half The World Away
Yep, OK, another John Lewis one, but this time it gave chart success to a song that had never been a single before. Norwegian artist Aurora covered the Oasis b-side, made famous as the theme tune to classic comedy The Royle Family, and took it to Number 11.
Ellie Goulding – Your Song
Yep, it's another John Lewis one. Ellie Goulding's cover of Elton John's romantic classic fronted the store's 2010 campaign and was a big hit. It gave Ellie her second Top 10 and a then-peak of Number 2, which she later smashed with two chart-toppers, one in 2013 and the other in 2015.
MORE: See all Ellie Goulding's hit singles and albums in her UK chart archive
Slow Moving Millie – Please Please Please Let Me Get What I Want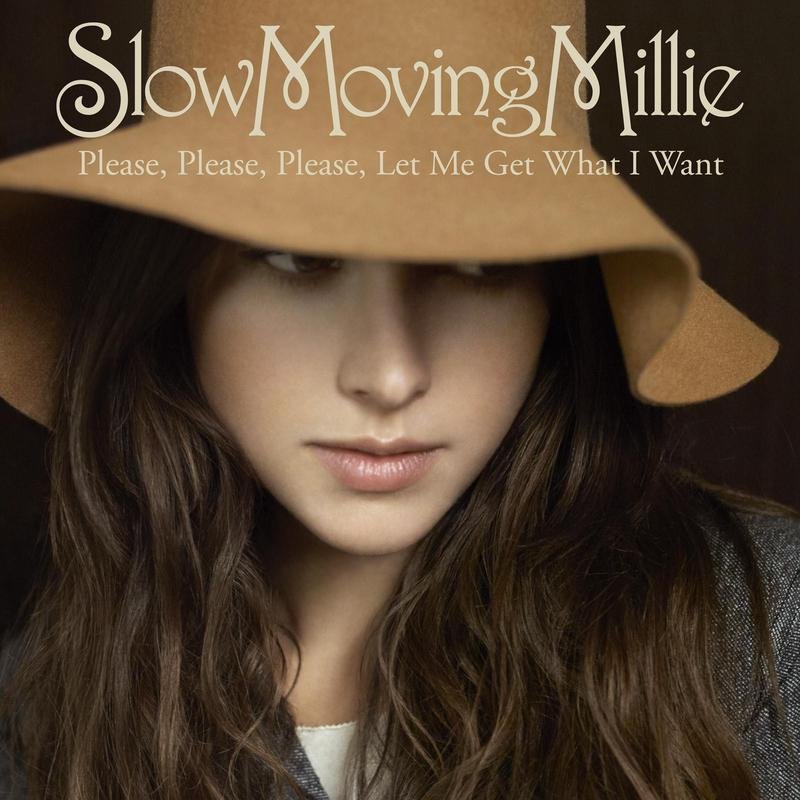 Originally a Smiths B-side, Actress Amelia Warner, who sings as Slow Moving Millie, scored her only Top 40 hit with her acoustic version of Please Please Please Let Me Get What I Want. The song finally got some chart love as the theme for – you've guessed it – the John Lewis Christmas ad push in 2011, soundtracking the very first of what would become a familiar formula for the brand. You know the drill: a slowed-down cover with a tear-jerking story to match, spawning scores of copies by other major retailers.
Sugababes – Girls
Was there any more perfect a soundtrack to a raucous Christmas party than this Sugababes reimagining of Ernie K Doe's Here Come The Girls? It was actually the original that featured in Boots' 2007 campaign, but such was the popularity of Sugababes' version, which hit Number 3 in August 2008, it replaced Ernie's rendition in the following year's advert!
What about this year's crop of Christmas advert music?
There are a few high-profile campaigns which could see chart success this year. Elbow are the choice for this year's John Lewis Christmas campaign. Their cover of the Beatles' Golden Slumbers soundtracks the touching tale of Moz the monster under the bed and should be making an impact on the Official Singles Chart this week…
House of Fraser have gone retro for a change this year: their campaign features Who Took The Merry Out of Christmas by the Staple Singers, who were last in the Top 40 in 1974. Could this festive ad bring them back?
Asda are looking to the past, too, using Fleetwood Mac's 1977 hit Don't Stop. It peaked at 32 back then – could it get a 2017 boost?
Boots are going straight for the feels with their ad, which is soundtracked by a re-recorded orchestral version of Yazoo's 1982 hit Only You. 
Oh, and btw, if you're wondering which John Lewis ad song is the biggest of them all, here they are ranked:
| | | | |
| --- | --- | --- | --- |
|   | TITLE | ARTIST | YEAR |
| 1 | YOUR SONG | ELLIE GOULDING | 2010 |
| 2 | SOMEWHERE ONLY WE KNOW | LILY ALLEN | 2013 |
| 3 | THE POWER OF LOVE | GABRIELLE APLIN | 2012 |
| 4 | REAL LOVE | TOM ODELL | 2014 |
| 5 | HALF THE WORLD AWAY | AURORA | 2015 |
| 6 | PLEASE PLEASE PLEASE LET ME GET WHAT I WANT | SLOW MOVING MILLIE | 2011 |
| 7 | SWEET CHILD O MINE | TAKEN BY TREES | 2009 |
| 8 | ONE DAY I'LL FLY AWAY | VAULTS | 2016 |
©2017 Official Charts Company. All rights reserved.
Take a look at every Christmas Number 1 ever in our gallery: