Byron Messia on the rise of Talibans and what he learnt from Burna Boy
It's become one of the biggest breakout smashes of the year - but how is Byron Messia following it up?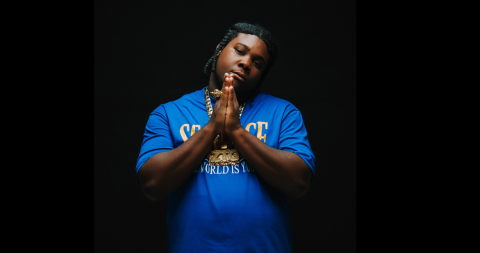 Byron Messia's Talibans has been lighting up the Official Singles Chart for the past few months, and it's not hard to see why. 
Cheeky, hard-edged and with a massive sound that fills up the spaces between Afrobeats, dancehall and reggae, Byron's first ever UK chart hit was certainly hard to miss, thanks to a viral remix featuring one of the biggest artists in the world right now, regardless of genre, Burna Boy. 
Originally born in Jamaica but now living in the Caribbean island of St Kitts and Nevis, we caught up with Byron as he was in the Bahamas to discuss Talibans impact on the UK charts, and what's coming next.
As to how Talibans first came about, Byron insists that there was nothing special or magical happening in the studio that day to suggest he was about to lay down his breakthrough hit.
"It was just me making music on a regular day," he told us. "It's crazy to me that the track is now favoured by millions. The beat, I found it on YouTube [it was inspired by] Burna Boy and Rema. And something was telling me to go hard [on the track]."
Byron explained that the hard-edged lyricism of Talibans - touching on gang culture - is "not something you usually hear," on the beat to an Afrobeats song (the dominant genre that Burna Boy and Rema both release music in).
He explains: "You normally hear love songs, that's the main purpose of Afrobeats. The album that Talibans is taken from [2023's No Love] is a reggae album. Today, most Afrobeats artists are inspired by the music of reggae and dancehall, to me anyway. So that's why Talibans [is classified as a dancehall track], because it's not the kind of [topic] you'd hear discussed [in the Afrobeats genre.]"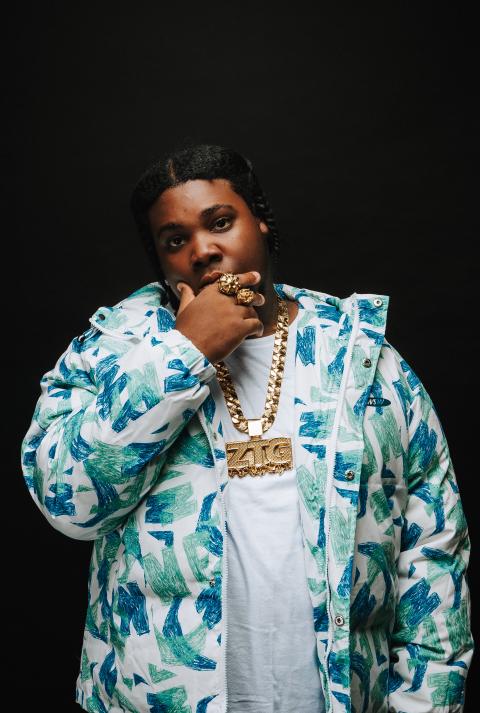 One of the biggest lifts Talibans got globally (it became Bryon's first charting hit in both the US and UK markets) was thanks to an inspired remix featuring one of the artists that had served as the inspiration for the creation of the track in the first place, Burna Boy. 
"It was a great experience," Byron says of meeting Burna, "I enjoyed the experience and I appreciated the love I got from him."
But even more important to Byron was being round someone he classes as a "world-class artist," and for someone whose dreams are just starting to come true in the music world, it proved invaluable in his growth.
"I was inspired," he tells us of Burna's energy. "It made me want to [approach] some parts of my music differently, definitely. How he performs...that is what I want. That's the level I'm trying to reach."
And while some acts coming off the breakthrough hit of their career may now be feeling the pressure to follow it up, when we broach the subject of lofty expectations for Talibans' follow-up to be equally as massive, he playfully bats us away. 
"That's the thing," he says, "when you get a hit song, you don't change what you're doing. You keep on doing the same thing. We keep making music, that's why we wanted to do it in the first place, right? It's just about the love of music.
"You want the next hit song? Well, I have plenty of hit songs, but we're not talking about a hit song [with Talibans] we're talking about a global song. So you just have to keep going, and let the fans and the world itself decide."
With an upcoming album set for release this coming autumn, with apparently 18 tracks making the cut over the 700+ (!) he currently has recorded, it's clear that Byron Messia has a plan. And he's just getting started.
Talibans is out now. 
Related Singles and Albums