An exploration of The Official Chart in the lives of music fans today
Britain's definitive playlist since 1952 - an exploration of its role today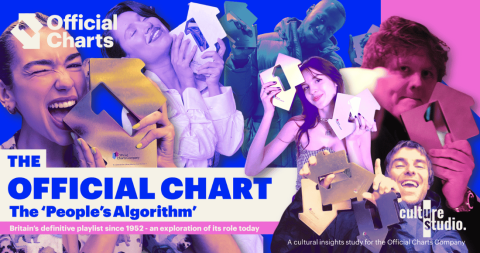 Let's see…over the past 5 years streaming has doubled here in the UK and now accounts for 98.9% of the UK singles market, yet most weeks last year (38 out of 52 to be precise) the Number 1 album was secured through a majority of physical sales. More vinyl records are purchased now than at any time in the past 30 years, while cassettes are officially back too. Oh, but then the coveted Christmas Number 1 victory has been won on downloads six times out of the past ten.
It's a dizzying world out there, isn't it?
Official Charts' job of measuring and making sense of over 8,000 data sources to identify the UK's most popular songs and albums of the week has never been more complex, but we're proud of our ability to provide a verified picture of the UK's music consumption – and in tandem, a look at the cultural landscape, and the times we live in – week in, week out.

Since celebrating the Official Singles Chart's 70th birthday back in November, we've been hard at work at Official Charts HQ looking to the future to create the next chapter of the UK charts. You may have noticed one or two changes around here this week.
To mark our beautiful new rebrand and the launch of this here all-new digital platform, research agency CultureStudio have undertaken a new independent cultural study looking at the role of The Official Chart today. 
CultureStudio set out to uncover the place and meaning of The Official Chart in the lives of music fans today, speaking to two samples of survey respondents (1,121 in total) including the general public, as well as users of Official Charts digital channels, along with a range of experts spanning music historians, leading media industry figures, academics and psychologists. 
So without further ado, let's take a peek at some of the findings, you can access the full study at the end of the article. Enjoy!
THE OFFICIAL CHART: The 'People's Algorithm'
Britain's definitive playlist since 1952, but now fresh insight indicates that in 2023 The Official Chart is finding a new role within the lives of algorithm-weary music fans and internet users who are looking to escape their heavily-personalised content recommendation feeds, to understand the music that is catching the ears of the nation at large. 

As one Official Chart user so perfectly put it, they look to the chart as "an unbiased record of how songs are performing outside of my own algorithm bubble." (Source: Official Charts survey, April 2023)

Oh, you eloquent bunch, you.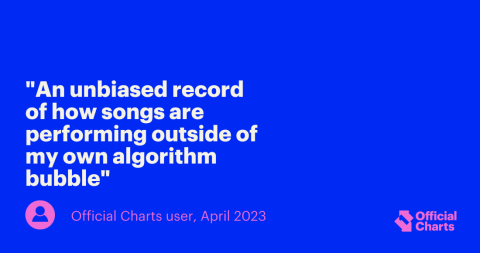 Now, we know artists and their teams pay attention to, track and care about the charts, and it holds significance no matter whether they are an established chart-topping act, or just beginning their chart journey.

Venbee & Goddard's Messy In Heaven is currently one of the UK's Top 10 biggest singles of 2023 so far. Venbee explained how she felt when she first broke into The Official Chart, "I was flabbergasted! I remember being in Chatham High Street and my team was like 'it's in the Top 40', and I was like 'argh'. Then when it got the Top 10 I was in complete floods of tears, calling mum, very overwhelmed. I was really shocked 'cos I thought it was gonna flop. Genuinely. But then it came out...it just blew my mind, and it's changed my life, so I couldn't be more grateful."

Venbee wasn't the only artist to comment on the transformational effect that a hit on the Official Chart delivers today. RAYE describes her first Number 1 single, earned in January this year with Escapism. as "pure validation" and proof you should back yourself.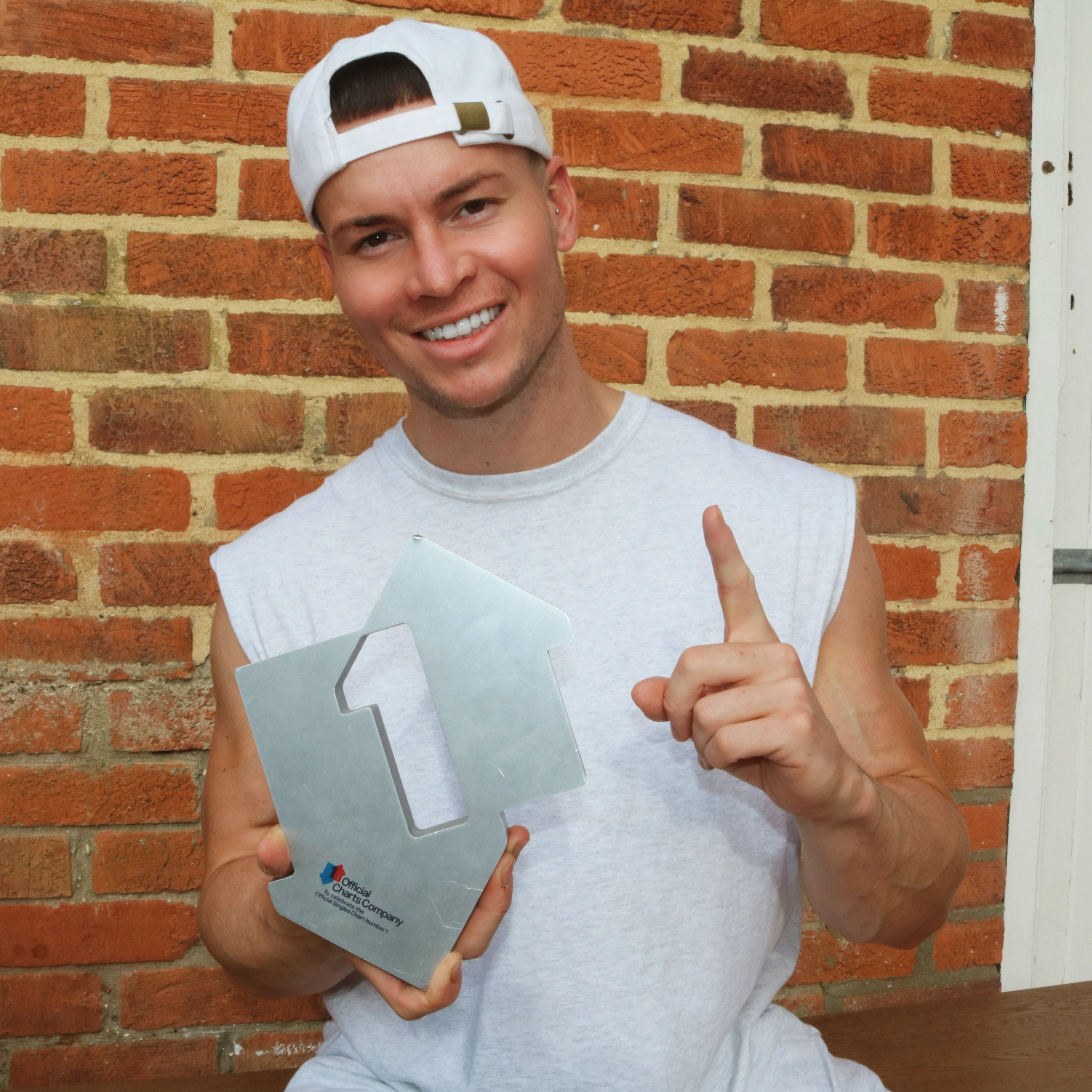 But this study is not about the artists or the music industry... it's focused on the audience.
The audience study confirmed that 95% of Official Charts followers are huge music fans; listening to music every single day.
For them, The Official Chart remains a vital gateway for new music. In fact, 69% of our followers say that the charts are their Number 1 means of discovering new music - that's more than streaming platforms, radio, TikTok and even their mates.
That figure rises to 72% among the under 25s, too.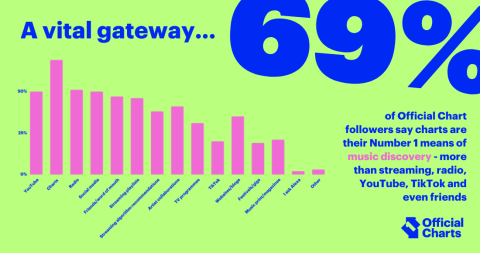 And with 1.3 million listeners tuning in to The Official Chart with Jack Saunders on BBC Radio 1 every Friday and Official Chart First Look on Sunday, ever-keen to keep atop the zeitgeist, Aled Haydn Jones, Head of Radio 1, recognises Official Charts' enduring importance, explaining that "people use The Official Chart as a way of making sure they're across popular culture." A sentiment echoed by survey respondents too, with one saying "Official Charts is music that I know is trending so I can learn trending songs and can relate with my peers." 
Radio 1 listeners also actively seek out the chart too as a Listen Again offering.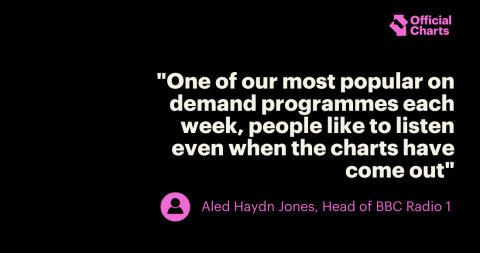 However, the broadcast show represents just one component of the Official Chart's footprint today. 
Did you know that OfficialCharts.com attracts 3.1m visits per month, with a staggering 13.5 million views of Official Charts video content are generated monthly too. Another 370,000 subscribers tuck in to Official Chart playlists on their favourite streaming platforms.

What's more, launched just a little over a decade ago, 40% of 18-24 year-old Brits already recognise the now-iconic Official Chart Number 1 Award. Presented to the biggest names in music for their success on the Official Chart - from Ed Sheeran to Ellie Goulding and Lil Nas X to Louis Tomlinson - our oh-so-shiny (and deceivingly heavy) awards are now seen as the ultimate accolade in UK music.
Go on, then - where would you keep yours? Ed casually keeps his in the bathroom of his own pub, fact fans.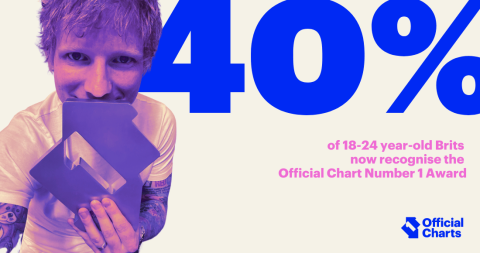 The Charts don't just tell us about music, either...they reflect the cultural landscape of the moment, painting a vivid picture of what Britishness is and how representations of that Britishness evolve and change over time. "A chart from a particular week is a snapshot of time in British life… It reflects the public mood", said music historian and film producer Bob Stanley.
Connected to that is a feeling conveyed through the survey of The Official Chart as a "British institution", indeed 55% of chart followers consider that to be the case. While the wider survey highlighted that 1 in 3 consider the Christmas Number 1 to be "part of the Christmas experience" in Britain.
The study also shows the strong sense of nostalgia that the British public have for the Official Charts, a source of information to look back on and reminisce - what was Number 1 when you were growing up, or "a permanent time capsule", as one user described it. But, that the concept of nostalgia shouldn't be associated with older audiences, younger audiences feel it just as keenly, with 15-year-olds feeling nostalgic for the culture when they were 10, just as a 50-year-old waves a flag fondly for the culture of their Teens and Twenties.

Elsewhere, the report acknowledged how hard a time it is to be a child or young adult in the world right now, what with the climate crisis, or being overloaded with information and hyperconnection, and the need for shared experiences and joy.

Many respondents spoke of the joy and shared ritual of the countdown, whether that's the Friday night "double bill" of the latest Official Chart publishing and tuning into the Top Of The Pops archive repeats on BBC Four. While another commented on it simply being "a way for me to bond with my 12-year-old" (nat rep survey). 
With all this, and so much more insight from audience and UK population surveys, academics including Dr Adam Lonsdale, Toby Bennett and Head of BBC Radio 1's Aled Haydn Jones and 1Xtra's Faron McKenzie, we're pleased to share with you the full, 50-page report produced by CultureStudio.
To read the study in full, enter your information below: