Adele's hotly anticipated 25 album is on course to enter the Official Chart history books, after registering one of the biggest first day totals of all time in the UK.
The album, which was finally released yesterday (November 20) after months of anticipation, reached the mammoth target of 300,000 sales by midnight last night, based on initial sales tallies from the UK's chart-reporting retailers), after just 24 hours on sale in the UK. The total puts it on course to rival the biggest one-week album sales tallies the UK has ever seen.
Only two albums have ever sold more than 500,000 copies in a week – Take That's Progress which sold 518,601 in its debut week in November 2010, and Oasis's Be Here Now, the all-time record holder which notched 695,761 in its first chart week in August 1997 (although it was released on a Thursday, so only had three days registering towards its first chart week).
In setting those marks, Progress notched 217,500 sales on its first day, while Be Here Now sold 424,000 copies.
Official Charts Company chief executive Martin Talbot said: "Adele truly is a once in a generation artist. Her appeal spans age groups and genres, from children to teenagers, right through to mums and dads, uncles and aunties.
"With this mammoth first day sales tally, Adele has taken a further step towards greatness. Over the next few days we will find out whether it can pass the magic half a million sales mark."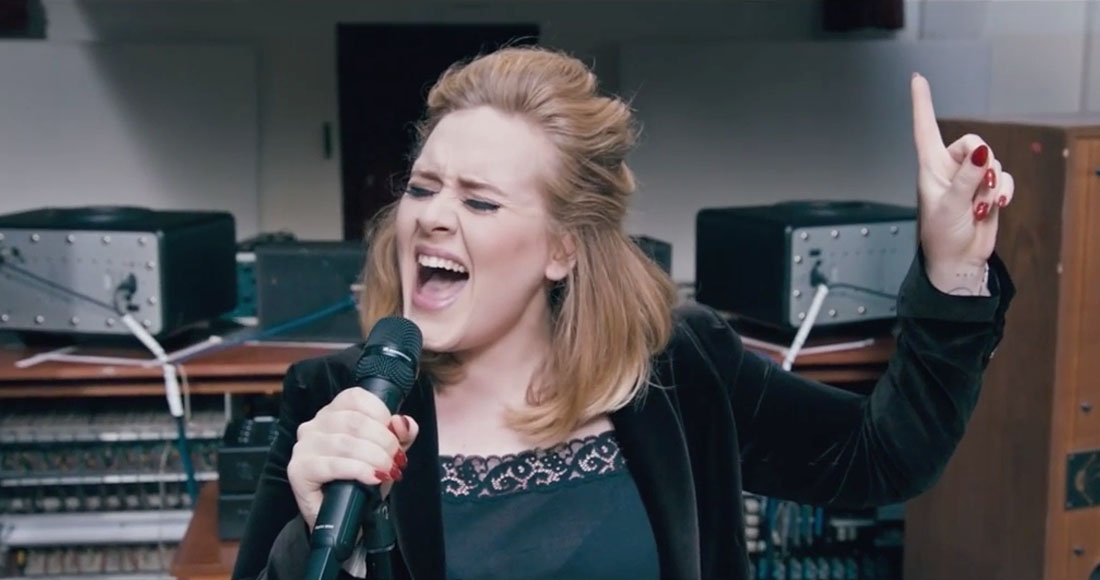 Adele performing When We Were Young live from her new album 25.
The launch of 25 has been both high profile and  deliberately low key, centring around an initial teaser ad within The X Factor, followed by the release of first single Hello, which was released a month ago and held the Official Singles Chart Number 1 spot for three weeks. She followed this with interviews in a select band of media, including iD Magazine, Observer and Rolling Stone, topped off by a Graham Norton special last night, Adele At The BBC.
25 is the singer's third album after her debut 19 (which sold 2.2m copies in the UK) and 21 (which sold 4.8m copies and is the second biggest studio album in UK music history, behind The Beatles' Sgt Pepper's Lonely Hearts Club band).
MORE: 10 mind-blowing Official Chart facts about Adele
When 21 was first released in January 2011, it sold 208,000 copies in its first week, finally passing 500,000 sales in its fourth week on sale. It only achieved its biggest one-week tally in its 10th week on sale, a total of 258,000 copies.
Her debut 19 sold 73,000 copies in its first week on release in February 2008, a total which it never again matched – it hit the 500,000 sales mark after 53 weeks on sale.
MORE: See where all of Adele's singles and albums have charted in the UK
On top of these 7 million album sales, Adele has also sold 7.1m singles in the UK – her biggest seller being Someone Like You, which has sold 1.584m downloads and achieved more than 8m audio streams. Her latest single Hello has now sold 512,000 downloads and achieved 21.4m audio streams.
The full first week sales tally for 25 will be finalised next Friday, with the Official Albums Chart is announced on BBC Radio 1 by Greg James, from 4pm until 6pm. Stayed tuned to OfficialCharts.com for updates on its sales progress throughout the week, including the Official Chart Update on Monday, November 23 at 6pm.