ABBA's Agnetha Fältskog releases brand-new solo single Where Do We Go From Here?
Mamma Mia, Here We Go Again! (sorry)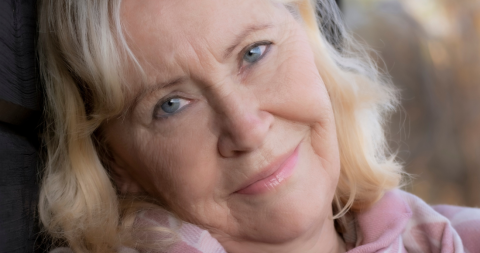 ABBA member Agnetha Fältskog has released a brand-new solo single, Where Do We Go From Here? - her first offering of new music in a decade. 
The track - a surprising turn to thoroughly-modern pop production with an acoustic guitar, synths and even a slight hint of EDM (!) - will be the first single to be taken from A+. The album serves as a re-imagining of Agnetha's most recent solo record; 2013's A.
Written especially for the icon (whose voice is, instantly, one of the most recognisable in the entire pop canon) by the Swedish producer Jörgen Elofsson (who has written for Kelly Clarkson and Britney Spears), Where Do We Go From Here? will be the only new original song included on A+, and was recorded just this year. 
In a letter to fans announcing the release, Agnetha said: "A couple of years ago I heard one of the songs from my last album 'A' on the radio. I have lots of fond memories from making that album, so I couldn't help but smile, time flies..."
Agnetha continued: "Suddenly it hit me, what would the album sound like if we had made it today...? I couldn't stop thinking about it. I reached out to the boys who produced 'A' back in 2013 - "What would you guys think about reimagining 'A' and making a totally new version of it?" They loved the idea! 'Let's try!'"
" A while later I heard the first reworked song, and I must say I absolutely loved it! It sounded so fresh and modern, even better than I had imagined it!
"We named the album A+ and as a cherry on top we even recorded a brand new song! And that will be the first thing you´ll hear from me. Now I can't wait to hear what you think about it! I hope you like it as much as I do!"
Originally a prominent soloist in her native Sweden before joining a little-known underground band called ABBA, Agnetha's last solo record peaked at Number 6 on the Official Albums Chart in the UK in 2013. Amazingly, it's her highest-peaking solo LP here to date.
In addition, she also has three UK Top 40 solo singles - the highest-charting of which is If I Thought You'd Ever Change Your Mind, which peaked at Number 11 in 2004. 
Since their split in 1980s, ABBA have been notoriously private, only reuniting in person a handful of times; once for the premiere of the Mamma Mia! motion picture in 2008 and again at the opening night for their ABBA Voyage show, which is running in London. 
Of course the show - which features digitally-rendered 'ABBA'tars - was unveiled in the wake of the group's much-hyped reunion record, Voyage, which became their 10th UK Number 1 album.
Voyage - which was named one of the biggest albums of 2021 - also contained the foursome's landmark 20th UK Top 10 single Don't Shut Me Down; their first in nearly 40 years.
Sadly, though, following fellow Swede Loreen's victory at Eurovision this year, it's looking very unlikely that ABBA (whose first big breakthrough was winning Eurovision with Waterloo) will probably not reunite publicly for next year's Grand Final in Malmo.
Where Do We Go From Here? by Agnetha Fältskog is out now. A+ drops October 13 via BMG.