Ed Sheeran may have recently kicked off his new album campaign with the chart-topping Bad Habits, but he's not forgotten his (equally successful) beginnings, announcing plans to celebrate the tenth anniversary of his debut album +.
Ed will play intimate (2000-capacity) show at London's O2 Shepherd's Bush Empire on September 2 to mark a decade since the release of the album that turned him into a global superstar. Fans can purchase tickets via a ballot, which can be found here.
On September 2nd, Ed is performing an intimate show at @o2sbe to celebrate the 10 year anniversary of his debut album '+'. Find out how to apply for tickets here: https://t.co/TjLLB9ksWO 🧡 pic.twitter.com/AmGKVIg2jW

— Ed Sheeran (@edsheeran) August 10, 2021
"While I've been lucky enough to continue playing shows across the world, Shepherd's Bush Empire is still really special to me," Ed said. "When I first set out in music, one of my main goals was to one day headline SBE and my first gig there is still one of my favourite shows that I've played. I can't wait to get back and celebrate 10 years of + with you."
To celebrate the ten-year anniversary of +, here are ten incredible UK chart facts about the record. 
1. +'s UK chart sales stand at 2.6 million.
That makes it 8x platinum. Its chart sales are made up of: 1.49m physical sales, 700,000 downloads, and 423,000 album equivalent streams.
2. The biggest song on + is The A Team
The track has picked up an impressive 1.1 million downloads and 157 million streams.
3. Eight of the album's 16 tracks have entered the UK Top 100.
And four of those went Top 10. Lead single the A Team peaked at Number 3, followed by You Need Me I Don't Need You (4), Lego House (5), Drunk (9), Gold Rush (81), Autumn Leaves (84), Small Bump (25), and Give Me Love (18). View Ed's UK chart history in full here.
4. The least-popular song on + is...
Sunburn, though it's still racked up a not-too-shabby 12 million UK streams.
5. The most popular album track is Kiss Me.
Outside of +'s many singles, Kiss Me is the most popular album track, based on sales and streams. Like many of Ed's songs, it has become a popular choice at weddings over the years.
6. + debuted at Number 1 on September 18, 2011.
The album sold 102,350 copies in its first week. At the time it was the fastest-selling debut album by a British artist since Susan Boyle's I Dreamed A Dream in 2009.
7. The album enjoyed three separate stints at Number 1.
+ returned to the top for a single week in January 2012, and again for a week in February 2012 after winning two BRIT Awards for Male Solo Artist and British Breakthrough. View +'s week-by-week chart history here.
8. At the time of writing, + has spent 426 weeks in the UK Top 100.
That's just over eight years (!).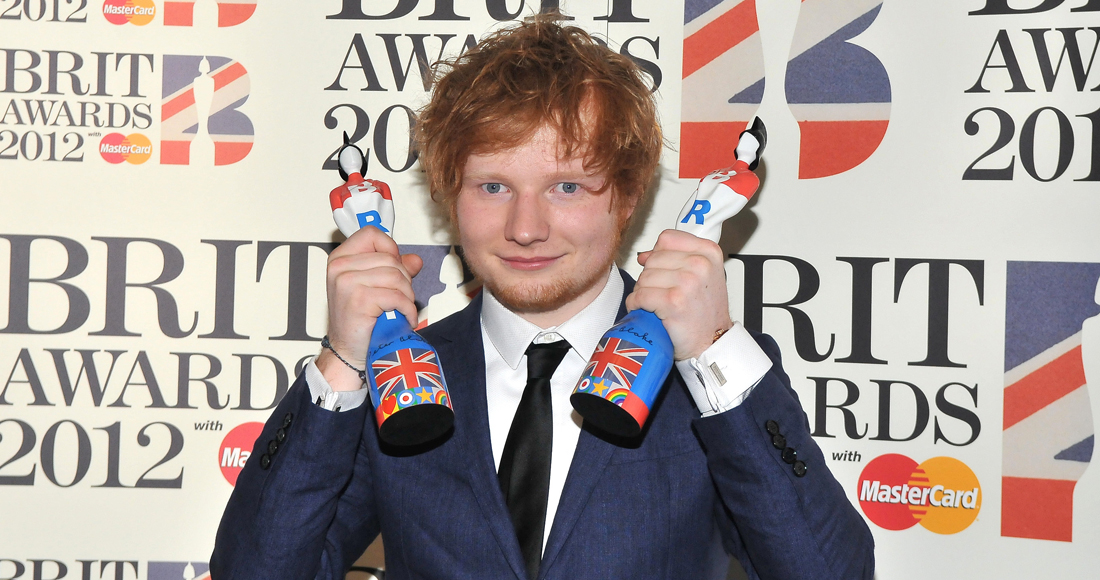 Ed Sheeran at the BRIT Awards in 2012
9. + has appeared in the UK Top 10 in six non-consecutive years.
2011, 2012, 2013, 2014, 2015, and 2017.  The album last appeared in the Top 10 in March 2017, around the release of his third album Divide.
10. + is the seventh biggest album of the 2010s.
Ed's preceding albums, X and Divide, finish just ahead of it. View the full Top 100 of the decade here.
Article image: RMV/Rex/Shutterstock