World Class Sinner: The Idol and other fictional pop stars on the Official Charts
Jocelyn isn't the only fictional pop star to make waves in the last few years.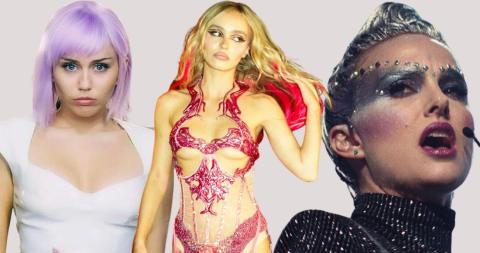 Tonight, for UK viewers at least, HBO's dark musical dramedy The Idol is going to reach its conclusion. 
Starring The Weeknd and Lily-Rose Depp, The Idol (to start off with) followed pop star Jocelyn (Depp), who was attempting a large-scale comeback following a breakdown she suffered after her mother's death.
With the wheels in motion for a brand new tour with a slick new song and expensive music video, Jocelyn is led astray when she meets slimy nightlcub owner and (maybe?) cult leader Tedros (The Weeknd) who slowly but surely starts to take control of Jocelyn's career and life. 
While reviews for the five-episode series - also starring actual pop star Troye Sivan and internet favourite Rachel Sennott - have been...middling to say the least, there's definitely one thing that has been consistent throughout the show's truncated run; World Class Sinner is a bop. 
But Jocelyn is far from the only fictional pop star to have made waves in the past few years. Here, we've decided to crunch the numbers to reveal some of the biggest hits by fictional pop icons that have graced the Official Chart.
World Class Sinner/I'm A Freak by Lily-Rose Depp (The Idol)
Pretty much the only thing everyone can agree on when watching The Idol is that World Class Sinner, Jocelyn's mythical comeback single in the narrative of the show, is a hit. The icy club banger seems like a long-lost cousin of Britney Spears's Blackout, and this of course is purely intentional, with Blackout's hard-edged electronic production the perfect crucible for Britney's palpable rage at her treatment at the hands of the music industry and press on tracks like Piece Of Me. 
Written by The Weeknd with production from Asa Taccone who, tellingly, has produced songs for comedy band The Lonely Island. But World Class Sinner doesn't read as a parody. Yes, there are some cringe-worthy lines ("I'm a good girl gone bad/Get in that car drive fast") but on the whole, it really sticks. When Jocelyn declares "I'm a motherf*cking world class sinner," you believe her. 
According to Official Charts Company data, while World Class Sinner (currently receiving the TikTok fancam treatment reserved for the most burgeoning of viral hit singles) hasn't yet charted on the Official Singles Chart, it has already proved to be a sizeable streaming smash here. To date, it's received nearly 750,000 streams. Not bad going, if you ask us. 
Shallow by Lady Gaga & Bradley Cooper (A Star Is Born)
The soundtrack for A Star Is Born was a massive hit for Lady Gaga. Not only did it gift Mother Monster her first Oscar (for breakout single Shallow), it also arguably did more to help re-centre Gaga's commercial career than her previous album, Joanne, which carries the same singer-songwriter aesthetic. 
A Star Is Born's biggest hit was Shallow, the duet Gaga's character Ally performed with Bradley Cooper's Jackson Maine at the beginning of the film. Gaga's fifth UK Number 1, the song has UK chart sales totalling over 3 million, including 393 million streams. It still ranks as Gaga's biggest hit ever in the UK, too.
On A Roll by Ashley O (Black Mirror)
Hey, yeah, whoa-oh! Miley Cyrus's first big post-Hannah Monatana acting gig was as another fictional pop star; Ashley O in the Black Mirror episode Rachel, Jack and Ashley Too. Similarly to The Idol, Ashley O is a former teen idol looking to mount a comeback, who transplants her mind into a AI robotic doll when her controlling aunt puts her in a coma (yes, really). 
On A Roll may sound entirely original, but it's actually, technically a cover of Nine Inch Nails's Head Like A Hole, with the lyrics re-written by Black Mirror creator Charlie Brooker. A surprise hit from the Netflix series, On A Roll actually reached Number 65 on the Official Singles Chart, and has a very healthy 13 million streams to its name here. So big was its influence, Miley even donned a purple wig to sing On A Roll live during her 2019 Glastonbury set.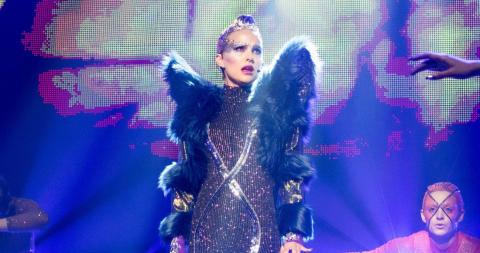 Wrapped Up by Natalie Portman (Vox Lux)
Often overlooked in the recent discussions around The Idol, Brady Corbet's Vox Lux was definitely the darker, edgier sister of A Star Is Born when it was released in 2018. And the fact that A Star Is Born went supernova may have made the messy, disjointed drama (starring Natalie Portman as troubled pop icon Celeste) fly under the radar.
But, with an original soundtrack full of tracks written with the help of Sia, Vox Lux certainly seems to understand pop music better than a lot of its contemporaries, with none of the pop tracks played for laughs. Despite not denting the Official Chart in any way, the OST's biggest success was the soaring mid-tempo ballad Wrapped Up, written by Sia and production wizard Greg Kurstin.
Nobody Like U by 4*Town (Seeing Red)
There had to be a boy band in here somewhere. 4-Town were the teen heartthrobs featured in Disney Pixar's Seeing Red, inspired by the likes of One Direction and BTS, especially the fervent fan culture that spawned around them.
FINNEAS - best known for his work with sister Billie Eilish and Selena Gomez, amongst others - actually voiced a member of 4*Town, and even gifted the cartoon teenyboppers a chart smash of their own.
Nobody Like U - which rips on a lot of past Backstreet Boys songs, for our money - actually came packaged with a Billie Eilish co-write, which helped the little bop peak at an impressive Number 56 in the UK.
Aurora by Daisy Jones & The Six (Daisy Jones & The Six)
2023 has certainly been a year for fictional pop stars or, in this case, bands. Daisy Jones & The Six is the titular band from the titular show based on the, uh, titular book from by Taylor Jenkins Reid.
Heavily influenced by Fleetwood Mac and their inter-personal relationships fracturing during the making of Rumors, Daisy Jones & The Six actually recorded an entire album of original material to support the release of the Amazon Prime Series. Featuring stars Riley Keough, Sam Claflin and Suki Waterhouse, the LP AURORA actually made a decent dent on the Official Albums Chart, peaking at Number 26. 
Related Singles and Albums