The Prodigy are planning to make their grand return next year after signing a new record deal.
The band's next album - their first in three years - will be released via their Take Me To The Hospital label through BMG in early 2018.
The new BMG deal extends the label's relationship with the band as they already publish Prodigy co-founder Liam Howlett's back catalogue. 
Korda Marshall, BMG UK, EVP music, said: "The Prodigy are one of those bands who define an entire sound and can justifiably claim to be among the architects of contemporary music. We are delighted to have the opportunity to release what will undoubtedly be one of the most important records of 2018."
MORE: The Official Top 40 biggest albums of 2017 so far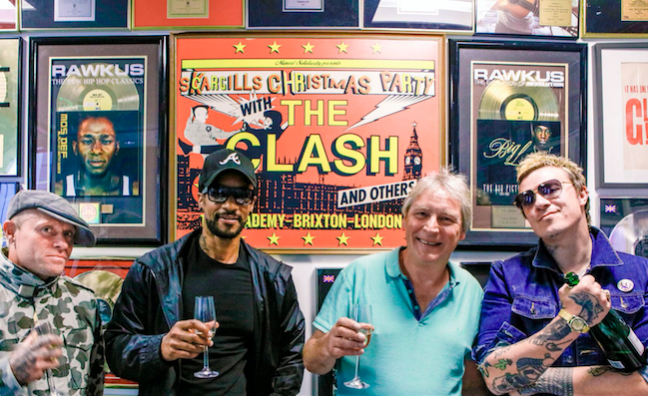 Image: Bartleberry Logan
The Prodigy's last album, The Day Is My Enemy, reached Number 1 on the Official Albums Chart in 2015 - their sixth to do so. Their previous chart-toppers in their 25-year career include Music For The Jilted Generation (1994), The Fat Of The Land (1997), Always Outnumbered, Never Outgunned (2004), Their Law: The Singles 1990-2005 (2005) and Invaders Must Die (2009).
MORE: View The Prodigy's full Official UK Chart history
The Prodigy's management team Nick Halkes and John Fairs said of the signing: "BMG are a passionate and enthusiastic team and they've done a strong job on the publishing side, so we are really pleased to be working with them on this exciting new phase." 
Liam Howlett added: "Very happy to be joining the BMG family for the next Prodigy album release under my Take Me To The Hospital label, great guys who totally understand our band... Now let's make some noise!"
BMG president, repertoire & marketing, Alexi Cory-Smith said: "Four years ago we signed a deal to represent Liam's publishing and the relationship is a successful and enjoyable one. Liam is a genius, he and the band have a lot of fans in this building and we love working with him. It is fantastic now to be able to work with The Prodigy on records too."
MORE: Check out this week's Official Vinyl Albums Chart Top 40