Sugababes to release new song When The Rain Comes tomorrow
Mutya, Keisha and Siobhan are also headlining the O2 arena tomorrow.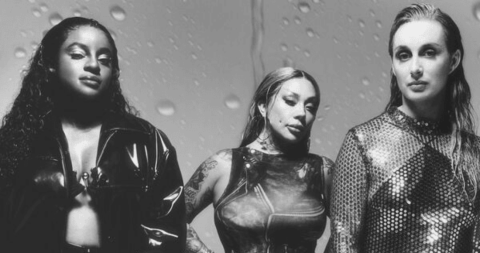 The original line-up of the Sugababes aka Mutya Buena, Keisha Buchanan and Siobhan Donaghy fka MKS aka the Sacred Three are set to release a brand new original song tomorrow. 
When The Rain Comes will be the first song that the trio have released since their 2013 comeback, which was soundtracked by the Dev Hynes produced Flatline (banger).
Set to be released at Midnight, When The Rain Comes is written by Mutya, Keisha and Siobhan alongside George Moore, who also produced the track, and Iain James.
The new song will also be the first Sugababes song to be released through BMG, with whom the girls have signed a brand new record deal. Deserved!
When The Rain Comes also drops at the perfect time for Sugababes fans, they're set to headline London's O2 Arena tomorrow night.
Originally reuniting as MKS in 2012 (due to the copyright issues surrounding the original name of the band, which have now been resolved), Mutya, Keisha and Siobhan released just one track via Polydor, the aforementioned Flatline, before the material they had been working on for their first full-length album together since One Touch was shelved, then scrapped, then ultimately leaked.
Last year, the songs from that album that never saw the light of day were repackaged as The Lost Tapes and released on, wouldn't you believe it, Christmas Eve. We recommend listening to I'm Alright, Boys, Drum and the Number 1 single that never was, Summer of 99.
It was the perfect cap to a 2022 comeback for the girls, who drew record crowds at their Glastonbury set and even set out on their own sold-out headline tour across the country.
Since Donaghy's initial departure following their first record together, Mutya and Keisha were joined by Heidi Range, before Mutya was replaced by Amelle Berrabah and Keisha was controversially dropped in favour of former Eurovision contestant Jade Ewen. 
When The Rain Comes drops midnight September 15 via BMG.