Olivia Rodrigo's Official Top 10 biggest songs in the UK
From drivers license to good 4 u, Olivia packed a LOT of hits into her Sour era.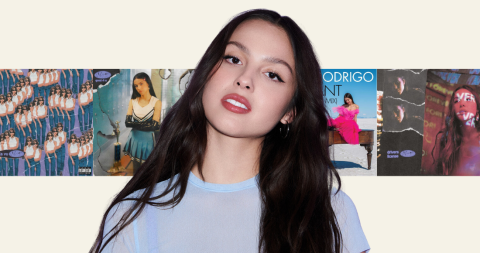 Olivia Rodrigo had quite the 2021. 
With her debut album SOUR, the singer-songwriter and actress paid tribute to her idols and created the most succinct, relatable account of the trails and tribulations of being a modern-day teenager since Lorde's equally influential debut, Pure Heroine. 
Now, with a second GUTS on the way and lead single vampire (a gothic, blood-letting attack on a parasitic social climber) currently in a close race for the UK's Number 1 single, we decided it was time to officially reveal Olivia Rodrigo's Official Top 10 biggest songs in the UK...so far.
5. All I Want (from High School Musical: The Musical: The Series)
Released: 2020
Official Singles Chart peak: Number 32
Total UK chart units: 580,000
The song that, technically, started it all. Olivia was already cast as Nini in the deliriously titled meta-comedy High School Musical: The Musical: The Series when the showrunner heard her gifts for songwriting and asked her to compose an original song for the soundtrack. 
That song, All I Want, is an obvious love letter to Olivia's biggest influence as a songwriter, Miss Taylor Alison Swift, with a gushing, full-pelt chorus straight out of Fearless. Released a year before drivers license, All I Want has claimed an impressive 580,000 total chart units, including a healthy 74 million streams.
4. deja vu
Released: 2021
Official Singles Chart peak: Number 4
Total UK chart units: 919,000
How do you follow up the unexpectedly biggest debut single of the last 10 years? With a bracing, art-rock anti-single heavily inspired by Radiohead and Alfred Hitchcock, of course. 
Obsession is the cornerstone of the hypnotic deja vu, probably Olivia's boldest artistic statement yet. It makes sense, then, that the track's music video pays tribute to cinema's ultimate ode to toxic fascination, Alfred Hitchcock's Vertigo. 
3. traitor
Released: 2021
Official Singles Chart peak: Number 5
Total UK chart units: 985,000
You betrayed me! drivers license easily riffed on the Phoebe Bridgers' mode of hyper-specific lyricism and good 4 u carries the scorched touch of punk rock, but with traitor, the bleeding heart of SOUR, Olivia was entirely original.
Despite never being released as a single, traitor received a spirited live performance video from the SOUR prom and was the fourth UK Top 10 single to be birthed from SOUR, peaking at Number 5. It's the biggest non-single on the LP, with 985,000 chart units and over 118 million streams.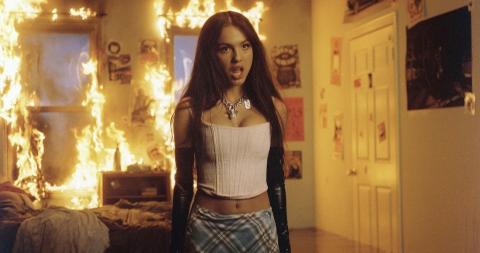 2. drivers license 
Released: 2021
Official Singles Chart peak: Number 1
Total UK chart units: 1.7 million
No-one, we expect not even Olivia herself, could have guessed the instantaneous success drivers license saw upon its debut in January 2021. A perfect storm of promotion, gossip and virality, the topic of the lament may have been discussed ad infinitum (and doesn't bare repeating here) but what sticks with you long after the chinese whispers dissipate is just how fully formed drivers license is for a debut single. 
It pays homage to Phoebe Bridgers, Lorde, Taylor Swift and Sky Ferreira, but also manages to mark out Olivia on her own terms, in her own voice. Her first UK Number 1 single, drivers license certainly wasn't her last, and it comes in second position, with 1.7 million total chart units and a blockbuster 210 million streams.
1. good 4 u
Released: 2021
Official Singles Chart peak: Number 1
Total UK chart units: 2.1 million
It's hard to create an instantly iconic, career-defining song, it's even harder to follow on with another one that is not only better, it arguably blows everything else out of the water. 
good 4 u, straight out of the gate, plays like an instant classic. If drivers license saw Olivia drown in her feelings, in this anarchic banger we witnessed her boil the ocean and salt the ground, so nothing good could grow there again. With its equally cheeky and inspired Petra Collins-directed visuals (taking inspiration from demonic teen comedy Jennifer's Body), good 4 u was the definitive answer to many questions that swirled around Olivia in the run-up to the SOUR. Mainly, that she was here to stay. And she had more than one zeitgeist-defining hit up her sleeve. She actually had two.
Officially Olivia's biggest song in the UK to date, as according to Official Charts Company data, good 4 u has amassed an amazing 2.1 million total UK chart units and over 253 million streams.
Olivia Rodrigo's Official Top 10 biggest songs in the UK
Related Singles and Albums