Few songs sound like an instant classic from the very moment they are released, but hindsight is a wonderful thing, and looking back now it's hardly surprising that Beyonce managed to pull off the rarely seen feat with her first proper solo single, Crazy In Love. 
The opening brass riff (sampled from The Chi-Lites Are You My Woman? (Tell Me So)) provided the perfect soundtrack for the newly solo Bey to strut oh-so confidently sans her Destiny's Child bandmates. She'd already long-outgrown the group by this point, but it was this, combined with the "Uh-oh, uh-oh, you know's" and a super slick verse from her future husband Jay-Z that acted as quick-dry cement to her superstar status.
Its hit credentials may seem obvious now, but in the beginning, Beyonce wasn't so sure. Helmed by R&B/hip-hop producer Rich Harrison (Amerie, Jennifer Lopez, Usher), Bey deemed the song's sample too retro sounding and "full of blaring fanfare", which wasn't a popular sound on radio at the time.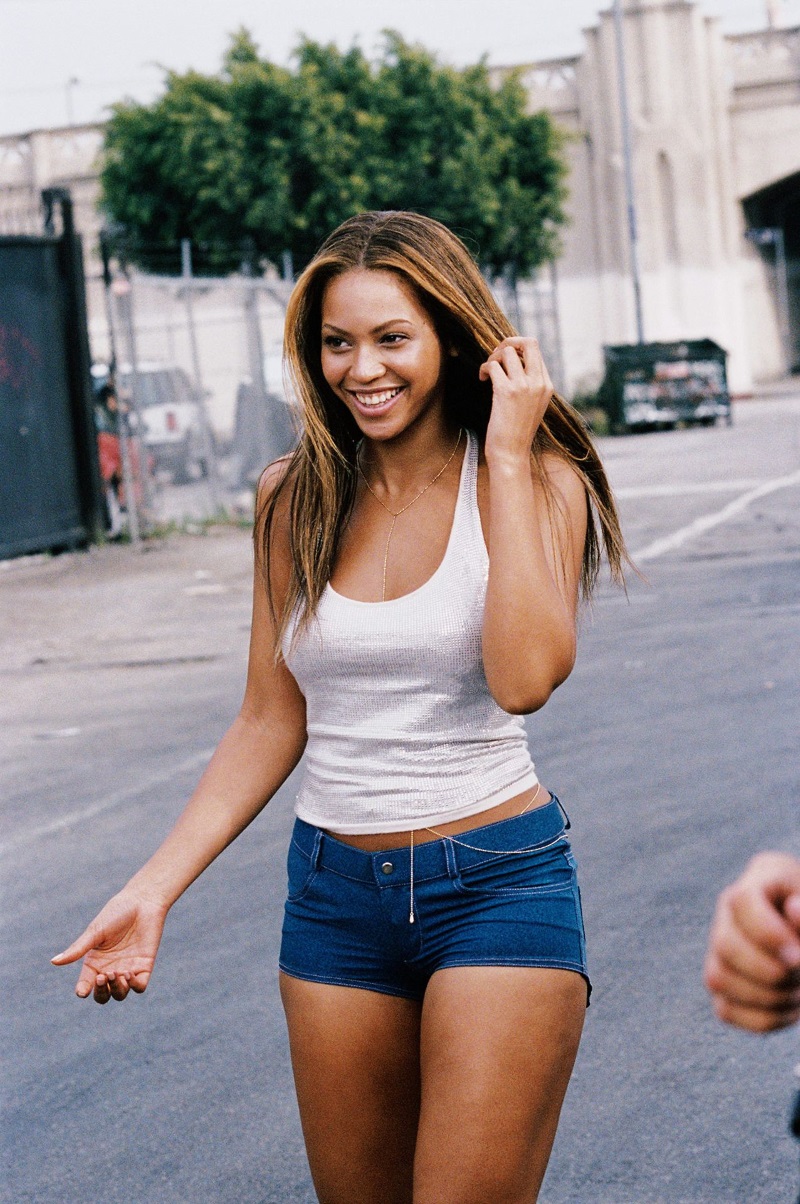 Beyonce on the set of the Crazy In Love video
Once fully recorded, it was the obvious choice of lead single for her debut solo album Dangerously In Love. Crazy In Love debuted at Number 1 with sales of 72,201 and spent three weeks at the top, eventually dethroned by the slightly less memorable Never Gonna Leave Your Side by Daniel Bedingfield. To date it's sold just over 1.1 million across all formats, split between 267,000 CD singles, 342,000 downloads and 50.2 million streams. 
It was to be the first of five chart-topping singles for Beyonce - she'd have to wait three years to pick up another with Deja Vu, another Jay-Z collaboration in 2006. Look at Beyonce's up to date chart history here.
Elsewhere in the UK Top 40 that week in 2003, Evanescence's emo-banger Bring Me To Life slipped to 2 after four weeks at the summit, and S Club 8 (formerly S Club Juniors) debuted at Number 4 with Fool No More, and Mis-teeq landed what was to be their final Top 10 single, Can't Get It Back, at Number 8. 
Further down, Ocean Colour Scene's I Just Need Myself was a new entry at 13, Lisa-Marie Presley scored what is her only UK chart entry with Lights Out at 16, and Michelle Branch's last UK Top 40 entry, Are You Happy Now, was new at 31. 
Listen to the UK Top 40 from this week in 2002 on our streaming channels. Subscribe to our weekly Flashback playlist on Spotify, Deezer, Apple Music.