She's had more reinventions than Sugababes have had lineups, but 10 years ago this week, Madonna was in the middle of her most sensational new look yet.
How do you reckon most popstars might follow an album that hadn't been as well received as expected? Go away for five years? Give up altogether? Release an album full of angsty songs? Maybe. But not Madonna. After American Life got what you might call a lukewarm reception, Madge nipped down to her local dancewear shop, bought all available stocks of leotards and came back with Confessions On A  Dance Floor, a solid danceathon packed with disco bangers.
And its lead single? Why, it was Abba-sampling Hung Up, of course. 10 years ago this week, Madonna went straight in at Number 1 with the floor-filling anthem. To celebrate, we look back at some of the stats and facts around what would be a global smash for Madge.
3
Hung Up stayed at Number 1 for three weeks, after binning off Westlife's You Raise Me Up. The track stayed right behind Madge for those three weeks.
59,500
Madonna beat Westlife to Number 1 by over 59,000 copies, racking up over 105,000 sales in that first week at the top.
And who knocked her off Number 1?
It was this, from Pussycat Dolls, their second and final Number 1.
10
Hung Up spent 10 weeks in the Top 10, with seven of those being what you might call a Top 3 situation.
11
Hung Up was Madonna's 11th Number 1 – she's had 13 altogether. The first was 1985's Into The Groove, the most recent was 2008's 4 Minutes.
MORE: See all Madonna's hit UK singles and albums in her Official Charts archive
Hung Up was the first Madonna song to spend longer than a week at Number 1 since Vogue in 1990.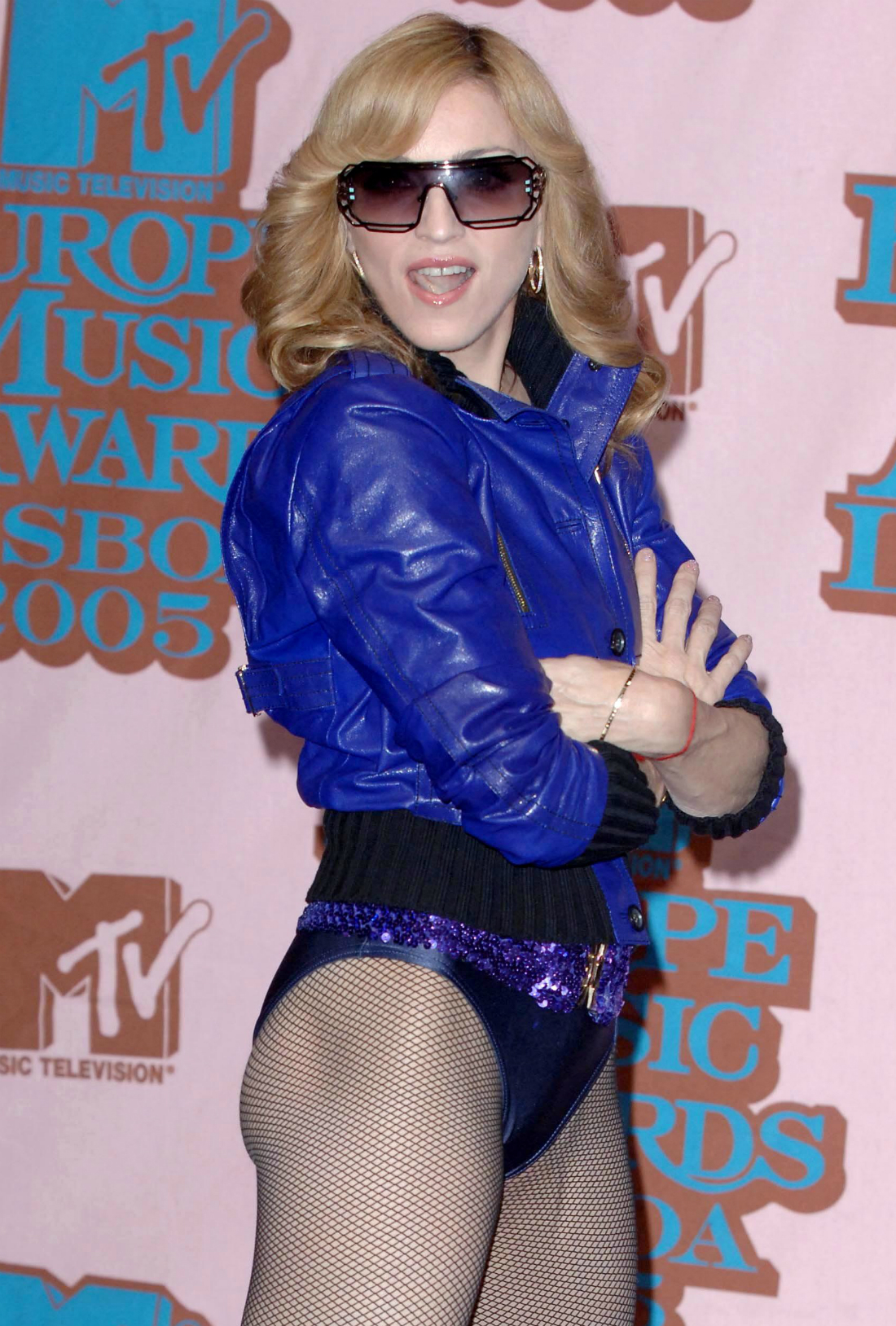 The end of 2005 pretty much belonged to Madge. She showed the world what she was made of with her first performance of Hung Up at the MTV EMAs. (David Fisher/REX)
29
Over the course of her career, Madonna has spent 29 weeks at Number 1. That's almost seven months!
2
Hung Up was widely reported as only the second time Abba had let another artists sample their work. Borrowing from Abba's 1979 hit Gimme Gimme Gimme, Madonna had to send a grovelling letter to the band to allow permission for the sample to be used.
"They never let anyone sample their music," said Madonna in an interview back in 2005. "Thank God they didn't say no."
The other artist who scored an Abba sample before Madge? It was Fugees, who used part of Name Of The Game on 1996 track Rumble In The Jungle.
Coincidentally, in getting to Number 1, Hung Up managed to do what Gimme Gimme Gimme could not – Abba's track only reached Number 3.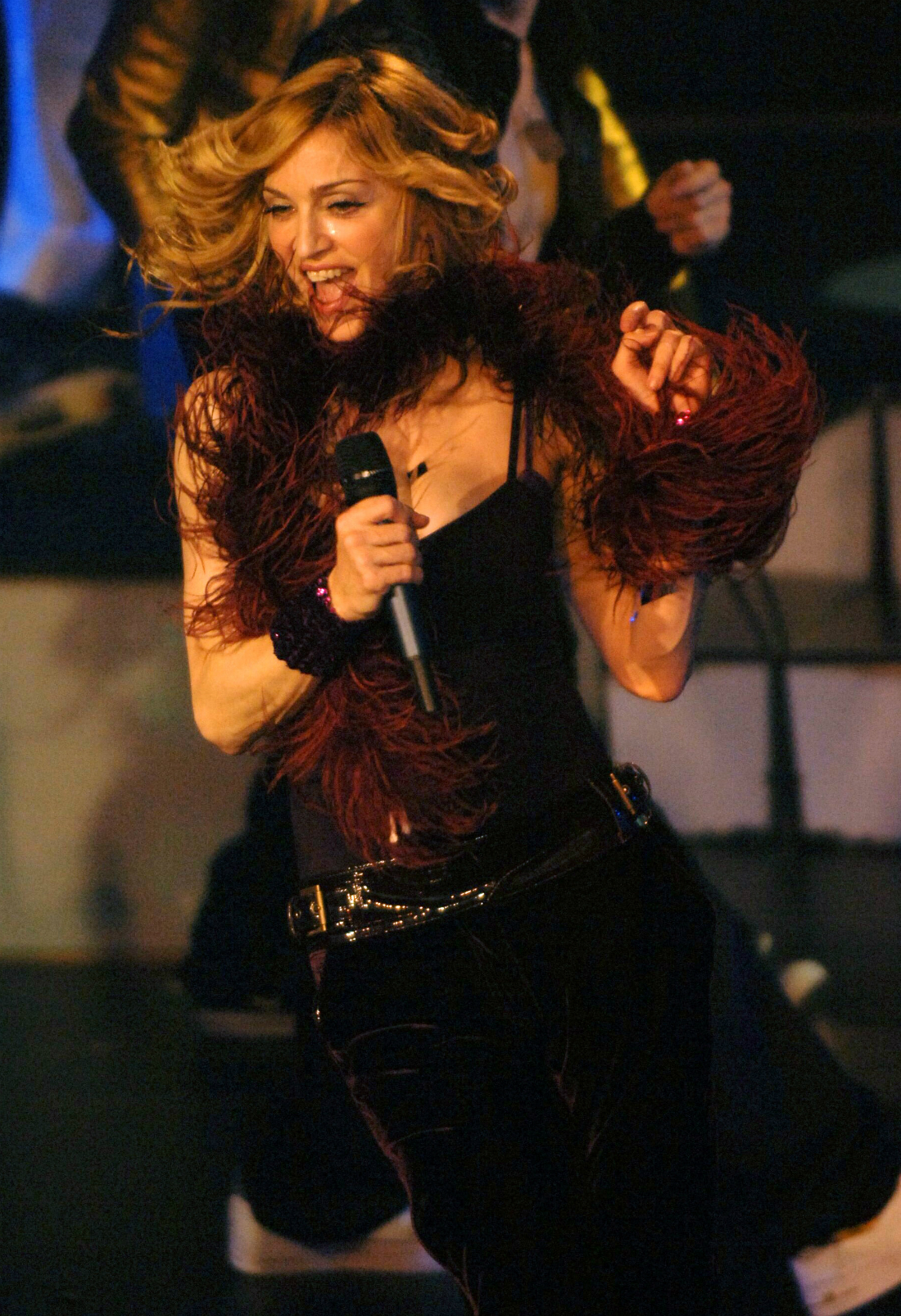 To launch Hung Up's parent album Confessions On A Dance Floor, Madonna held a series of intimate gigs in New York, Paris and London. Here, she rocks Camden's Koko (Richard Young/REX)
6
Currently, Hung Up is Madonna's sixth best-selling single in the UK, beating vintage hits like Vogue and True Blue.
MORE: See Madonna's Top 40 biggest selling singles in the UK
1.34 million
Confessions On A Dance Floor has racked up a pretty impressive 1.34 million chart sales, with over 1.32 million of those coming from physical sales, your actual CDs. 1,600 of you have downloaded the album so far this year alone.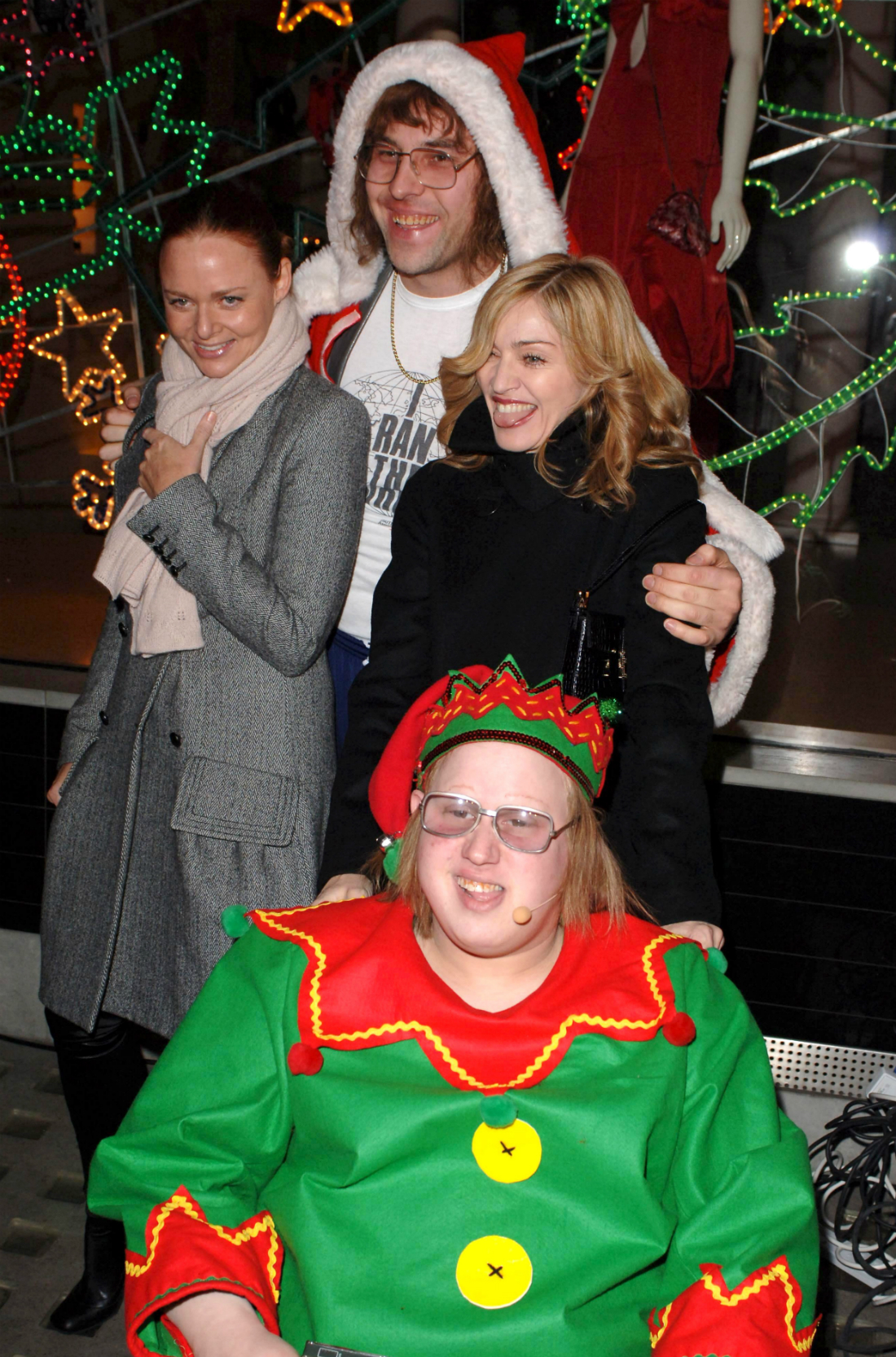 Such was Madonna's 2005 #impact, she turned on the Christmas lights at Stella McCartney's London store, aided by comedians David Walliams and Matt Lucas. (David Fisher/REX)
The rest of the Top 10
Click on the image to take a look a the full Top 100 this week in 2005.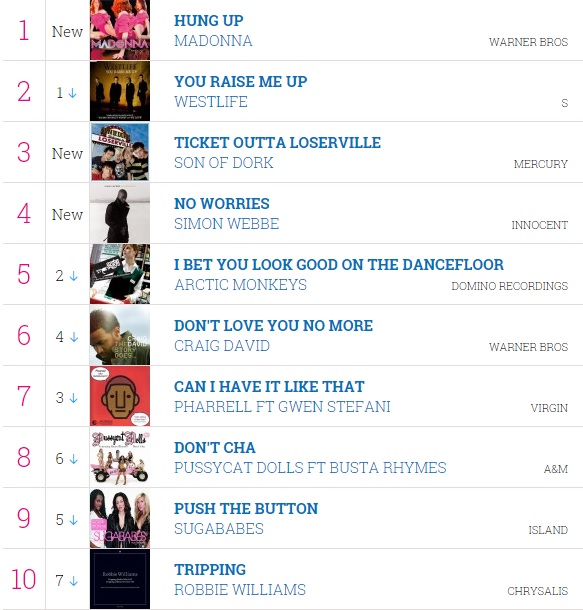 If that's not quite enough Madonna for you, take a look at our gallery below of all Madge's UK single artwork.