Madonna's Music makes the people come together: Flashback 2000
Her second Number 1 of the new millennium, Music saw Madonna metamorphose into a disco darling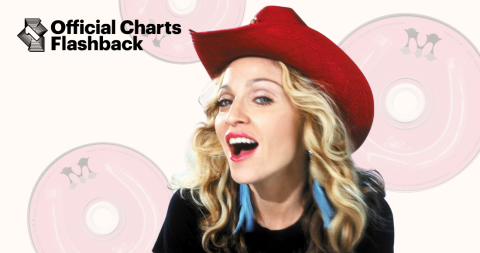 The year was 2000, and with a new millennium came a brand-new Madonna.
Having already earned one chart-topping single that year with a cover of Don McLean's 1971 track American Pie, Madonna was ready to metamorphose into a new artist entirely. While her last Number 1 album, 1998's acclaimed Ray of Light, explored an ambient trip-hop soundscape with the help of co-producer William Orbit, the title track from Music saw Madonna shapeshift into a disco darling of sorts.
Produced by Madonna alongside French electro connoisseur Mirwais Ahmadzaï (also known for his work with Uffie, Fischerspooner and more), the lead single from her eighth studio album assumed a more playful role than Ray of Light's respective works despite some socio-political lyricism; buoyant with digitally-manipulated vocals and electro-funk sonic flourishes.
Its accompanying music video was similarly-spirited. Music's visuals could be considered a 2000s time capsule; complete with camp cowgirl-inspired styling and a cameo from Sacha Baron Cohen as of the time alter ego Ali G. Yep, the early noughties iconography was real with this one.
But, taking another bold artistic risk, would this new era prove as commerically-successful as her last?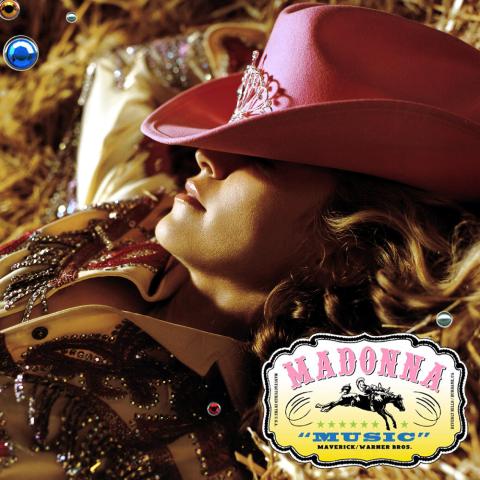 Released on August 21 2000, Music debuted atop the Official Singles Chart that same week; at the time becoming her tenth track to reach the summit.
The track spent two consecutive weeks at Number 1, before going on to tally a total of 15 weeks in the Top 40. Music can also claim to be the sole chart-topper from its parent album of the same name, with follow-up singles Don't Tell Me and What It Feels Like for a Girl reaching Number 4 and Number 7 respectively.
To date, Music has accumulated a total of 510,000 UK chart units; having shifted 388,000 physical copies. The song also boasts in excess of 9.6 million streams in the UK so far.
Elsewhere on the Official Singles Chart this week in 2000...
Following one of the biggest chart battles of the 2000s, which saw Spiller and Sophie Ellis-Bextor come out triumphant, Spiller's Groovejet (If This Ain't Love) and True Steppers and Dane Bowers feat. Victoria Beckham's Out of Your Mind both slipped one spot, to Number 2 and Number 3 respectively.
Victoria's Spice Girls bandmate Melanie C was also on the decent with former Number 1 I Turn To You (5), while boisterous double act Daphne & Celeste claimed the week's second highest new entry - and their third consecutive Top 20 single - with a cover of Alice Cooper's School's Out! (12).
You really did have to be there.
At Number 21, Santana feat. The Product G&B's Maria Maria was down 7 (21). The track's since experienced a revival on social media, thanks to a reworking from TECH IT DEEP proving popular as a viral sound on TikTok this summer.
LISTEN to the Official Singles Chart from this week in 2000: