Of the many, many long-awaited comebacks over the last few years, the return of Lighthouse Family is one of the more surprising. But 18 years later, and after several false starts, they're back with a new album.
"I think people probably thought that would never happen again," one half of the duo Paul Tucker said when we phoned him up to talk about the band's return. "We tried a few times in the last ten years to do it and it didn't work."
Lighthouse Family, comprising of Newcastle friends Tunde Baiyewu on vocals and Paul on songwriting/production, were one of the biggest acts of the nineties with their easy listening hymnal pop sound. Their debut album, 1995's Ocean Drive, has sold 1.65 million copies in the UK and spawned four Top 20 singles (view their Official Chart history here). Their follow-up was just as big, selling 1.3 million and giving them their biggest single High. Then, not long after the release of their third album, Tunde's mother passed away and the duo scaled back their promotional commitments, eventually turning into an indefinite hiatus.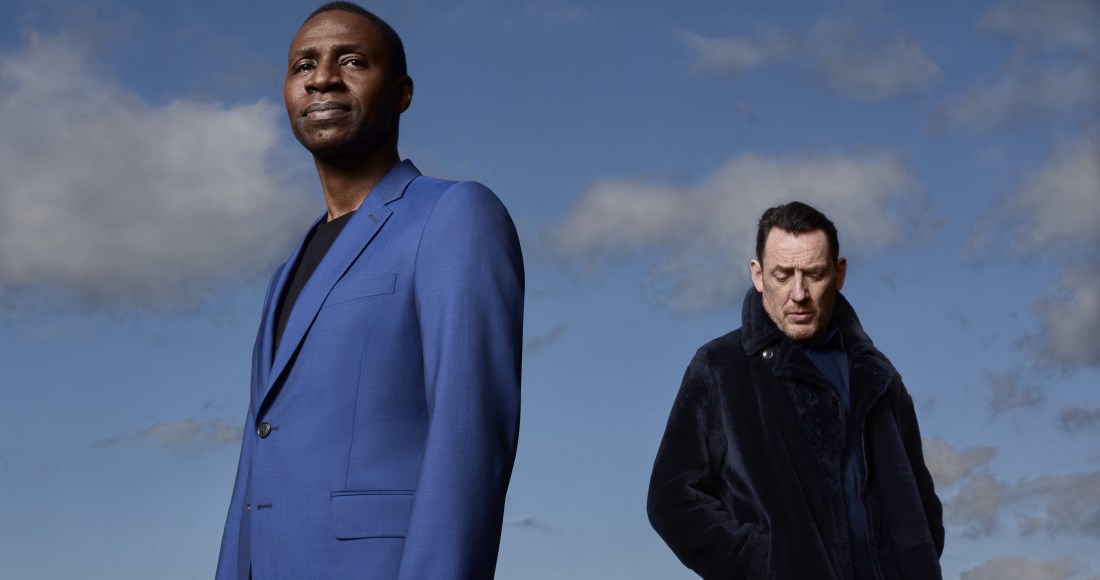 After a number of comeback attempts, put off by themselves, since 2010, they're back with their fourth album Blue Sky In Your Head. It's a collection of uplifting epics that only Lighthouse Family can do. What was different that made it work out this time? "It was almost like the thing had a life of its own, really," Paul says. The decision was kind of made for us. It just kind of had its own momentum. I don't know whether we're older and wiser. The thing is we didn't decide to do it either, what happened was the guy at the record company used to listen to Lighthouse Family records in the back of his Dad's car when he was a kid, being subjected to it, and he had a thing about Lighthouse Family." 
It's a story that will sound familiar to many people now in their thirties: Lighthouse Family were near-inescapable on the radio in the late nineties. We remind Paul it's likely that many people that age working in the music industry (this writer included) will have grown up with parents playing Lighthouse Family's music. "Wow, do you know what I've never actually thought about that. That's really interesting! I hear that story all the time, that people were subjected to it by their parents while sat in the back of the family car, but I've never really put two and two together in the way that you just said. That's cool, I like that." Crucially, those nineties kids are now old enough to start feeling nostalgic for the past - and can afford to buy their own concert tickets.
You've been involved with other projects during Lighthouse Family's hiatus, but you're coming back to a very different music landscape…
"Oh yes, I mean like streaming and Spotify and the vertical videos. I'm up to speed with all that, that new landscape. It was a bit of a steep slope but I'm getting there." 
It seems like artists have gained back control over their music, compared to the big money record label machines of the nineties.
D'you know what? I think that-we had an incredible team in the nineties. We had two guys, Colin Barlow and Lucian Grange. Lucian is now the chairman of the board for Universal, and Colin was the president of RCA and the president of Polydor and stuff, and they were incredible. Everything was so detailed and – this idea that because of all the data that there is now that people pay more attention to detail, I don't know if that's true. I think that in the nineties it was a really tough environment. It was as competitive as it is now - it certainly wasn't easy. I think it's probably harder now than it ever was. If you say 'I want to start a band, I want to be successful in a band', It's a bit of a trawl." 
The new album in some ways feels like a continuation of your previous work - it's very hopeful and optimistic. Was it your aim to put some positive vibes out into the world again?
"Definitely. I think the thing is we thought about 'what is Lighthouse Family? What's a Lighthouse Family song?'. Some of them are almost like you're writing a song to write yourself out of a dark place, to get you through a bad situation, almost for yourself. High is like that and Ocean Drive was like that, so they were bittersweet but you're trying to put the sun back in the sky. That's kind of where that title Blue Sky In Your Head comes from. I think sometimes people think that Lighthouse Family songs are about 'everything's good, everything's great'. It's not that at all, it doesn't say that anywhere!
"I suppose we said to ourselves 'if you were going to make a Lighthouse Family record now, what would you do?' And that's what we did. We wanted the songs to be as good as High and Ocean Drive and I feel like we've done it. It wasn't easy because that isn't easy, but I feel like we've done that." 
Lighthouse Family songs sometimes tread close to being cheesy, without ever actually crossing that line. How challenging is it to create an uplifting song that doesn't sound trite? 
"I think the thing is, I'm writing lyrics, and if it's cheesy it's going in the bin as far as I'm concerned. And I'm quite brutal when writing, it's almost like, I go through pages of stuff throwing anything: 'that's not good enough, not good enough, it doesn't feel real, it feels like bulls**t." I have to keep going until I get to something that I think is really solid and real and it's true. After that, if somebody says to me they think it's cheesy I don't care, if that makes sense."
You had hit singles, but you are also seen very much an albums act – your first two albums sold well over 1 million each. What are your expectations this time around?
"I think that we're really, really lucky to have achieved what we've achieved. We've worked really really hard but we're lucky to have done what we did when we did it. We said a few weeks ago, 'we're bloody stupid, me and you, I don't know why it's taken us so long, we should have done this ages ago!'. Obviously we'd love the record to be huge, but who knows? It's like, if Rolling Stones put the record out now, or if U2 put the record out now it's not going to be Joshua Tree. I still have to get my head around that. I do want it to be Ocean Drive again. I'd love it if it was huge, and every time I'm writing songs I'm trying to write these huge Lighthouse bangers. Sometimes I think 'you've got to get real Paul, that's not going to happen' – but I'd love it if it did! I'm so ambitious and I'm so driven that really I just need to go "Paul, just go up there and play those songs, and enjoy it! It's gonna be good."
Lighthouse Family's new album Blue Sky In Your Head is out on July 5.