Justin Timberlake explains iconic *NSYNC lyric as group reunite for new music
The boyband's first new song in 21 years, Better Place, will arrive on 29 September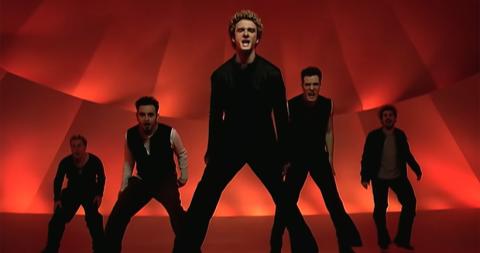 When Justin Timberlake sang "it's gonna be MAY" on *NSYNC's 2000 single It's Gonna Be Me, he made pop history. The singer's unusual pronunciation of the word "me" so fascinated boyband fans that it later became an iconic meme that dominates our social media feeds at the end of April every year. 
But why did he sing it that way, exactly? Well, Justin and his *NSYNC bandmates – JC Chasez, Joey Fatone, Chris Kirkpatrick and Lance Bass – have addressed the issue in a new interview on Sean Evans' Hot Ones on YouTube.
It began with the host asking the five-piece: "Fact or fiction: the hook on It's Gonna Be Me has that 'may' pronunciation because Justin got a note from a producer that was 'yeah, I need you to say it more like 'may' – like a meaner 'me'."
"I don't remember if the specifics were 'a meaner me'," Justin replied, "but I sang, 'It's gonna be me', and he was like, 'No, no, no, no, no. It's may. May!'"
JC then pointed out that the song was written by three Swedish songwriters – Max Martin, Rami Yacoub and Andreas Carlsson – who had different accents from the American band. "They had done a demo of [the song] and they were like, 'It's like this,'" JC said as he imitated their Scandinavian accents.
At this point, Justin added: "You know what's funny, specifically to Max Martin, the parts of their English that were broken actually made them catchier songwriters because they would put words in a way that almost didn't make sense, but when you sang them, they were more memorable. And yes, it was a specific note that I got, and I was just like, 'This guy's crazy.' I did the way that he requested, and that's what made the record."
*NSYNC have just announced their first new song in 21 years. Titled Better Place, it was recorded for the soundtrack to the upcoming film Trolls Band Together and is due for release on 29 September. Justin recently shared a behind-the-scenes clip of the boyband recording their song, which he described as a "love letter" to fans.
*NSYNC also reunited earlier this month at the MTV VMAs, where they presented Taylor Swift with the Best Pop prize. They last came together as a group in 2018, when they had a star unveiled on the Hollywood Walk of Fame.
Formed in 1995, *NSYNC went on to score six Top 10 hits on the Official Singles Chart with I Want You (Number 5), Tearin' Up My Heart (9), Bye Bye Bye (3), It's Gonna Be Me (9), Pop (9) and Girlfriend (2). Check out where all of *NSYNC's songs and albums charted here.
Justin went on to score even greater success as a solo artist, putting together an incredible Official Charts record that includes four Number 1 singles and three Number 1 albums.
With their recent promo appearances,  *NSYNC seem to be greasing the wheels for a long overdue reunion tour – but is this just wishful thinking on our part? It's too soon to say, but it's definitely fun seeing the boys back together again.
Related Singles and Albums
Number