There's lots of good things to say about Joel Corry's new single Lonely; but first and foremost it's the kind of dance banger where you'll know the chorus before the end of the song, and it rather cleverly feels like a sequel to his Top 10 breakout hit from last year, Sorry. 
Given he's taken on the role of a doctor in Lonely's music video, we've asked the DJ/producer what the science is (see what we did there?) behind a club banger. Listen carefully everyone...
1. Consider where people will be listening to the song
Firstly I would say, I've been a DJ for most of my life – my intro into this industry was through DJing - so when I'm making a track in the studio my mind is always in the club. My first instinct is, how does this work in a club? That's my though process straight away. I'm aiming to make a track that will connect in the club.
2. Make sure it has a 'moment' (i.e a good chorus)
As far as a formula goes, I feel like tracks need to have a moment, and I've been able to put my little spin on that. With Sorry, it has that build up, then everything drops - bang! - and cuts away, allowing the whole crowd to sing along to the chorus. It's the same thing in Lonely, when the beat drops and everything pulls away. You need that 'boom' moment. I'm definitely developing a formula that I think I'm locking down at the moment. The number one priority when I'm producing is that the track is going to work in the club and in my DJ sets.
3. Road - or crash - test the song before releasing it 
Before I release a track I will road test it so much in my DJ sets. With Lonely, because I'm DJing a lot on the circuit, I've got the luxury of making a track in the studio and playing it in a club that weekend and seeing how it goes down. I then go back in the studio and tweak it and tweak it until I get it perfect for how it should feel in a club. With a track like Lonely, by the time you get to end of the production, the song is on something like 'Version 30'. It's a lot, but when you get the final one it feels like the best thing ever.
4. If you're not a singer, surround yourself with a few people who can
The way I've worked so far, the vocalist on the track has happened organically. I worked with Hayley May on Sorry and my previous two singles before that, Fallen and Good As Gold. With Sorry, I was in the studio vibing out to some old school garage, messaged Hayley and asked her to sing the hook back to me over Whatsapp. As soon as I heard it booked some studio time for the following week. With Lonely, the vocalist is Harlee, she's 19 and so, so talented. She actually wrote the lyrics to Lonely as well. She is going to be a massive star. I haven't got to the point where I'm working with lots of different people yet, but hopefully some big-name collabs are in my future.
5. Good lyrics are key
What's so cool is that I've received multiple messages recently saying how Lonely is helping them through a breakup at the moment. All these stats about how many streams you're getting and stuff is amazing, but when I read those messages – and some of them are quite deep – it makes me feel warm inside that the music is actually touching somebody. Harlee has done a great job with the lyrics in Lonely because I think a lot of people can relate to that situation. It almost feels like a progression from Sorry because the lyrics in that song suggest a breakup situation, maybe some cheating has gone on, while Lonely sounds like the next chapter in that story - that the person wants to get back together just because they're feeling lonely.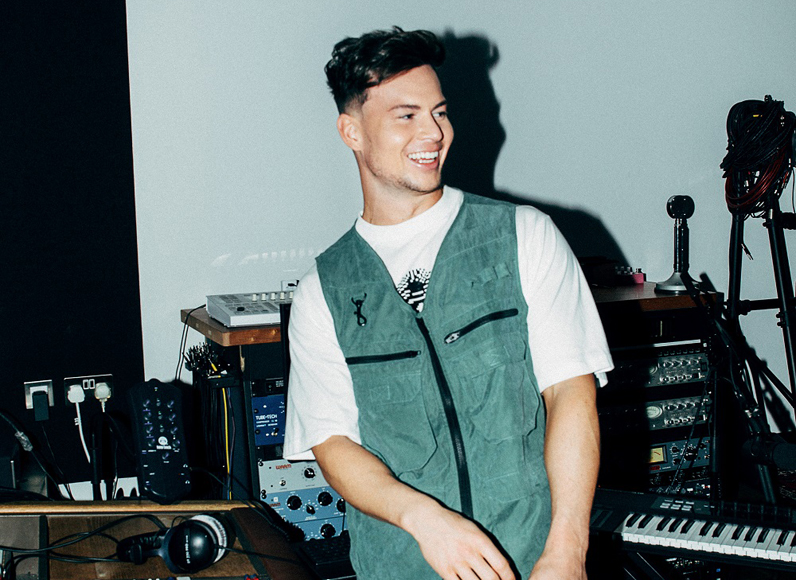 6. And finally... don't expect success to happen overnight
Before Sorry became successful I was DJing six nights a week at residencies out in Spain, Ibiza, Zante and the Greek Islands. I've usually been the DJ playing those big songs that cut through every year, so to actually have one myself was really incredible and special.
I started DJing when I was 13, mostly playing garage music, and I first went to Zante when I was 18 for my first boys' holiday. Four years ago, I asked a club there called Rescue if I could put on a residency. I did it for no money, but in return they let me call it 'Joel Corry Presents' to get some exposure. The first summer I did it, it was half-empty every night, but I slogged it out for the 16 weeks of summer and kept going back. Last summer, honestly, you couldn't move in there. Watching it grow like that over the years has been absolutely mad. Hard work pays off! 
Joel Corry's new single Lonely is out now.