Issey Cross talks solo breakthrough and sampling The Verve on Bittersweet Goodbye
The track is set to become her first solo Top 40 single.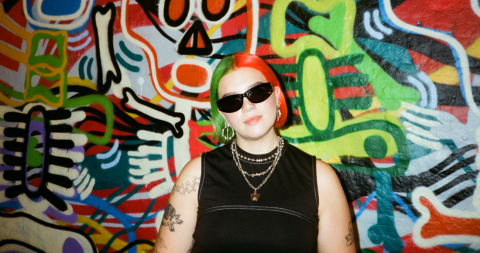 Produced by Australian DJ Luude (who you may remember from last year's frantic Men At Work-sampling Top 10 hit Down Under), it's an engaging and surprising twist on a classic song , in a genre that is quickly coming back to prominence. 
"I always used to listen to drum'n'bass, and a lot of dance music when I younger, at raves," Issey tells us over Zoom. "When I got dropped from [my previous label - Issey was signed to Island before moving to Atlantic], I started to write a lot for other people, and when the Wilkinson track came out, I think it just made a lot of sense for me to move in that direction, into dance music."
Issey says that since carving out a distinct path for herself over the past few releaes, she's realised that "I love dance music, and it's so fun to play live. At shows, the crowds are so engaged. And everyone's so lovely [in the scene]. And now here we are!"
Having already once collaborated with Luude (on the track Oh My, which also featured indie auteur Moby), Issey tells us that the collaboration for Bittersweet Goodbye was very simple; the track, with the Verve sample, had already been built by Luude and she wote the lyrics "really quickly, with some friends" but scheduling conflicts meant Luude couldn't release it, so Issey took it for herself.
"I was [initially] planning on doing some more features," she reveals about how the track came to be released. "I've been working with a lot of dance producers, a lot of drum'n'bass people, but this one just made sense. I've written so much music over the past year. I really love how Bittersweet Goodbye sounds, it's very emotional, with the strings and everything."
And with it being such a hit out of the gate...how is she planning to follow it up?
"I want all my next singles to kind of follow [this same path]," she teases, "but it doesn't have to be [all] drum'n'bass, but it will definitely be dance influenced, for sure."
One of the biggest pitfalls in the current trend of sampling old, classic songs on new tracks can be that the clearing rights to use the sample itself can be a long (and in some cases, expensive) process, which is something Issey was definitely aware of when the track was sent to her label.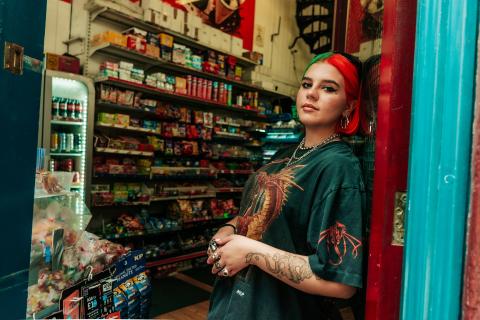 "I actually thought we'd just have to put it out on Soundcloud [if it didn't get cleared," she says, "but then I just got a call, randomly, from my A&R saying that it was cleared. Last week, Richard Ashcroft [the frontman of The Verve] even tweeted about Bittersweet Goodbye. It was quite funny, because I thought he was going to hate it."
And up next for the track - which is set to make its Top 40 this Friday, all being well - is a kinetic remix of the track by legendary DJ Tiesto. And while Issey still hasn't met Luude in person yet, she did meet Tiesto, even being invited to the star's set at Tomorrowland to perform the remix live for the first time,
"There was no plan for that," she says. "He asked me if I wanted to come on stage and sing with him. I was a bottle of wine down!  It was crazy. The stage was insane, and everyone [in the crowd] was, obviously, dressed amazingly. It felt like Disneyland."
As for the future, Issey is hoping to release a new EP in the near future, and has bucket list collaborations with Charli XCX and Ice Spice that she wants to tick off. We don't think she'll have any problem with that. Bittersweet Goodbye very much doesn't feel like an ending, but the beginning of something great.
Bittersweet Goodbye by Issey Cross is out now via Atlantic. The Tiesto remix of the track drops tomorrow (August 18). 
Related Singles and Albums