It might sound like a Bit Coin scam, but Internet Money are the real deal. A rap production collective and record label based in Los Angeles, the group was founded by Taz Taylor, a 27-year-old producer who made his fortune through the internet selling beats and production tools online.
Their name came about because online producers and beat makers like Taz found they were being taken advantage of in the music industry, their music being snapped up by big names for little by way of credit or compensation. Since forming Internet Money, Taz has reportedly made half a million dollars a year for the last four years, meaning he's well on his way to becoming the next rap mogul.
Co-fronting Internet Money is 20-year-old Nick Mira, who scored his first hit as a producer on XXXTentacion's F**k Love aged 17 and, in 2018, a worldwide smash with Juice Wrld's Lucid Dreams.
The collective have set up shop in Taz's Hollywood Hills mansion where they make beats, production tutorials on YouTube and conduct seminars for aspiring producers. They are also responsible for breaking some of the biggest rap artists of the last two years, including the late Juice WRLD, Lil Tecca, Iann Dior, Trevor Daniel.
As for their own music, you'll almost certainly have heard of Lemonade, a Top 3 smash on the Official Singles Chart and their first hit under their own name. Last month Internet Money released their debut album B4 The Storm, which features a dizzying line-up of big name collaborators, including Trippie Redd, 24kGoldn, Wiz Khalifa, Swae Lee and Future.
Beyond that, the group's sounds have powered some of the world's biggest hip-hop records over the past two years, including Lil Tecca's Ransom, Drake's Blue Tint and Trevor Daniel's Falling.
On a seemingly unstoppable rise, we caught up with Taz to find out where he's planning to take Internet Money next.
As a collective who in many ways go against music industry norms, why did you decide to go down the traditional format of releasing a proper album?
We decided to make an album because we've done everything. We helped build a lot of artists' careers at that point, and I felt like it was just something we needed to do to help grow the brand in another way. It was a just another notch in our belt to say we could put something together as an artist.
The thing about Internet Money is that you can't put us in a box. We could a be a producer, an artist, we could film our own music videos, we could do whatever we want to do, you know what I mean? With the Corona thing it was hard to work how most people work on a traditional album, so instead, for me, it was more so going through old songs that we did and picking the best parts of them. For example, Lemonade is a song we did in 2017. We reached out to artists that we really respect now, and we would reproduce older records with them. A lot of this was done with just the Internet Money team, we didn't really have outside help. It was more so just us like taking a cappellas and making them into complete songs.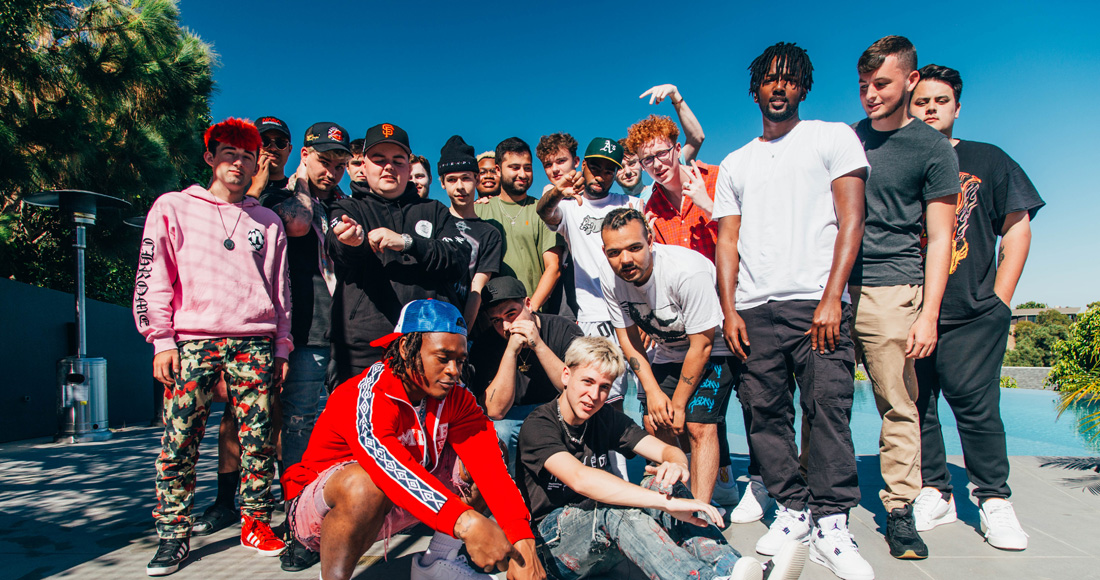 You've developed many aspiring artists who are now having huge success. Is there a particular project, artist or moment you're most proud of?
Probably just being a part of Juice WRLD's career in general and seeing how he rose so quickly. I also think that 17 with XXXTENTACION was another huge highlight of my career. I feel like it really kind of changed a lot of s**t for us, it was a monumental album to be a part of. Not only for like the music scene, but for our careers. It was our first RIAA-platinum plaque. It just like holds a lot of sentimental value. They're both legendary artists, and it was an honour to be a part of both of their careers. You know, they were only able to do so much music in their short lives and we did most of it for Juice especially.
Internet Money was formed outside of the usual music industry structures. What do you think are the big changes that need to happen in the industry?
Honestly, I have no idea right now about the industry as a whole, but I think creating Internet Money as a collective for artists and producers has been incredibly important for me. I think more creatives in the industry should have tight-knit communities that they trust and find comradery in like ours. It's hard to navigate this s**t alone, and I know most artists and producers do.
Internet Money seems unstoppable right now. Is there an ultimate goal you're aiming to achieve?
Nah, there is not a specific, ultimate goal that I am aiming for right now. I just want to put out the best songs and be a part of the biggest records in the world. Someday, I want to be regarded like Max Martin or DJ Khaled. I want to be on that level of artistry, producing, and overall production. We've come a long way, but there are still plenty of hopes for the future.
Where do you see Internet Money in 5 years?
Hopefully retired [laughs]. Nah, I'm kidding. I don't know, hoping to be in and out of the industry as I please, making records with people I love and raising my son.
What can you tell us about the next big Internet Money project?
We're just now starting the second album. We're taking a bunch of records and working with songwriters, producers, and artists that we love. We're trying to find new ways to be fresh and reinvent the wheel every time we make a song. I'm super excited to share this next project with everyone, but for now, we are still in the early stages of it. 
Internet Money's debut album B4 The Storm is out now.