Back in 2001, Dannii Minogue found herself at a crossroads. Her most recent album, 1997's Girl, had under performed commercially despite spawning a Top 5 hit in All I Wanna Do, and her label, Warner Bros imprint Eternal, had gone bust.
"I'd had some records that hadn't done well enough, which was not only disappointing to the record company, but to yourself as an artist," she tells us over phone from her home in Melbourne. Determined to step out of her sister's shadow and prove she was more than a singles artist, Dannii dived head-first into her true musical passion, dance.
"If things don't keep turning out right, you can't keep repeating it, you need to do a hard reset of yourself because might not get another chance," she says of the performance of Girl and its predecessor Get Into You, both of which missed the Official Albums Chart Top 40. A moment she describes as a "golden opportunity" came along when the godfather of house, Pete Tong, reached out and asked her to record a vocal for Stringer, a popular instrumental dominating dance floors across Europe.
Renamed Who Do You Love Now?, the track reached Number 3 and the concept for what would become her most successful album, Neon Nights – "an album that sounded liked remixes of pop songs" - was born. 15 years later, the record has been issued for the first time on plastic, fully remastered and on heavyweight vinyl.  
15 years on, how do you think Neon Nights stands up?
"I was really excited to listen to the songs again. The production on the album is just awesome. I guess sound-wise it captures that time but it's so personal to me. Every little bit of energy I put into it to make it work, and the people that I worked with… I think there was some magic in the air, in that it was also a time in the music industry where there was a bit of money put behind it and I was given enough time to go and make the album. It certainly wasn't thrown together quickly."
You co-wrote almost every song on the album and worked with lots of underground dance producers in Europe. How did it all come together?
"With the album Girl I was really allowed to have some freedom in exploring musically but when it came to Neon Nights, there was some budget to travel outside of London and went to Paris and Stockholm, the latter of which we spent a lot of time in. I learnt so much about [Sweden's] involvement in so iconic many pop records. Dance music is such a huge passion of mine, so it was a dream. I wanted to hear the songs and feel, as I closed my eyes, that I'm on a dance floor, in the club, under a mirror ball. That's what that album is for me. In fact, that's why we called it Neon Nights - it just had to be something that felt like when you're at a glitzy party with your dancing shoes on.
"After Who Do You Love Now was a success, it pulled in a few producers that wanted to work with me. [Ministry of Sound exec] Phil Faversham was A&R-ing the record and he was just incredible at pulling it together and hooking me up with producers across Europe. For me to put out a dance record on my own, I felt like people would say, 'Who does she think she is? She does pop!', so having Pete Tong involved as well I think helped people judge the music by the songs, not because of me."
You said that in some ways, Neon Nights felt like your last shot at a successful music career. How confident were you of its chances before you released it?
"I really had no idea what was going to happen, but during the making of this album was when I found the confidence to have my own voice. I was way more involved not just with lyrics, but with melodies and production. I didn't have that confidence before. We were all able to put all the ideas in and get the best songs out of it. I remember with Put The Needle On It, we were dancing around the studio not necessarily thinking it was hit, but knowing it had such a groove to it."   
"I don't know really! I think it's more a question for other people than me. By the time those singles were flying I was here, there and everywhere promoting them. It was a mad ride. I can't imagine doing it all again now.
Two of the singles, I Begin To Wonder and Don't Wanna Lose This Feeling, were mashed up with Dead Or Alive's You Spin Me Round and Madonna's Into The Groove – the first time Madonna had approved a sample. Did she ever give you feedback on the finished mix?  
"She didn't but I never expected her to. I mean, it's Madonna! It was interesting because it was around the time Abba had approved for her to use one of their songs. She was one of the first to get that and I was the first to use Madonna as a sample. To this day I still can't believe it! Because we were on the same label we thought we'd just ask her anyway, totally not thinking she was say yes. If you don't ask, you don't get. Into The Groove is just legendary."
Can we also just say there's something still strangely brilliant about all the Neon Nights artwork?
"Thank you! I worked with a few different photographers and we were totally guided by each other's vibes. Some shots were really carefree and others were super constructed. For the cover, I had this pair of sparkly gold shoes and it was like, there's a white board, just lie on it and roll about and we'll see what we come up with. There was a freedom to it and we wanted it to feel like an outtake from Studio 54 or something. But then with the Put The Needle On It cover, which was with a different photographer, I spent hours tilting my head at a particular angle to the earing would hit the light in a certain way."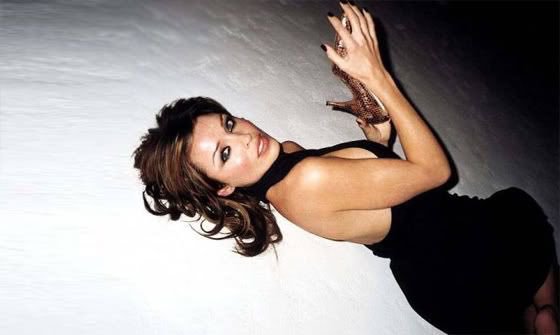 You've recently a couple of one-off songs recently. Is a full album in the works?
There's nothing particular in mind to do. There's some ideas I've got floating around, some things are half done some things might be finished. My life as a mum pulls me away from that, so it can never be that full-time gig that it was. I still love to do some stuff and I love getting the opportunity to jump up on stage and perform again. It's not a closed project, it's just something that happens a lot less than it used to.
Neon Nights is available on vinyl now.
Article image: Benji Hart