Bebe Rexha: "I stare at my Number 1 Award every morning!"
As she brings her Best F'in Night of Your Life show to the UK, we sit down for a chinwag with the ever-humble Bebe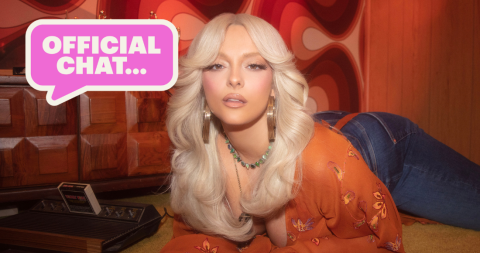 Following the success of her first-ever Official Number 1 single with David Guetta collaboration I'm Good (Blue) and the release of her self-titled third studio album Bebe, Bebe Rexha is finally ready to bring her latest show to the UK.
Headlining London's O2 Shepherd's Bush Empire on Friday 28 July, Bebe will perform a whistle-stop show spanning an incredible decade in music; from her debut UK hit with Cash Cash straight through to latest Snoop Dogg collab Satellite.
Today, we catch up with Bebe to talk touring, brand-new single One in a Million, her dreams of nurturing new talent and, um, Dolly Parton offering to adopt her. Jealous.
Bebe! You've finally made it. The UK fans have been waiting so long for this show...
I'm so excited. I did a smaller show a long time ago, but I'm excited to show the UK what I've got. The visuals, the outfits - it's giving all the vibes!
You've had so many hits over so many years. How do you even approach the task of forming a setlist for the show? You must be ruthless?
Well you never want to bunch up all the hits, but I'll say I have three big songs back-to-back towards the end. We end with a bang. Then we'll sprinkle in Me, Myself & I or Take Me Home.
It's pretty hard, though. I wanted to put in so much more but there's only so much time.
I've built this really cool setlist where we bring everybody into a world. We perform a lot of the new album, but incorporate a lot of the old stuff way back to my first EPs; All Your Fault: Pt. 1 and Pt. 2. All the hits. We bring everybody on a journey, it's really fun.
Which song off your latest album - Bebe - do you love performing the most?
There's a song called I'm Not High, I'm in Love which is just so awesome. I also love Seasons, the track I did with Dolly Parton. I only perform that one once in a while, when I feel like it. It's a really high record, so I do get a little nervous when I sing that one!
How was Dolly to work with?
I've always looked up to her. Not only is she an incredible artist, but she's a boss b*tch! She owns a lot of business and wrote one of my favourite songs of all time; I Will Always Love You.
Working with her was awesome, she's so funny. She had six-inch heels on and was so happy, perky and ready to go. Such great energy. I grew up listening to Dolly; my grandmother would play her music all the time. I was so nervous, but it was so fun. She said she'd adopt me - I'm waiting for the papers!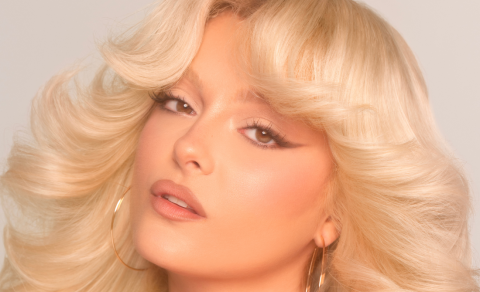 You've already teased your brand-new single with David Guetta, One in a Million. Suffice to say, lightning's struck once again?
I really hope people love it. It's really nostalgic. Me and Guetta have such a great connection, we work so well together.
We feel like it'd be impossible for you and Guetta to create a bad song...
Well, if you go onto my laptop... [laughs]. I think with music, when you're writing with professionals, 90 per cent of the time you can create something good. To find something great is hard, though. To find that one song that speaks to you and feels special's much harder.
I'm really excited about One in a Million; it's just such a fun dance record and that's where my head's at right now.
The lyric 'I can't believe that we're both alive at the same time' is a pretty interesting take on finding your one true love...
I know! Sometimes I think 'how am I alive at the same time as Beyoncé? I'm so lucky!' It's about when you find that one person that really speaks to you. For me, right now in my life, I am that one person. I'm working on myself and trying to better myself every day. For me, I'm that one in a million.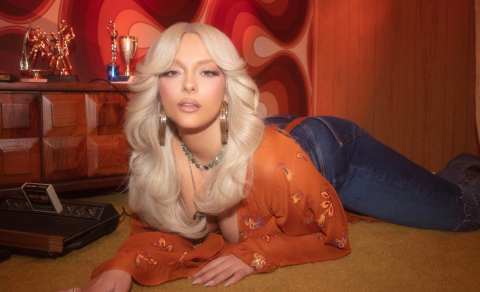 We're here for the self-love! And it's so deserved - you finally got your first-ever Official Number 1 single with I'm Good (Blue) last year...
Yes! I have my Number 1 Single Award in my bedroom. It's the only award in my bedroom right now, I stare at it when I wake up. I'd always wanted a UK Number 1, because I'm such a big fan of the UK music scene. Everything in the UK feels much more experimental; the sounds always manage to make it to the US eventually. I love the drum 'n' bass, it's so fresh.
I just worked with Ella Henderson the other day, she's phenomenal. I'd love to do a song with Kylie Minogue, too. That'd be a moment.
Your work's seen you travel all over the world - do you look for artistic inspiration wherever you go?
For sure. I travel, I love to immerse myself in different cultures, try the food and visit different areas. My favourite thing, when I travel, I always ask the cab drivers to put on the pop radio stations. When I go to Sweden, I'll hear interesting music, when I come to the UK it's the same. That inspires me. I Shazam so much stuff!
Kylie would be a vibe. You're both such examples of artists with longevity in the industry.
It's been 10 years, which feels like forever. A lot of people put a song out and see massive success with it, but I feel like the underdog that's been consistently delivering. I'm just glad that I get to do what I love, and I'm still so excited for this summer of shows.
You've seen and achieved so much across your career, but is there anything you're still desperate to tick off your bucket list?
My goal is to help other artists and writers. I'd love to start a publishing company to sign new talent, new producers; that aspect of it. I remember when I first started out, how hard it was having nobody to talk to and that feeling of being lost and lonely sometimes. I'd love to find some really talented people and guide them in the best way I could. That's where my head's at.
That'd be incredible, coming from somebody who's experienced the good, the bad and possibly the ugly side of the music industry...
Exactly, I've seen all sides of it. I want to help guide them in the right direction, the best way I possibly can.
When you were starting out, did any artists take you under their wing and mentor you?
Somebody who's always been so kind to me is Alicia Keys. She's awesome, she's always been really cool.
The last remaining tickets for Bebe Rexha's London O2 Shepherd's Bush Empire show are available now at LiveNation.co.uk.
Related Singles and Albums