As December Falls: "There's no one bankrolling this band, it's all the fans"
We catch up with the Nottingham alt-rock trio heading for their first Top 10 LP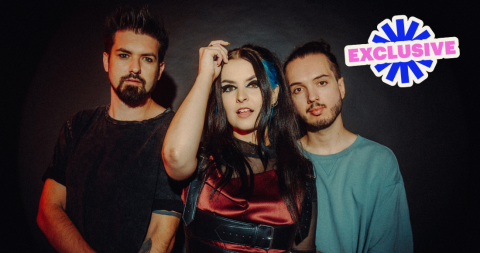 As December Falls' story is one of drive, determination and perseverance.
The Nottingham-formed alt-rock trio, comprising Bethany Hunter, Ande Hunter and Timmy Francis, are currently heading for their first-ever Top 10 album with Join The Club; their third studio record across a career spanning almost a decade.
Proud of the collection, which the group are confident contains their 'best songs,' it looks set to see the group reach news highs as an independent act truly breaking into mainstream consciousness. Today, we catch up with As December Falls to talk turning down labels, their fans' unwavering support and how their 'tough' journey has always been worth it.
Your new album is heading for the Top 10 alongside the likes of Blur, Taylor Swift and Elton John. How does it feel to be in the company of such icons?
Bethany: It's absolutely wild. We're a completely independent band with no label and no management, and the fact that we're battling it out with some of the biggest artists on the biggest labels is just nuts.
A Top 10 album would be an undeniable sign your music's connected with the masses, transcending your close fanbase. How does it feel to know your vulnerabilities are relatable on such a scale?
Bethany: Honestly, as a songwriter the most rewarding feeling is when you pour your darkest secrets and insecurities onto a page to then have the lyrics sung back to you by a sold-out crowd. We always made music to connect with people, everything else on top is just a bonus at this point. The past 12 months have been an incredible experience as a band.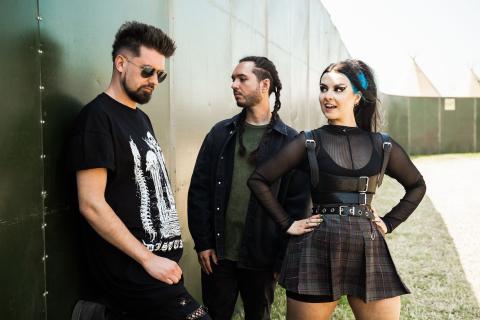 This album feels a little heavier, sonically and thematically, than your past work. Was that a conscious progression?
Timmy: We didn't really go into this record with a set plan. We very intentionally just tried to write the best songs we could without worrying if they all fit into a certain 'genre' or 'box' sonically, and I feel that the result was something completely raw and honest. At no point did we think 'oh, we shouldn't use that riff as it's far too heavy for our normal sound.' We just went with the flow and we've written some of the best songs of our careers.
Which tracks on this record were you most excited for fans to hear - and do you get nervous as to the reaction?
Timmy: We really broadened out our song writing on this album. We have some of the heaviest tracks we've ever written, like Carousel and Mayday, alongside some of the softest songs like Home; so it's a real mixed-bag of a record. We honestly didn't know how our fans would react to the new style but they've really embraced it with open arms!
Your journey as a band hasn't necessarily been by the book. What would your advice be to any musicians wanting to make a name for themselves in a world so occupied with overnight success and near-instant gratification?
Ande: We've always been fiercely-independent, having turned down a number of label and management offers. I think our biggest advice to any artist would be to try your absolute hardest to build your artistry on your own for as long as possible before signing over all your music to someone else. It's a tough journey, but it's definitely worth it.
Your fans are so dedicated. How does it feel to have cultivated such a close community?
Bethany: It's honestly amazing. We've been doing this band on our own for a long time now, and it really feels like we've grown up with this fanbase. We know so many of them by name, they email and DM us all the time and it feels more like a family than it does a typical artist/fanbase relationship. There's no one bankrolling this band, so the fact we've been able to make three records is entirely due to the fans' support. We love them so much for making our dreams a reality every single day.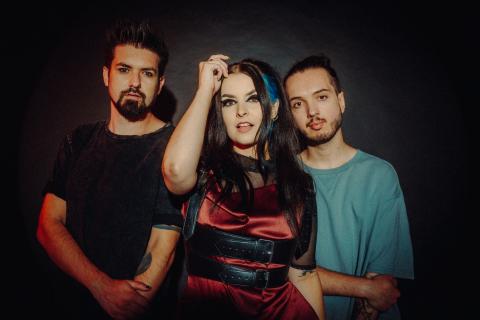 From your show-stopping Download slot to this new album release, 2023's been huge for you. Does it feel like your biggest year yet?
Ande: It honestly feels like we're starting to break through, we toured with Bowling For Soup last December and Hot Milk in February. We then won the Heavy Music Award for Best Breakthrough UK Artist in May and then played to a packed-out tent at Download Festival last month.
Any one of those things alone would have fulfilled the dreams we had when we kids just starting out so to have it all happen in the last 12 months has blown us away!
What does the rest of the year hold for As December Falls, then?
Bethany: We're headlining our biggest tour to date across the UK and Europe in November, and we just can't wait to be back on the road, meeting everyone and playing the new songs.
We just want to keep doing what we're doing - making records and making lifelong fans. It would be great to play Reading and Leeds and maybe Glastonbury Festival, as those are some of the few big festivals we haven't yet done in the UK. Who knows, maybe next year?
As December Falls' brand-new album Join The Club is out now. Catch the group on tour across the UK and Ireland this November and December - more details here.
Images: Jay Sanderson/Lauren Robey