Blur on the way to seventh Number 1 album with The Ballad of Darren
It would be the second Number 1 album Damon Albarn has collected this year.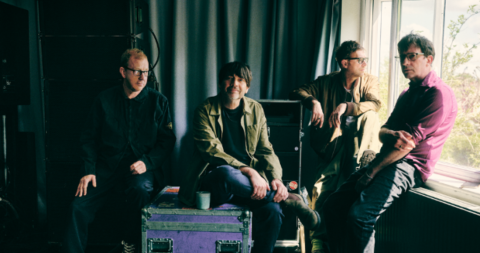 Blur are storming ahead in this week's Official Albums Chart Update, with ninth studio record The Ballad of Darren currently outselling the rest of the Top 10 combined.  
It would mark the seventh Number 1 UK album for the group, comprising Damon Albarn, Graham Coxon, Alex James and Dave Rowntree, and the first LP release for the Britpop legends in nearly 10 years, since 2015's The Magic Whip.  
Blur previously hit Number 1 with the classic Parklife (1994), The Great Escape (1995), Blur (1997), 13 (1999), Think Tank (2003) and The Magic Whip (2015). Out of their previous eight studio albums, only the band's first two records, 1991 debut Leisure (7) and 1993's Modern Life is Rubbish (15) have failed to hit the top spot. 
The Ballad of Darren would also mark frontman Damon Albarn's second UK Number 1 album of the year so far. As a founding member of anarchic virtual band Gorillaz, Albarn also hit the top of the Official Albums Chart earlier this year with Cracker Island.  
Meanwhile, Michigan rock band Greta Van Fleet are on their way to claiming their highest-ever UK chart position thanks to third album Starcatcher (2). It would be the first Top 3 record for the group, who previously charted with 2018's Anthem of a Peaceful Army (12) and 2021's The Battle at Garden's Gate (8). 
An all-new Top 3 could be completed by Nottingham alt-rock outfit As December Falls, who are aiming to make their Official Chart debut with Join The Club, currently expected to land at Number 3. 
We could see another new entry in the Top 10 courtesy of K-pop girl group NewJeans, who are on track to secure their first Official Albums Chart placement with their second EP Get Up (7) which contains the viral single Super Shy.  
Post Malone's The Diamond Collection (19) jumps 15 places midweek as fans prepare for the release of his new album Austin this Friday. 
Finally, following their shows in London and Glasgow at the weekend, Red Hot Chili Peppers could see their Greatest Hits return to the Top 40, at Number 39 midweek. 
 
Related Singles and Albums