Abby Roberts and Halsey bonded over Imposter Syndrome while working on new single
The British social media sensation is hard at work on her second EP.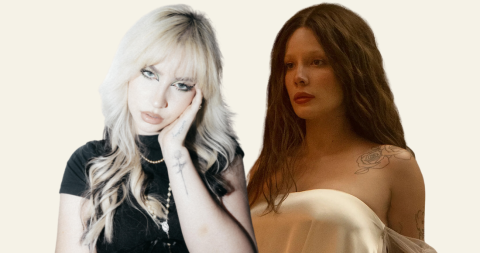 Abby Roberts - the British singer, songwriter and all around social media sensation - has talked linking up with Halsey for her latest single, Imposter Syndrome. 
The lead track from Abby's forthcoming second EP, Imposter Syndrome is a feather-light electronic pop song, very different from the more moody, alternative songs she's released in the past, that will resonate with anyone, regardless of their station in life; that feeling you get in some situations where you feel like you just aren't good enough.
And it turns out, that's something that Halsey - you know, world famous, chart-topping pop star Halsey - can relate to all too well, and the bond she and Abby forged over it was essential to the creation of the new single.
"I'd spoken to Ash [Halsey's real name is Ashley] before about feeling imposter syndrome," Abby tells us over Zoom. "She let she know she related to that, that even at her level, she still feels that way. I was [shocked by this]. Like, you're so incredible and so successful, I guess it didn't make sense to me. But it's all part of your personality, right? Some people have it, some people don't."
Abby says that she felt incredibly privileged to even get into the room with Halsey "so early on in my career," co-writing the track with Halsey and the producer Sammy Witte (who also produced Halsey's most recent single, the banging pop tune So Good which is, indeed, so good).
"I was quite intimidated going into it," Abby remembers. "I wanted to impress [them] and wanted them to think that I'm good! So I was scared before the session, but once I got there, Halsey has such a calming presence. She's a very motherly figure to me. It was very much a judgement free zone. It was super chill, it felt like we'd been mates forever!"
As for what comes next, Abby says she's been working on her second EP for a year, and is more than ready to get it out into the world.
"It's definitely more upbeat than my first [2022's Ashes], when I was writing that I was going through some shit," she laughs. "But now I've been touring a lot, and seeing how a live audience reacts [to my music]. I wanted to make some more bangers that'll get people moving!"
Imposter Syndrome by Abby Roberts is out now. 
Related Singles and Albums