Victory for Cian Ducrot as he clinches first Number 1 album: "I don't even have words!"
It was a photo finish against Skindred's latest release Smile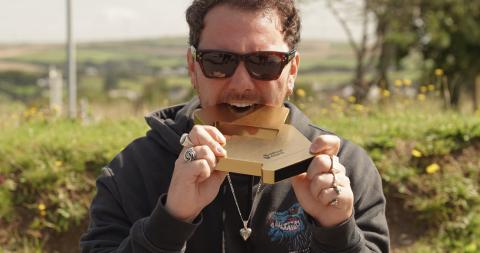 Cian Ducrot is victorious as he lands his first Official Number 1 album, following a tense race to the top. 
The Irish singer-songwriter's debut album Victory debuts straight in at the top of the Official Albums Chart after a seriously tough competition with Welsh heavy metal-reggae group Skindred, with less than 150 chart units separating the Top 2 at the final whistle.
Tearful Cian told Official Charts, "Number 1 in the UK! I don't even have words, thank you so much, I'm gonna cry! Thank you so much to everyone who bought it, I don't even know what to say, it means the world... I love you guys; this is absolutely insane. What a year." 
Skindred finish the week at Number 2 with their eighth studio album Smile, marking the Newport band's highest peak in the UK, and their first ever Top 10 album to boot.
Comprising band members Benji Webbe, Daniel Pugsley, Mikey Demus and Arya Goggin, Skindred previously reached the Top 40 with 2014's Kill the Power (Number 28 peak), 2015's Volume (29) and 2018's Big Tings (26). 
Smile also tops this week's Official Vinyl Albums Chart, Rock and Metal Albums Chart and is the UK's most downloaded album of the past seven days, as well as the biggest independent release of the week. 
Meanwhile at Number 3 is the most streamed album of the week - last week's Number 1, UTOPIA by Travis Scott. 
The Sherlocks earn a personal best this week as People Like Me & You (4) becomes the South Yorkshire indie rockers' first ever Top 5 album and third Top 10 collection, joining 2017's Live for the Moment (6) and 2022's World I Understand (9). 
Miles Kane enjoys his fifth Top 40 album as a solo artist, and seventh overall, with One Man Band (5), his highest-charting solo album to date. Kane also has two Number 1 albums as part of The Last Shadow Puppets with Alex Turner. 
At Number 6 is Timeless, the comeback album from N-Dubz who recently returned from an 11-year hiatus. It's Tulisa, Dappy and Fazer's fifth Top 40 album in the UK, matching their previous Albums Chart peak with 2009's Against All Odds.
Finally, Snow Patrol's 2003 major label debut Final Straw (28) returns to the Top 40 for the first time since August 2005, following a 20-Year anniversary release. The collection peaked at Number 3 twice in 2004 and is best remembered for including the UK Top 5 single Run.